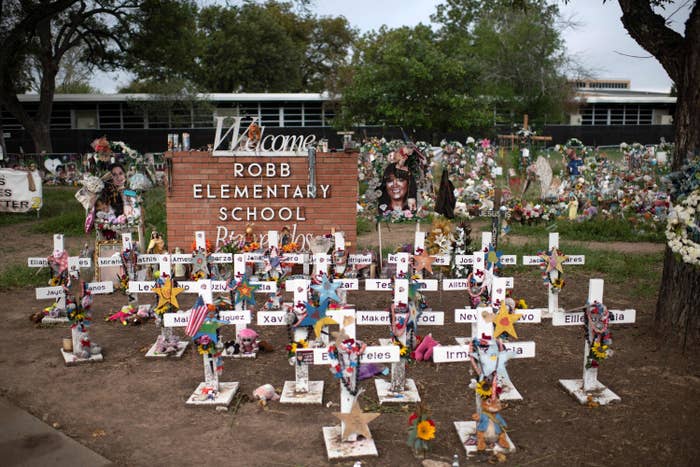 It's been 10 years since 20 children and six school employees were killed in a shooting at Sandy Hook Elementary School in Newtown, Connecticut.
The violence shocked the nation, yet since then, little has changed. In the dozens of school shootings that followed, 117 students and teachers have been killed. BuzzFeed News this week remembered each one of them; some had dreams of growing up to be football players, marine biologists, or artists. Others never lived long enough to find their unique talents.
Family members of school shooting victims are also reflecting on the Sandy Hook anniversary in social media posts, sharing the grief they feel and frustration that shootings keep happening.
Some recalled watching the events at Sandy Hook unfold in 2012, never imagining they would one day so personally relate to the victims and their families.

Gloria Cazares, whose 10-year-old daughter Jackie was killed in the Uvalde shooting that left 18 other kids and two teachers dead, tweeted that she remembered holding her daughter as a 6-month-old while posting on social media in support of Sandy Hook shooting victims.

"Now I have some of those same parents and friends from Sandy Hook comforting me during the most difficult time in my life," she wrote. "Today we remember all who lost their lives on that December day and I promise I will always keep their memories alive."
Brett Cross, whose 10-year-old son Uziyah Garcia was killed in the Uvalde shooting, reflected on how much life the first-graders killed in Sandy Hook missed out on.
"As we hit the 10 yr anniversary of Sandy Hook, I want you to put yourself in the shoes of the parents who lost their children," he tweeted. "Children who would have been 16-17 today. Children who never got to experience triumphs and losses, love and heartbreak, dances, driving. They didn't get to experience life as most of us have. They will forever remain 6-7. They were babies."
He also urged parents to cherish the time they have with their children.
"Do not think that this can never happen to you. Because it can," he wrote. "I sat there that day thinking that never happens. That these things happen in different places. 10 years later I experienced it."

Erica Leslie Lafferty, whose mother, Dawn Lafferty Hochsprung, was killed in the Sandy Hook shooting, tweeted a reminder that the victims were not only students. Her mother, the school's principal, died while trying to protect students, and five other staff members were also killed.
"In the middle of one of the most painful seasons of my life, I'm forced to remind people that my mother and five other educators were also murdered at #sandyhook," she tweeted. "It's been a decade. Those women & their families deserve better. I'm fucking tired and I deserve better."
Adalynn Ruiz, whose mother, Eva Mireles, was one of the teachers killed during the Uvalde shooting, tweeted that she related to Lafferty's post.

"Sadly, l shouldn't relate so much to this post," she tweeted. "Like you, my mother was murdered due to the same violence. My heart is with you. My hearts aches today, before this year I could only just imagine and hurt for this pain. Today, I relate to it."

Rhonda Hart, whose 14-year-old daughter, Kimberly Vaughan, was killed in the Santa Fe High School shooting in Texas, tweeted that "safe storage saves lives" in response to a statistic that said 76% of school shooters get their guns from home. in the years since her daughter's death, Hart has become an activist. The Kimberly Vaughan Safe Storage Act passed in the House of Representatives earlier this year.
Cam Kasky, who is a survivor of the shooting at Marjory Stoneman Douglas High School in Parkland, Florida, tweeted his frustration about the apathy in the US about gun violence even as "bodies are piling up."
"It's days like the tenth anniversary of Sandy Hook that remind us how apathetic we are," he tweeted. "We don't give a fuck about anybody here."

Former president Barack Obama said in a statement on Wednesday that the day of the Sandy Hook shooting was "the single darkest day of my presidency."
"The news from Sandy Hook Elementary was devastating, a visceral blow, and like so many others, I felt not just sorrow but anger at a world that could allow such things to happen," he said.

Gun violence in the US is a public health crisis, according to the American Public Health Association, and is a leading cause of premature death in the country, responsible for more than 38,000 deaths annually. As of Dec. 14, at least 19,201 people have died from gun violence in 2022, and another 22,968 have died by suicide, according to data from the Gun Violence Archive.