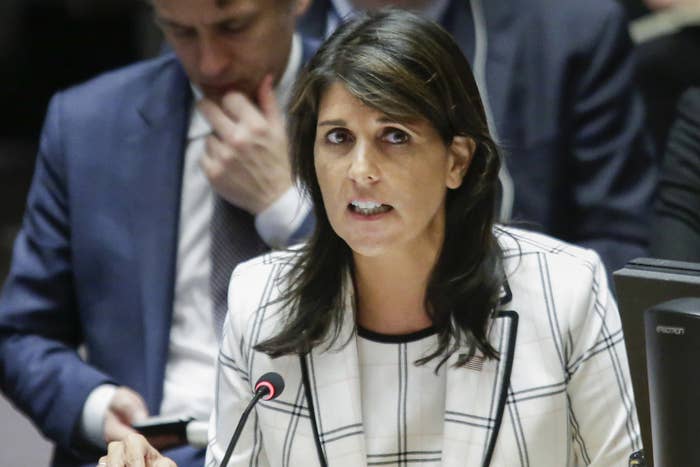 US Ambassador to the UN Nikki Haley lashed out at human rights organizations a day after the US withdrew its membership from the UN Human Rights Council, blaming the organizations in part for the US's recent failure to push for reforms on the council.
"You put yourself on the side of Russia and China, and opposite the United States," Haley wrote to a group of 17 organizations including Human Rights Watch and Amnesty International in a letter provided to BuzzFeed News.
The US had been pushing a draft resolution to address what Haley called "chronic anti-Israel bias" on the council, as well as concerns about the membership of human rights abusers.
Haley accused the organizations of attempting to block US negotiations on that resolution and said that efforts to "thwart reform were a contributing factor in the U.S. decision to withdraw from the Council."
Haley and Secretary of State Mike Pompeo announced the withdrawal at a press conference on Tuesday, saying, "We have no doubt there was once a noble vision for this council, but we need to be honest: The Human Rights Council is a poor defender of human rights."
The decision to withdraw comes as the Trump administration is facing global criticism for its newly intensified immigration policy. On Monday, UN High Commissioner on Human Rights Zeid Ra'ad al-Hussein made a statement at the opening of the council's annual session decrying the forcible separation of parents and children crossing into the US from Mexico. World leaders from Iran's Ayatollah Khamenei to Sweden's Margot Wallström have also weighed in to criticize the border separations.
"That approach of blaming others for its own failures is what abusive leaders around the world routinely do," Human Rights Watch Executive Director Kenneth Roth said in a statement. "As the Trump administration mistreats immigrants at its southern border, it seems to be walking away from the international system to defend human rights."
Amnesty International, which also received Haley's letter, sought to downplay its significance. "We don't want this letter to distract from what's at stake here," Daniel Balson, advocacy director for Europe and Central Asia, told BuzzFeed News. But Balson acknowledged, "It's surprising to us that Ambassador Haley wishes to shift the discussion to her relationship with non-governmental organizations."
The 17 organizations who received Haley's letter had opposed the US draft resolution on reforms put forward by Haley, sending joint letters to the US Missions in New York and Geneva, and a second letter to members of the General Assembly in May. The ad hoc group had come together "over concern for potential for this US initiative to cut the legs out from under the Human Rights Council," Human Right Watch Deputy United Nations Director Akshaya Kumar told BuzzFeed News.
"Sending a letter like this means you intend to intimidate people into silence and compliance," said Kumar. "We do not intend to go silently into the night."