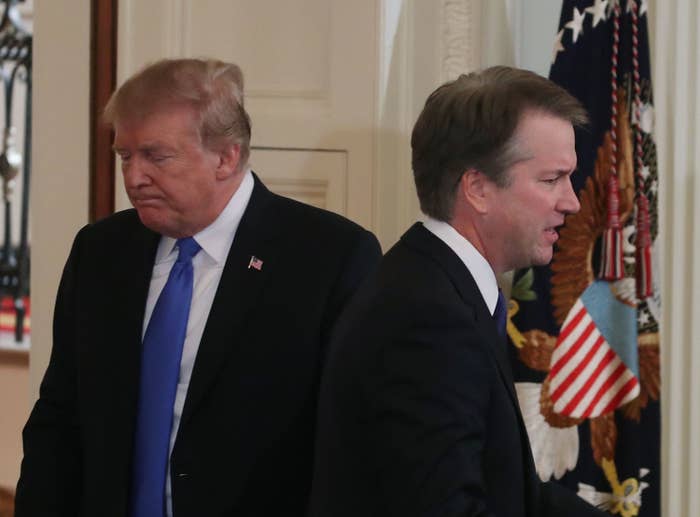 President Donald Trump on Friday morning attacked the credibility of the woman alleging Supreme Court nominee Brett Kavanaugh sexually assaulted her.
Trump suggested that Palo Alto professor Christine Blasey Ford had exaggerated the incident in order to damage Kavanaugh's nomination, saying, "if the attack on Dr. Ford was as bad as she says, charges would have been filed immediately."
Ford has accused Kavanaugh of attempting to sexually assault her at a party when they were both teenagers in the '80s. She described an incident in which she says Kavanaugh attempted to remove her clothing and covered her mouth when she tried to scream.
Ford told the Washington Post that she did not report the incident at the time because she was afraid her parents would find out that she had been drinking. She told a therapist about the incident in 2012, and has also taken a polygraph test that showed that she was being truthful about the incident.

Trump also defended Kavanaugh as "a fine man, with an impeccable reputation" and accused "radical left wing" politicians of sabotaging the nomination, saying "they just want to destroy and delay. Facts don't matter."
Kavanaugh seemed set for confirmation before the assault allegations became public. He was nominated in July after Justice Anthony Kennedy announced his retirement, and was touted by Republicans as a family man and champion of conservative causes.
Ford's allegations spilled into public view after a confidential letter shared with Sen. Diane Feinstein became public. Ford had sent the letter to her congressional representative, Anna Eshoo, earlier in the summer when it became clear that Kavanaugh was shortlisted for the nomination, and had also contacted the Washington Post at that time. Eshoo sent the letter to Feinstein, who ultimately passed it to the FBI for Kavanaugh's background file.
Ford had intended to remain anonymous but decided to go public with the allegations after reporters began contacting her.
Trump had previously made a point to avoid attacking Ford, instead choosing to defend Kavanaugh.
"I'm not saying anything about anybody else," Trump told a rally in Las Vegas on Thursday night. "So we gotta let it play out."