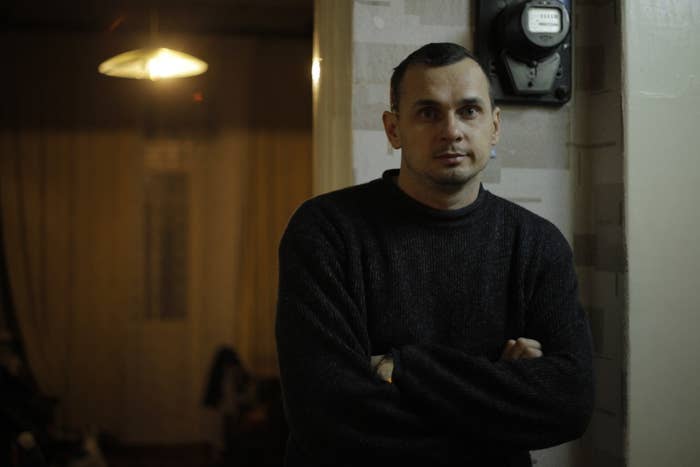 When Oleg Sentsov was arrested in 2014, he was working on his second feature film. He had sold his car and small business to fund the first movie about online gamers, which had been a critical success; the second was going to be about gangsters. As part of his script-writing process and planning for the film, to be called Rhinoceros, he had drawn up a list of of weapons that the gangsters might have. The list would later be shown as evidence of a plot to commit a terrorist attack.
Sentsov is a Ukrainian citizen, but he is being held in a Russian prison. On Tuesday he was awarded the PEN/Barbey Freedom to Write Award from PEN America, a group that promotes writing and freedom of expression around the world. His cousin Natalya Kaplan accepted the award on his behalf. According to Halya Coynash of the Kharkiv Human Rights Group and a Ukrainian member of PEN International, he was one of the first political prisoners to be convicted following the Russian invasion of Crimea, and is now in the third year of a 20 year sentence.
A resident of Crimea, he and his family had been caught in the territory when Russia's "little green men" – unmarked soldiers named for their green suits – arrived in the Ukrainian territory in 2014. By that time he had already gained some international recognition for his filmmaking and had become an outspoken critic of Russia during the protests that led to that year's toppling of Ukraine's pro-Russia president. Kaplan told BuzzFeed News that she knew Sentsov's open opposition was dangerous. "Don't expect anything good to happen," she says she told him at the time.
Mustafa Nayyem, a member of Ukraine's parliament and former journalist, told BuzzFeed News that Ukraine is fighting wars on two front lines — both against Russia for sovereignty and internally for democratic reforms. Winning this fight is essential because it "shows that all those countries escaping from a Soviet past can be successful," he said.
But Kaplan knew what was coming after Russia declared Crimea a part of the Russian Federation. "I knew how many political prisoners Russia had and this was the moment I knew Crimea would have political prisoners as well," Kaplan said.
After the arrest, Sentsov's mother was so shaken that she barely spoke for two months, Kaplan said, leaving her to find out about the arrest from their mutual aunt. What followed was described by Amnesty International as a "Stalinist show trial." There was actually laughing in the courtroom, Kaplan said, as the prosecutors presented a parade of fake evidence.
"It's a paradox, but it was funny," she said.
The most dramatic moment of the trial came when the prosecution's star witness, Gennady Afanasyev, recanted his testimony on the stand. Afanasyev, a friend of Sentsov's who had been arrested at the same time, told the courtroom that he had lied to prosecutors after being tortured. Coynash, who was reporting on the trial, said that "the moment was incredible," and that Sentsov's lawyers were dumbfounded. "The first to react was Oleg, he started to clap and everyone else followed," Kaplan said.
"I felt sorry for the [defense] lawyers because they had to work all night," she said.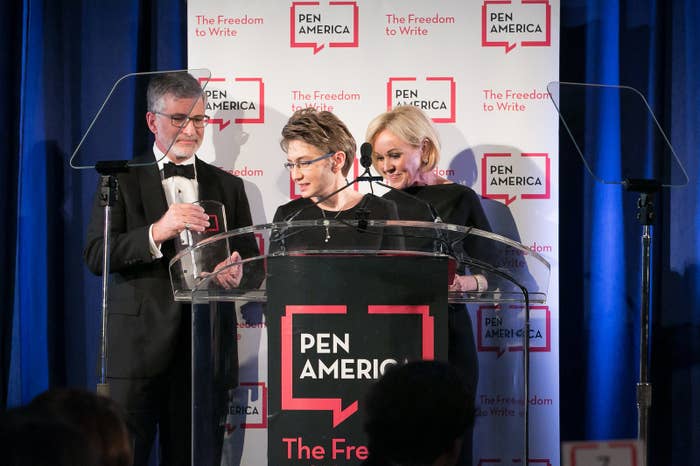 Despite the defense team's apparent surprise, the prosecutors in turn claimed that Sentsov's lawyers had forced Afanasyev to change his testimony. (Coynash says that this was impossible and that Sentsov's team never had access to Afanasyev). Ultimately, the court ignored Afanasyev's explosive testimony, and Sentsov was sentenced to 20 years on terrorism charges. Kaplan described the experience as both "Kafkaesque" and "predictable".
Sentsov's case is particularly sensitive because it is emblematic of the ongoing conflict between Russia and Ukraine for control of Crimea. Sentsov is Ukrainian and was a resident of Crimea when, according to PEN, he disappeared from a demonstration in Simferopol, a city in Crimea. Although Crimea is still recognized as part of Ukraine by the international community, Russia had claimed the territory at the time of his arrest, so he was taken to Moscow and tried as a Russian citizen.
"Actually, [Sentsov and others like him] are hostages of the regime in Russia," said Nayyem. He describes Sentsov's case as "bright example" that clearly shows Russia's infringement on Ukrainian sovereignty. "We will protect our territory with or without international support," the lawmaker said.
He added, however, that he is waiting for Trump to take a leadership role in Crimea. The basics of leadership are the values represented by US history and America's founders, Nayyem said. Referring to reports that the Trump administration may be considering a sort of grand bargain with Russia that agrees to recognize Crimea as Russian territory, Coynash says, "For America to consider deals with Russia...when people like Oleg are sitting in prison is not a thing that should ever be done."
At the time of his arrest, Sentsov was the sole caretaker for his two children, Alina, now 14, and Vlad, who is 12. Vlad, who is autistic, has a particularly difficult time understanding why his father can't live with them. The children now live with Sentsov's mother, who is 70-years-old and fears that she may not live to see her son released from prison. Since his arrest, the family has had very limited contact with Sentsov. Last year he declined a visit from his mother and children, saying he had watched other prisoners receive visitors only to fall into a depression after they left.
Kaplan describes Sentsov as determined and unable to pass by if he sees injustice. "If he has a goal, he always reaches it," she said, adding that he refuses to see obstacles. In a letter smuggled from prison last year, Sentsov wrote, "There is no need to pull us out of here at all costs. This wouldn't bring victory any closer...If we're supposed to become the nails in the coffin of a tyrant, I'd like to become one of those nails. Just know that this particular one will not bend."