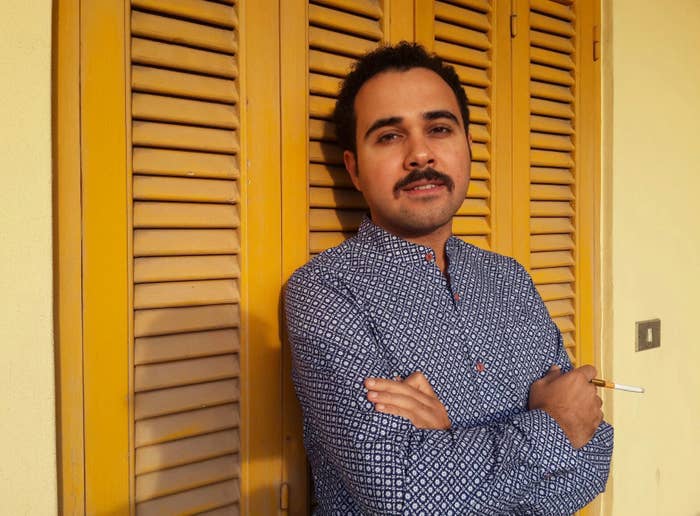 Ahmed Naji was optimistic when he arrived in court on February 20. He was convinced that Egypt's constitution would protect him. No one goes to prison for writing a novel, he thought.
Friends told him to stay in Paris to avoid arrest, but he was determined to fight the charge and arrived at the courthouse with his younger brother Mohamed, some friends, and his defense lawyers.
When Ahmed was a boy, he pretended to be 007 and imagined he had a helicopter that would pick him up to take him to school, his younger brother Mohamed said during an interview with BuzzFeed News. "You could be talking with him and or something in a meeting and he would be like this…" Mohamed drifts off, mimicking someone whose head is off in the clouds. "His imagination is ... his life — everything."
Ahmed comes from a family of doctors and dentists. The oldest of five, he was the only one of his siblings to diverge from that path. He made his way from Mansoura to Cairo, studying journalism against his parents wishes, and working his way up in Cairo's literary scene.
In 2014, he published a novel called The Use of Life, which receive critical acclaim for its blend of fantastical elements and gritty look at life in modern-day Cairo. Published in Lebanon, the novel had to pass state censors' critical eye. It was approved and is still for sale in Cairo, but when an excerpt was published in Akhbar al-Adab, a state-owned weekly literary review, one reader decided to press charges.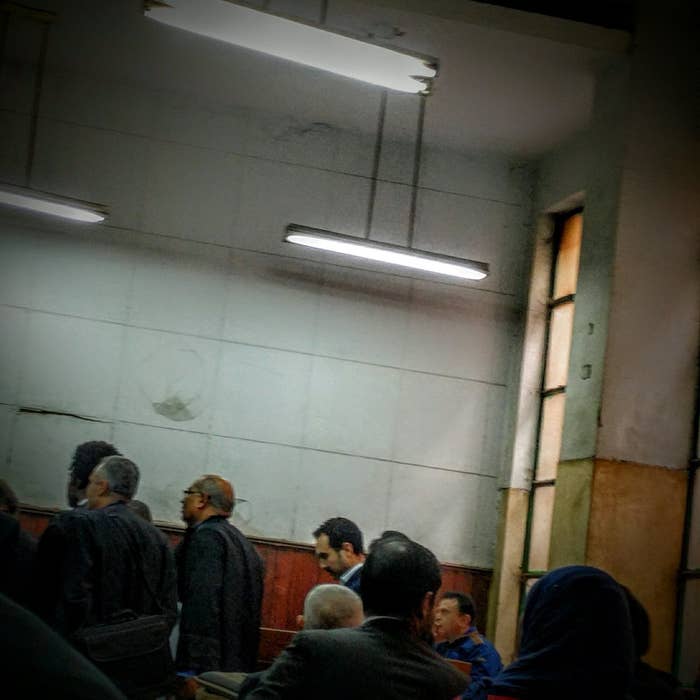 "When we heard about it, we laughed," Mohamed said. The reader, Hani Saleh Tawfik, claimed that some scenes from the novel depicting sex and smoking hash had made him sick — he experienced heart palpitations and a drop in blood pressure. Prosecutors determined that Naji's excerpt was a violation of public morals and decided to pursue criminal charges under Article 178 of the Penal Code.
Naji's optimism was not without reason. Article 65 of the Egyptian Constitution protects freedom of expression and Article 67 specifically forbids jailing artists and writers for publishing their works. His lawyers argued that the case was in violation of the Constitution, and in the initial trial they won with a strong statement from the judge supporting free speech. But the case was overturned on appeal.
"We never expected that he would be taken from us like that," Mohamed says when talking about the day of Ahmed's arrest. They had arrived at 9 am for the appeal, but waited in court for hours without any word from the judge. As the day wore on, Mohamed became more worried. Eventually someone appeared and called Ahmed into a separate room, and the group was informed that a verdict had already been decided — Ahmed had been given the maximum sentence and was already on his way to prison. They wouldn't see Ahmed again until he was behind bars.
On Monday, Ahmed was awarded the PEN/Barbey Freedom to Write Award. "Ahmed's imagination is his perpetual game. He is not present at this event because of what his imagination depicted, unfortunately," Mohamed said in the acceptance speech he delivered in Ahmed's place.
Since Egyptian President Abdel Fatah el-Sisi came to power in 2013, Egypt has imprisoned a record number of journalists according to a recent report from the Committee to Protect Journalists. But imprisoning a novelist speaks to a more Orwellian approach to social control.
"They are afraid of writing and they are afraid of the future" Abdelrahman Mansour said. Mansour founded one of the prominent Facebook pages that helped demonstrators organize during the 2011 revolution and is a friend of Ahmed's. He told BuzzFeed News that the Egyptian government is targeting all creative types. "They are fighting with any individual who is having very good work in their field — in art, in novels, in writing and photography".
For Mansour, who fled Egypt fearing persecution for his political beliefs and now lives in New York, the revolution survives in people's homes and among the younger generation. He describes an underground community of artists and writers who are "critiquing the old ethics... talking about the new Egypt". They are trying to articulate a vision of a "different Egyptian human", he says.
But he wants to take Ahmed's case to the public. "We have put pressure on the Egyptian regime to release Ahmed, and we have to do it in a very public way," he said. When asked what he thinks the U.S. can do about his brother's imprisonment, he hesitated to give specifics beyond the White House issuing a statement and he floated the idea of a public event showcasing Ahmed's writing.
His brother puts on a brave face when their mother visits, Mohamed said, but his former optimism has seeped away in isolation. Despite this, he rejected a plan to campaign for a pardon from President Sisi. "He wants to get out because this law that is unjust has been changed," explained Katy Glenn Bass, Deputy Director for Freedom Expression Programs at PEN, who has been managing Ahmed's case. "He wants to do it in the right way, the way that helps everyone, and not just himself".
"He is such a good person, that is the only thing I can think about," Mohamed said when asked what the public should know about his brother. "We want him free as soon as possible, of course. It's such a funny and a sad case that he is put in jail because of his imagination."