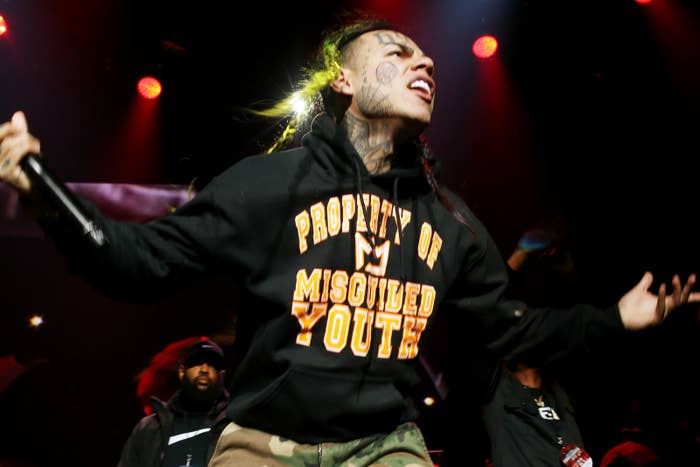 Rapper Tekashi 6ix9ine and five others are facing life in prison for federal racketeering and firearms charges related to alleged criminal involvement in a gang known as Nine Trey Gangsta Bloods.
The rapper and other members of Nine Trey are accused of committing, conspiring, attempting to commit, or threatening "acts of violence, including acts involving murder," in addition to participating in multiple shootings, robberies, and assaults, according to the indictment. In addition to firearms-related charges, they are also accused of selling heroin, fentanyl, MDMA, and other drugs.
The members of Nine Trey "wreaked havoc on New York City, engaging in brazen acts of violence," and "showing reckless indifference to others' safety," US Attorney Geoffrey Berman said in a statement to BuzzFeed News.
Tekashi 6ix9ine, whose real name is Daniel Hernandez, was charged in the Southern District of New York on Monday night along with Kifano "Shotti" Jordan, Jensel "Ish" Butler, Faheem "Crippy" Walter, Jamel "Mel Murda" Jones, and Fuguan "Fu Banga" Lovick. Lovick was not included in the racketeering charges, but was charged with violent crime in aid of racketeering, including a shooting at the sports arena Barclays Center in Brooklyn where a bystander was hit.
The case is the result of a joint investigation by Homeland Security Investigations, the Bureau of Alcohol, Tobacco, Firearms and Explosives, and New York police.

Hernandez, 22, may also be facing jail time for violating probation on an unrelated charge. He is currently serving four years of probation, during which he was ordered to avoid contact with gang members, according to a report from CBS at the time. The sentence in October was related to a 2015 case in which Hernandez pleaded guilty to use of a child in a sexual performance. Videos posted on Instagram showed another man engaging in sex acts with a 13-year-old girl while she was seated on or being held by Hernandez, according to court documents published by Jezebel.
Hernandez was 18 at the time but was charged as a minor.
A spokesperson for the Department of Probation declined to comment on whether his arrest on Sunday would lead to jail time, saying that state law prohibits officials from commenting when individuals are juveniles or youthful offenders.
Facing a court appearance in July, Hernandez wrote on Instagram: "I'm giving you guys one last music video this Sunday before I got to jail forever :/"