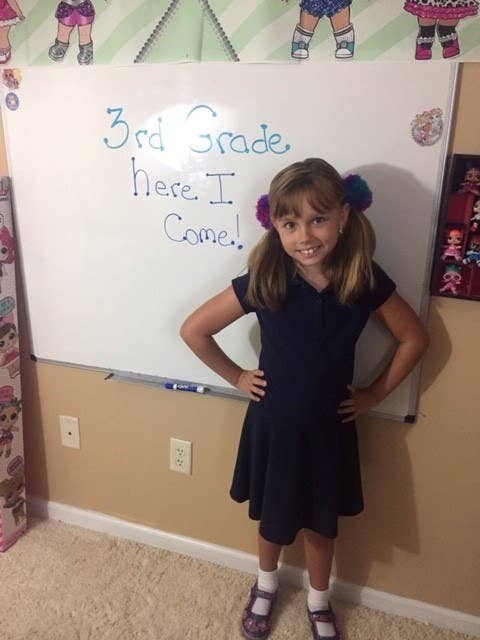 A North Carolina school's policy of requiring girls to wear skirts as part of their uniform was struck down by a federal judge for violating the Constitution's equal protection clause.
"The skirts requirement causes the girls to suffer a burden the boys do not, simply because they are female," wrote US District Judge Malcolm Harris in his ruling.
The lawsuit against Charter Day School in Leland was originally filed in 2016 by the ACLU on behalf of three students aged 5, 10, and 14.
"I created a petition to ask my school to change its policy that says girls have to wear skirts to school or risk being punished," wrote the oldest student involved in the case, Keely Burks, in a post on the ACLU's website.
"My friends and I got more than 100 signatures on our petition, but it was taken from us by a teacher and we never got it back," Burks said. "Now we are turning to the ACLU for help."
The students' lawsuit argued that the skirts requirement was a distraction from academics, inhibited physical activity, and required girls to be cold and uncomfortable.
The school claimed that the skirts requirement and other policies requiring "chivalry" were a necessary part of their mission to instill traditional values and establish discipline. It contended these policies contributed to respect between students and academic success.
Under the school's policy, punishment for violating the dress code ranged from calling parents to removal from class and possible expulsion, but no student was ever expelled for violating the policy.
The judge, though, found no connection between the school's stated goals and the requirement for girls to wear skirts.

In one particularly scathing passage, the judge wrote:
The plaintiffs in this case have shown that the girls are subject to a specific clothing requirement that renders them unable to play as freely during recess, requires them to sit in an uncomfortable manner in the classroom, causes them to be overly focused on how they are sitting, distracts them from learning, and subjects them to cold temperatures on their legs and/or uncomfortable layers of leggings under their knee-length skirts in order to stay warm, especially moving outside between classrooms at the school. Defendants have offered no evidence of any comparable burden on boys.
"All I wanted was for my daughter and every other girl at school to have the option to wear pants so she could play outside, sit comfortably, and stay warm in the winter," said Bonnie Peltier in a statement provided by the ACLU.
"We're happy the court agrees," she said, "but it's disappointing that it took a court order to force the school to accept the simple fact that, in 2019, girls should have the choice to wear pants."