A College Student Was Arrested For Allegedly Trying To Murder His Roommate With Poison
International student Yukai Yang was charged with attempted first-degree murder for the slow poisoning of his roommate over the course of at least two months.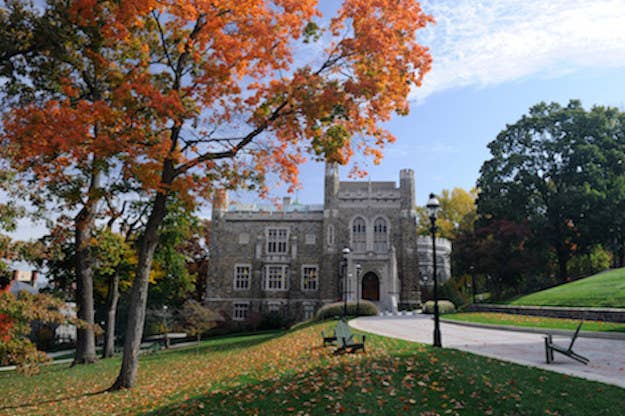 A former chemistry student at Lehigh University student was charged with attempted murder on Thursday after allegedly using thallium to poison his longtime roommate on multiple occasions.

Yukai Yang allegedly attempted to murder his roommate Juwan Royal by putting small amounts of poison in his food and drinks over a period of at least two months, according to Northampton County DA John Morganelli, who called the case "weird and bizarre." In addition to the poisoning, Yang was also previously arrested for leaving racist graffiti on his roommate's desk at the Bethlehem, Pennsylvania, campus.
Royal, who didn't know why he had been falling ill for several months, was "dumbfounded" when he found out his roommate of four years was responsible, Assistant District Attorney Abe Kassis said at a press conference Thursday. "He believed they had a fairly cordial relationship as roommates."
Yang "specifically denies every allegation of the criminal complaint," defense attorney Janet Jackson told BuzzFeed News. "He denies any animosity towards Mr. Royal. He was his closest friend at Lehigh. They were roommates for four years and best friends."
"The suggestion that there is a racial motive is completely without merit," Jackson added.
Despite campus police making several visits due to Royal's bouts of illness in March, an investigation wasn't launched until April, when campus police were called to Yang and Royal's dorm room to investigate racist graffiti on Royal's desk.

Police were first called to the room on March 18 after Royal reported he was feeling dizzy and had passed out at his computer.
During that visit, Yang told police that milk in the refrigerator and Royal's mouthwash had changed colors, and he thought someone might be tampering with items in the room. Yang told police he wasn't sure whom to suspect, according to an affidavit.
Eleven days later, police were called back to the room when Royal fell ill again. This time he was taken to the hospital because he had been throwing up for 45 minutes and was feeling shaky.
In April, police were called again — this time for vandalism. Someone had broken the TV and written the n-word and "get out here" in black marker across Royal's desk.
Yang was the first person to discover the message, and Royal told campus police that he believed his roommate might be responsible, noting that Yang "always found the strange incidents happening in his room," according to the criminal complaint. Police arrested and charged Yang in April with ethnic intimidation and criminal mischief.
"This behavior will not be tolerated and will be met with severe consequences, including prosecution to the fullest extent of the law," Lehigh President John Simon wrote In an email to the university community at the time, according to the campus newspaper, the Brown and White.

After police started investigating Yang in April, doctors performed blood tests on Royal, which revealed unsafe levels of the chemical thallium, sometimes known as "the poisoner's poison," according to charging documents.
"This was over a period of time, with small amounts of poisoning occurring," Morganelli said. "Thallium was being added to food and drinks in the refrigerator."
Yang told investigators in May that he had purchased the thallium online, according to the affidavit, but claimed that he was planning to take it himself if he did poorly on his exams. He also admitted to mixing the chemical with food and drinks in a refrigerator that he shared with Royal.
Thallium can cause damage to organs and the nervous system and could result in death if consumed at high levels over a short period of time, according to the DA's press release. Royal had reported extreme pain in his lower extremities, along with severe burning and numbness, according to the criminal complaint.
Police said they continued to build a case against Yang but held off on charging him until they could show that he had taken a significant step toward killing Royal.
Jackson, Yang's attorney, says that they have been aware of the charges since May, but that investigators delayed filing because of "reasonable doubt."
Yang, who is originally from China, was also charged with two counts of assault and reckless endangerment and had his student visa revoked. His bail was set at $200,000, according to police.

Police are continuing to investigate whether any other students may have been affected.
"From the outset, our concern has been the health and safety of the victim of these alleged behaviors and, as such, Lehigh staff and faculty have been providing support, services and assistance," said a statement from the university.
Royal did not respond to a request for comment.

CORRECTION
Lehigh University President John Simon's name was misspelled in an earlier version of this story.