Kellyanne Conway said she was physically assaulted by a woman while she was at a restaurant with her daughter and some of her daughter's friends last year.
"I was assaulted in a restaurant," Conway said in an interview with Dana Bash on CNN. "Somebody was grabbing me from behind, grabbing my arms, and was shaking me."
"She was right here," Conway said putting her hand directly in front of her face. "And my daughter was right here," she added, pointing to the ground beside her.
Conway described the assailant as unhinged and said the woman "went on and on," refusing to leave the restaurant.
"Her whole face was terror. And anger," said Conway in the CNN interview.
The alleged assault took place at Uncle Julio's in Bethesda, Maryland. Conway eventually called the police, who arrived after the woman had left.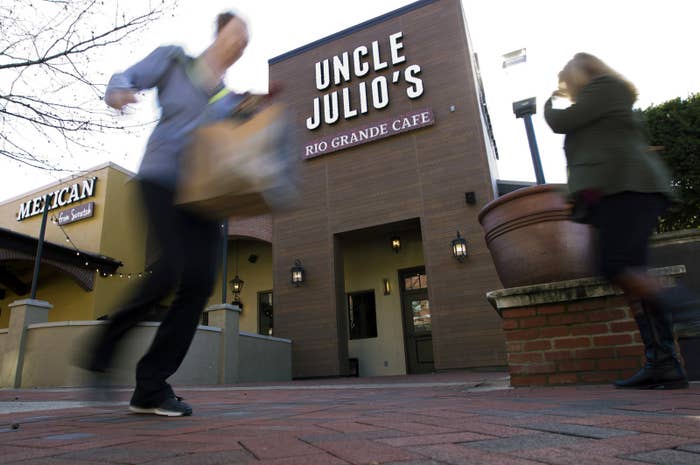 Police used video taken by Conway's daughter at the scene to identify Mary Elizabeth Inabinett as the suspect, according to charging documents obtained by BuzzFeed News.
Inabinett, 63, has been charged with second-degree assault and disorderly conduct, and is due in court in late March. She plans to plead not guilty according to a statement from her lawyer, William McDaniel, that was provided to BuzzFeed News.
McDaniel contested Conway's account of the incident, and said Inabinett was merely exercising First Amendment rights by expressing her personal opinions in a public space.
"She did not assault Ms. Conway. The facts at trial will show this to be true, and show Ms. Conway's account to be false," McDaniel said in the statement.
The charging documents also say that the restaurant manager told police that Inabinett "was yelling 'shame on you' and other comments believed to be about Conway's political views."
The alleged assault took place in October, a few weeks after Palo Alto University professor Christine Blasey Ford testified that then–Supreme Court nominee Brett Kavanaugh had sexually assaulted her when they were both teenagers.
Conway had spoken out in support of Ford, initially telling interviewers on Fox and Friends, "This woman should not be insulted and she should not be ignored." But she later told CBS that the allegations from multiple women felt "like a vast left-wing conspiracy."
About the restaurant incident, Conway told CNN, "This woman thinks it's okay to touch someone else? It's not okay. It's not okay by her own standards."
"And not okay by the law," she added.

"She oughta pay for that. She oughta pay for that," said Conway. "Because she has no right to touch anybody."
White House Press press secretary Sarah Huckabee Sanders and Secretary of Homeland Security Kirstjen Nielsen have also reported facing public anger while dining around the DC area. Sanders was asked to leave a Virginia restaurant, and Nielsen was confronted at a Mexican restaurant by protesters opposing the Trump administration's family separation policy.