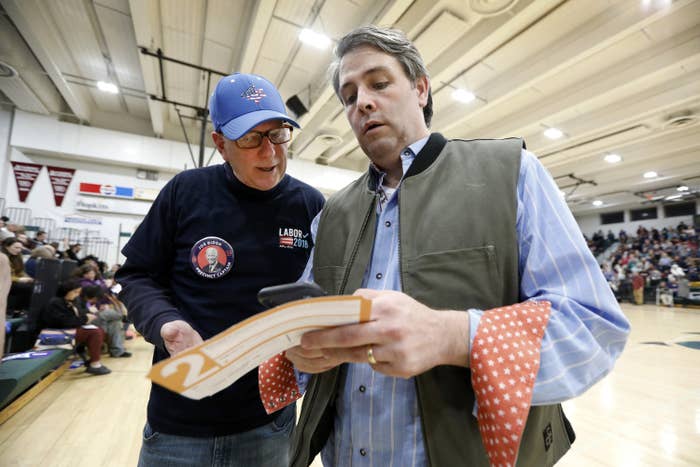 The long-anticipated Iowa Democratic caucuses ended without official results on Monday, marking an uncertain start to the 2020 presidential nominating contest.
Iowa may not have a lot of clout in terms of delegates — with just 49 compared to California's 495 — but being first brings its own influence, setting the stage for the primary season. And if someone does better than expected, it could bring more attention, and voters, to their campaign.
But after "inconsistencies" in the reported results, the Iowa Democratic Party said it would not announce a winner until it had validated numbers. That won't happen until Tuesday, so on Monday night, the major candidates went ahead and gave victory speeches.
(If you want to know more about how caucus voting unfolds, we created a handy guide that explains the ~unique~ ritual.)
Here's the latest:
The Iowa Democratic Party is delaying releasing the results of Monday night's Iowa caucus because of reporting inconsistencies, infuriating campaigns eager to move on with the election.
"We found inconsistencies in the reporting of three sets of results," IDP communications director Mandy McClure said in a statement. "In addition to the tech systems being used to tabulate results, we are also using photos of results and a paper trail to validate that all results match and ensure that we have confidence and accuracy in the numbers we report."
McClure emphasized that this was not the result of a "hack or intrusion" and that the "underlying data and paper trail is sound."

Why are numbers taking so long to get reported? The Iowa Democratic Party said after about two hours of caucusing that it was doing "quality control" on the results.
Multiple campaigns told BuzzFeed News there was a technical issue with the results reporting. As of 9:40 p.m. local time, a state party staffer was heading to brief them on what was going on.
Here are some other problems at just one precinct:
At Stilwell Junior High's gym, West Des Moines precinct 114, the night started off well. Iowans were jazzed, bleachers were filled. The site chair announced, to great applause, that the site had just beaten the previous turnout record of 327.
But soon after the final alignment vote, which came around an hour into the process, it appeared there was an issue. The chair announced that 11 more people had filled out cards on the final alignment than had been registered as part of the total — an outcome that could change the initial viability number and indicated that something got messed up in the final candidate counts. The scene in the gym quickly deteriorated. Many people simply left.
A precinct captain for Elizabeth Warren, who with 56 people in the final count was just on the bubble with an initial viability number of 55, tried to track down a woman in the room who said she was with the Iowa Democratic Party. She declined to comment to BuzzFeed News and did not appear eager to talk to anyone.
The best guess among people in the room as to what is supposed to happen there now: A party official will likely show up and help determine who the 11 extra people were and whether they were there appropriately or if they need to have their preferences dismissed.
No one in the room cared to guess how long that would take.
In a surprise twist for the night, Sen. Cory Booker, who dropped out of the race last month, reportedly won one of six delegates at a precinct at Drake University in Des Moines.
Former vice president Joe Biden, long considered a frontrunner for the presidential nomination, wasn't a viable candidate in several early caucus votes.
Several precincts reported that Biden did not meet the viability threshold in the first alignment, meaning he failed to get at least 15% of the attendees to support him in the first round of voting.
Biden could still become viable in those precincts if his supporters can convince enough people backing other nonviable candidates to join their ranks.
As caucusgoers continued to shuffle about school gyms, their kids patiently waited for them to wrap up.
Some fared better than others.
With a few also showing their support for candidates.
Turnout in several areas beat expectations.
In spite of the thousands of registration cards that had been printed, multiple precincts ran out, Polk County Democrats' chair Sean Bagniewski said in a tweet.
Polk County is home to Des Moines and is Iowa's most populous county.
Counts at some sites saw a jump in attendance from the 2016 caucus.
Some of the first votes in the Iowa caucuses are already in.

The host of satellite caucus in Tbilisi, Georgia, freelance journalist Joshua Kucera, tweeted that they had successfully concluded around 11 a.m. CT.
"The Tbilisi caucus was conducted successfully, over a traditional Iowan meal of pizza and ranch dressing – accompanied by Georgian wine," wrote Kucera, who posted a photo of the pizza and wine with a tiny Iowa state flag.
The Tbilisi location included just three people at Kucera's apartment.
"The results will be reported along with the rest of the results after the caucuses in Iowa take place," Kucera added on Twitter.
This is the first year that the Iowa Democratic Party has permitted caucusing outside the state after a test run with four in-state sites in 2016. The caucuses historically require in-person participation and do not allow absentee ballots. The change was made in response to criticism of the caucuses as being exclusionary and is intended to allow wider participation from people like nursing home residents or members of the military stationed overseas.
Kucera defended the caucuses in a piece published in the Nation, saying Iowans take the responsibility of hosting the first contest in a presidential election cycle seriously.
"I don't know if this will be enough to save the caucuses, or even if the caucuses should be saved. But I will be proud to represent Iowa so far from home and carry on our beloved caucus tradition as long as it lasts," Kucera wrote. "I leapt at the chance, eager to recreate a tiny bit of Iowa halfway around the world."