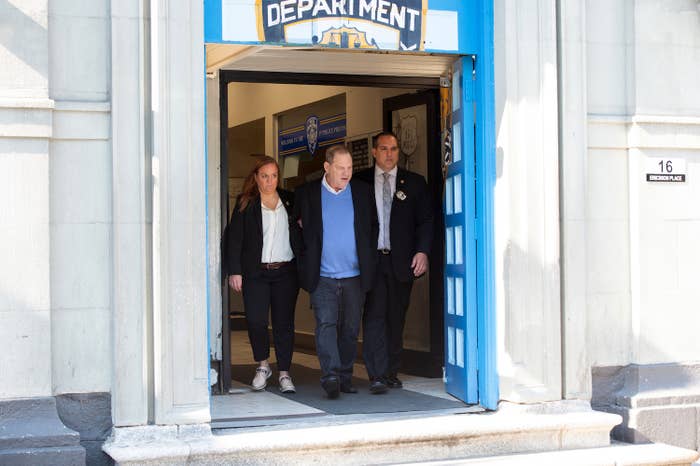 Disgraced movie mogul Harvey Weinstein was arrested and charged Friday with rape, a criminal sex act, sex abuse, and sexual misconduct involving two separate women, the first criminal proceedings initiated against him since dozens of women came forward with allegations against him.
Later, at Manhattan Supreme Court, Weinstein was released on $1 million cash bail. His passport was confiscated, he needs to wear a 24-hour monitoring device, and he can't travel outside New York and Connecticut. It was revealed in court that one of the women has an order of protection against him.
He will testify before a grand jury next week and is due back in court July 30.
His lawyer, Ben Brafman, said he will plead not guilty.
"We intend to move very quickly to dismiss these charges. We believe that they are constitutionally flawed. We believe that they are not factually supported by the evidence, and we believe that at the end of the process Mr. Weinstein will be exonerated," Brafman told reporters outside the courthouse.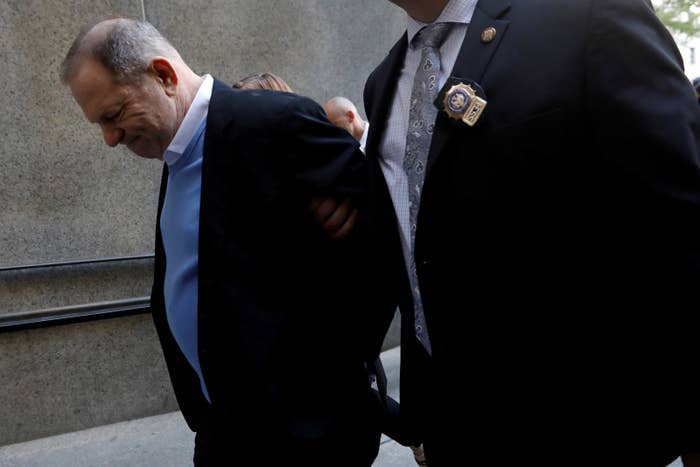 The criminal complaint against Weinstein details two acts with two women.
The first happened during the daytime between June and September of 2004, inside Weinstein's West Village home at 375 Greenwich Street. Weinstein forced a woman to "engage in oral sexual conduct, to wit, defendant grabbed the back of informant's head forcing her head downward and forcing her mouth onto his penis," according to the complaint.

The second incident happened on March 18, 2013, in the morning, at a at a hotel in Midtown Manhattan, the complaint said. Weinstein is charged with keeping a woman "physically against her will in a room and engaged in sexual intercourse with informant by forcible compulsion, to wit, defendant penetrated informant's vagina with his penis and, at the time of the incident informant had clearly expressed her lack of consent to the act."
If convicted of all charges, it's possible Weinstein could face 25 years to life in prison, Vincent Spata, a criminal defense attorney in New York, estimated.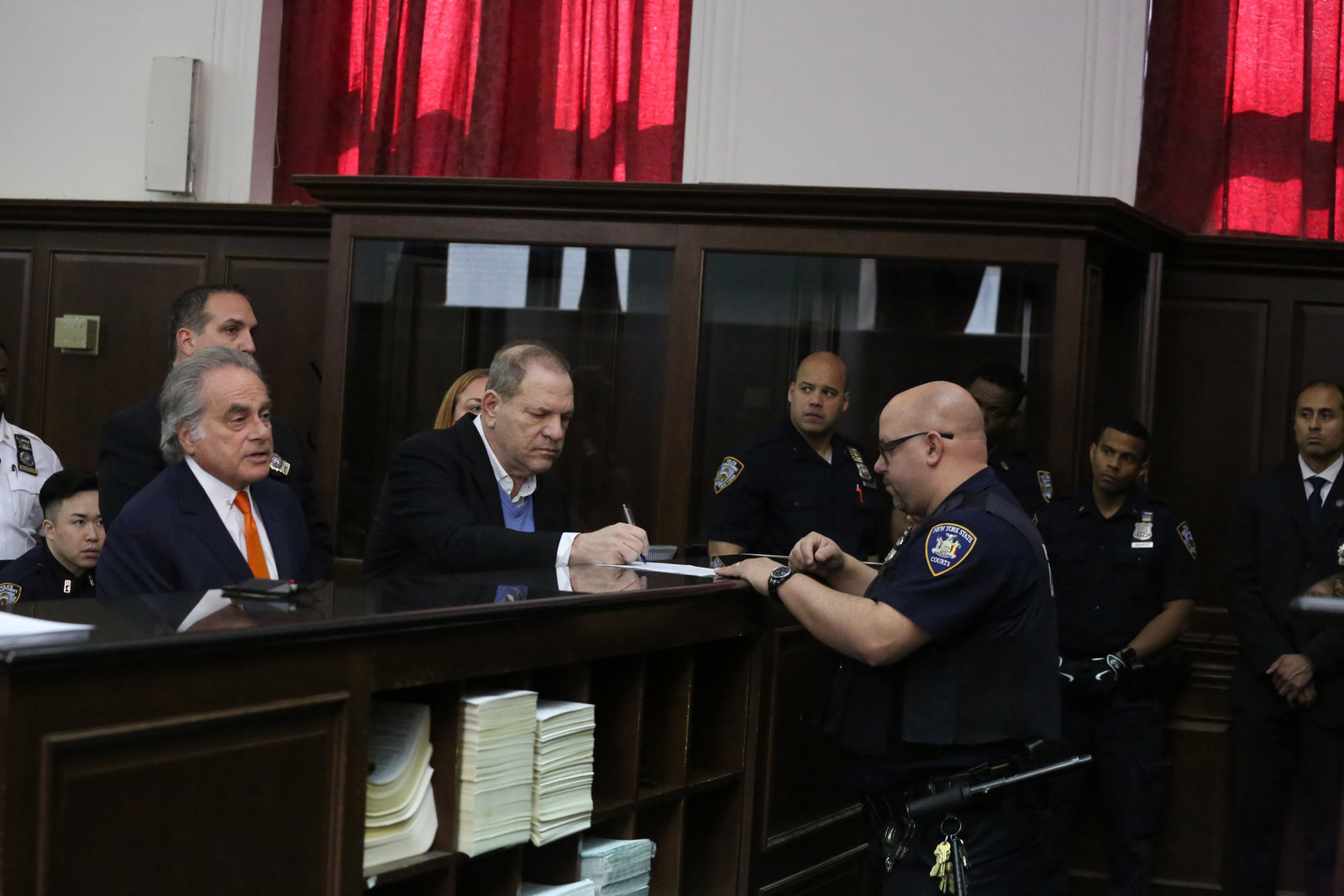 The former Hollywood power broker — whose arrest some of his alleged victims said is something they never thought would come to pass — was hauled around lower Manhattan in handcuffs Friday, hanging his head as he sat on a bench in arraignment court.

Weinstein's day began when he turned himself in to the NYPD at the 1st Precinct in Tribeca shortly before 7:30 a.m.
Wearing a light blue sweater, collared shirt, and jacket, Weinstein held three books, one of which appeared to be a biography of celebrated director Elia Kazan, who in the 1950s, as the New York Times put it, also "named names before the House Un-American Activities Committee investigating Communist influences in Hollywood."
He also appeared to be carrying the book Something Wonderful: Rodgers and Hammerstein's Broadway Revolution — a double biography about how two titans of entertainment reshaped their industry.
About 90 minutes later he was perp-walked out in handcuffs.

And minutes after, he was walked into Manhattan Supreme Court.
Assistant District Attorney Joan Illuzzi — known as a tenacious prosecutor — said during court the arrest came after a months-long investigation by the Manhattan District Attorney's Office and NYPD that is still ongoing.

"I thank the brave survivors who have come forward, and my Office's prosecutors who have worked tirelessly on this investigation," District Attorney Cy Vance said.

"The NYPD thanks these brave survivors for their courage to come forward and seek justice," the NYPD said in a statement.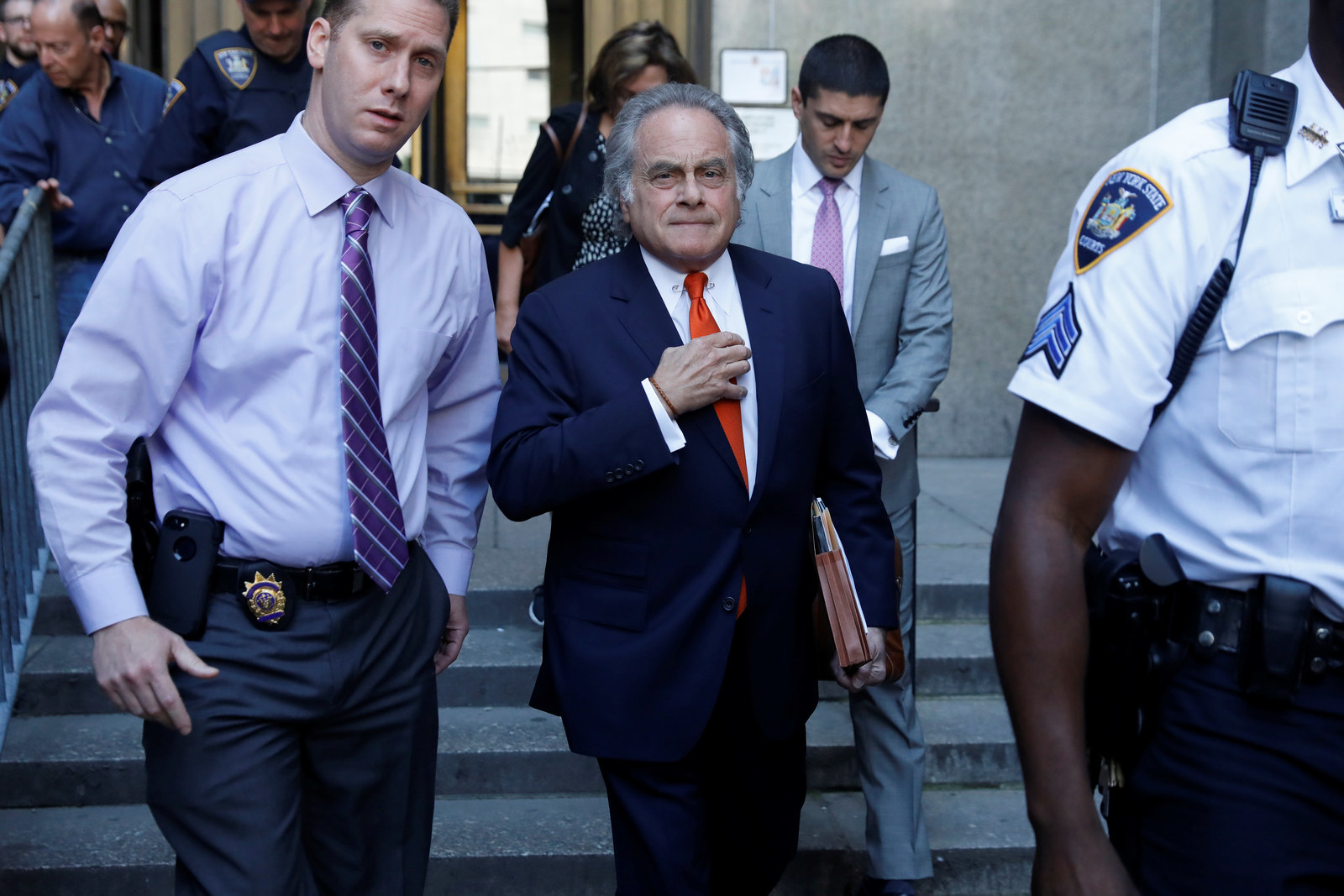 Brafman held a news conference after the hearing. Asked by reporters about a pattern of behavior by Weinstein, he said, "Let me say this — without defending bad behavior, my job is not to defend bad behavior. My job is to defend something that is criminal behavior.

"Mr. Weinstein did not invent the casting couch in Hollywood and to the extent that there is bad behavior in that industry, that is not what this is about," he continued. "Bad behavior is not on trial in this case — it is only if you intentionally committed a criminal act, and Mr. Weinstein vigorously denies that."
Brafman called many of the allegations against the mega-producer "long overdue, quite frankly, having been made about events that are alleged to have occurred many years ago." He said that he anticipates that "the women who made these allegations, when subjected to cross-examination, in the event [they] even get that far, that the charges will not be believed by 12 people, assuming we get 12 fair people who are not consumed by the movement that seems to have overtaken this case."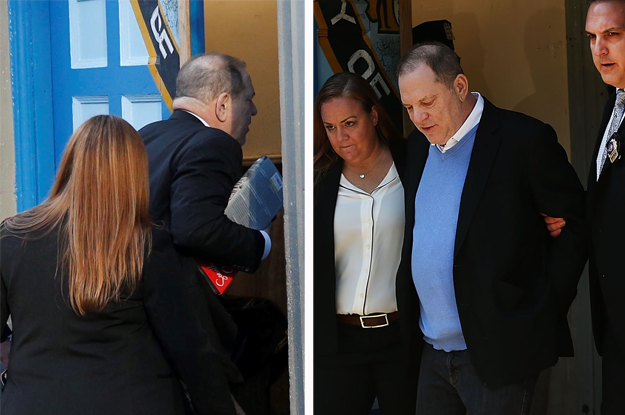 Weinstein's arrest is reported to concern a case involving actor Lucia Evans, who has said that Weinstein forced her to perform oral sex on him in New York in 2004. There is no statute of limitations on filing charges in an alleged crime of this kind.

In a story in the New Yorker in October, Evans said she first met Weinstein at the Cipriani Upstairs club the summer before her senior year at Middlebury College, at which point she gave Weinstein her number and told him she wanted to be an actor.
After declining his invitations, she agreed to a reading with a casting executive at Miramax, a studio Weinstein had cofounded.
Evans said she was then taken to an office with exercise equipment and takeout boxes on the floor, where Weinstein discussed two possible movie projects with her, told her she would need to lose weight, and then allegedly forced her to perform oral sex on him.
"This moment never would have happened without the tireless work of these two flanking: HW. Keri Thompson and Nick DiGuadio," Evans' lawyer, Carrie Goldberg, tweeted about the officers who perp-walked Weinstein. "The finest of NYC's finest. Compassionate, unflappably scrappy, and relentless."

"Harvey Weinsten's arrest came to pass a result of our client's bravery in coming forward and the tenacity of law enforcement," Evans's lawyer, Carrie Goldberg, wrote in a statement. "Over the next few months, we'll be hearing from Harvey Weinstein's lawyers, saying the victims are liars, that their client is being tried 'by the movement' or the press. These are the desperate excuses of somebody who thought he'd never get caught."
Goldberg added that, by coming forward, her client sacrificed her "privacy and peace," and asked that she be left alone.
Weinstein also faces allegations of assault, including rape, in Los Angeles, Canada, and France, each of which has a different statute of limitations. The producer has repeatedly denied engaging in nonconsensual acts with women.

In California, there is an eight-year limitation on filing criminal sexual assault charges, and a 10-year limitation on cases of rape, which means many of the allegations won't be prosecutable. Investigations in Los Angeles remain ongoing.
Additional reporting by Pat Smith in London.