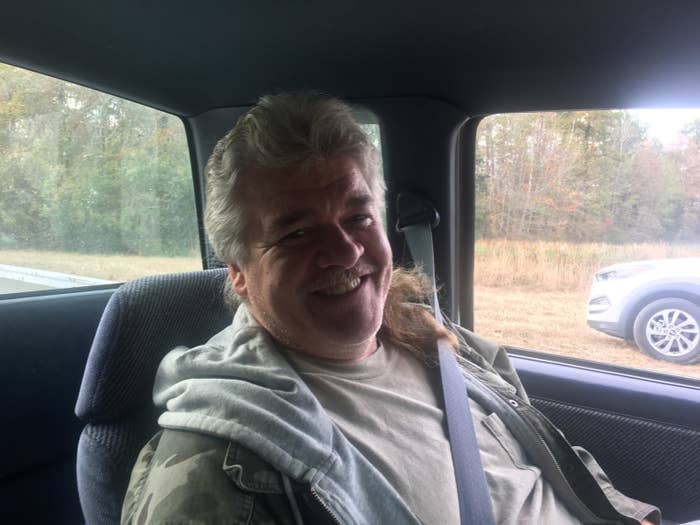 BLADENBORO, North Carolina — Chris Eason is 47 years old, not registered to any political party, and worked in construction. He's into camping and boating, and has lived in this rural town most of his life.
What Chris Eason does not do is vote.
"I just don't vote. I don't believe it. Do nothing but lie anyway," Eason told BuzzFeed News about politicians. "Everybody's crooked and they'll do anything they can to get put in office."
But, technically, Eason does vote — he says he's just not the guy casting the ballot.
Eason told BuzzFeed News that he signed a blank absentee ballot in the now-contested Nov. 6 general election, didn't actually pick any candidates, and then handed the unsealed ballot to the man at the center of an unfolding election fraud scandal, McCrae Dowless.
Sure enough, public records show, his absentee ballot ended up signed, sealed, and witnessed to the county Board of Elections with Eason's name on it.
"That's what I'm telling you — McCrae or whoever's doing it, they checked them boxes, I didn't," said Eason. "I'd take a lie detector test on that."
It's unclear if any boxes were actually ticked off, and elections officials told BuzzFeed News that if a fully blank ballot were sent in, it would be registered and tabulated as zero votes. Records show a ballot was registered for Eason in the Nov. 6 race.
"This information has been forwarded to our investigators," State Board of Elections and Ethics Enforcement spokesperson Patrick Gannon told BuzzFeed News when asked about Eason's claims.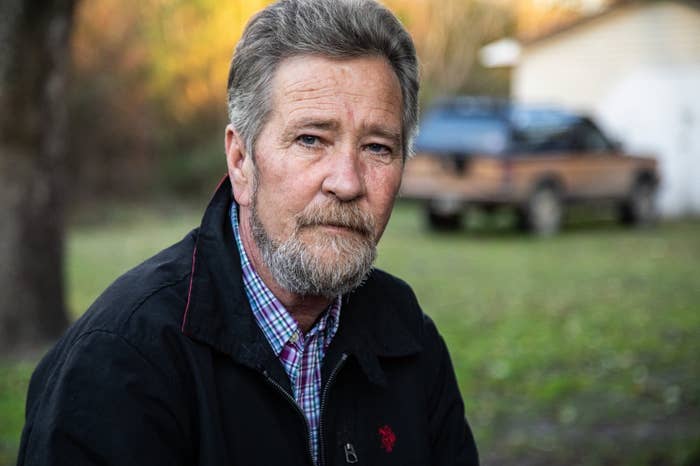 Eason's story, told exclusively for the first time to BuzzFeed News, is some of the most dramatic evidence yet that something is very wrong with the election results in Bladen County, North Carolina — results that may have decided a tight race for the House of Representatives in favor of the Republican, Mark Harris, against Democrat Dan McCready, who rescinded his concession on Thursday.

North Carolina state investigators — working with federal prosecutors — are probing irregularities in the chaotic, cash-fueled operation of Dowless, a Republican political operative working for Harris. Several of Dowless's employees have told BuzzFeed News he paid them to collect absentee ballots from people so he could submit them to the county — and some people have sworn ballots were incomplete or unsealed.
Eason's interview is the first time someone has publicly said they saw Dowless himself collect an absentee ballot.
Eason's story, if true, appears to show outright fraud: He says Dowless harvested his unsealed ballot, which is illegal for third parties to do in North Carolina with narrow exceptions for close family or people with disabilities. Even more, he suspects Dowless or one of his employees filled votes for him, which, if true, would also be illegal.
"The law would prevent a third party from taking this ballot, marking it in any way, or delivering it to the county Board of Elections," Gannon said.
Reached Thursday by BuzzFeed News, Dowless said, "I have no comment at this time." He had previously denied wrongdoing to the Charlotte Observer.
State Board of Elections documents show that Eason's request for a general election absentee ballot was signed on June 13 and received on Sept. 21.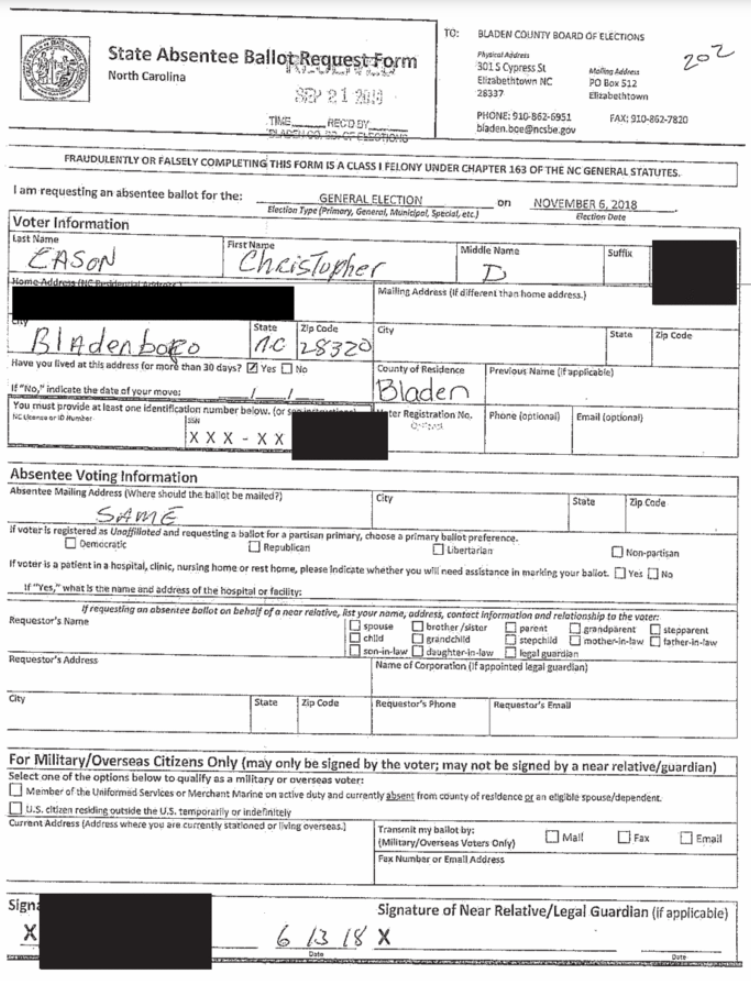 His request was bundled with 23 others and submitted to the county by "McCrae Dowless," according to a handwritten cover sheet.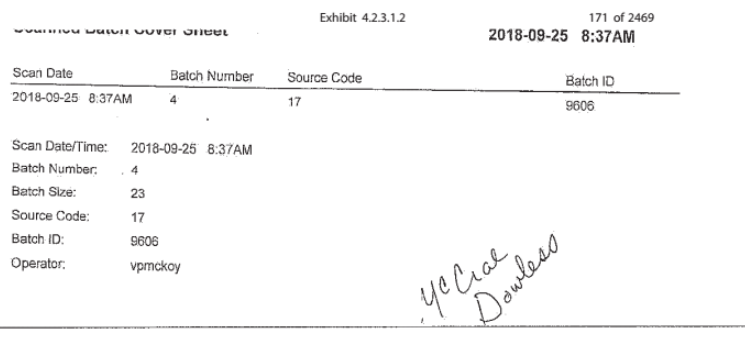 The person who scanned the bundle into the system, according to the records, is Valeria Peacock McKoy, the current interim director of the Bladen County Board of Elections.

"We have no way of knowing what has happened to that ballot once it leaves us. We put it in the mail, and after it leaves us we don't know what happens to it," McKoy told BuzzFeed News.
"All I can say is, we take in the request, we send out the ballots. What happens between the time the ballot leaves us and comes back in the mail, we don't know where it's been," she said.
The scrutiny about absentee ballots, she said, is "very nerve-racking."
In the past, Eason said that when he gets absentee ballots, "I always throw them away."
He said when he'd tell McCrae, "'Man, I don't know what happened to it,' he'll go to his car." Then, McCrae "come up here and took 'em out of his vehicle," Eason said, referring to ballots. "He'll have 'em on hand. A lot of the ones I've seen was in his personal vehicle."
McKoy said, "I don't know anything about McCrae having blank ballots available. He didn't get them from here."
Eason said that for the Nov. 6 election — pitting Harris against McCready, among other more local races — he agreed to hand his signed, unsealed, and blank ballot to Dowless when he came by his house to pick it up.
"I'll sign the paper, but I won't vote," Eason said he told Dowless.
"I signed my name to it. I said I'm not putting on there who goes in the office or whatever name. I'll put my name on it, you do what you want to do with it," Eason told BuzzFeed News.
Eason says he believes Dowless filled out the ballot on his behalf after he took it away. "He or somebody filled out my ballot — I just signed it," Eason told BuzzFeed News. "I know for a fact they put something in mine because I don't vote."
Documents published by the State Board of Elections show that later, a signed, sealed, and witnessed absentee ballot was submitted for Eason in the Nov. 6 election.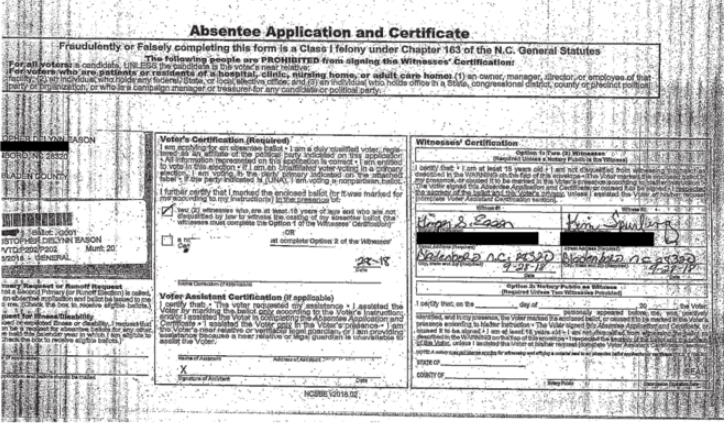 Every absentee ballot needs to be witnessed by two people — Eason's was cosigned by his sister, Ginger, and Bladenboro resident Kim Spurling, who knows the Easons personally.

Spurling told BuzzFeed News on Thursday that she has no recollection of witnessing Chris Eason's ballot. Ginger, who told BuzzFeed News she was paid to collect absentee ballots for Dowless, said she signed as a witness before the ballot was completed.
"The only thing I want to say is to the one who put me in this shit," she said, referring to Dowless, and raised two middle fingers.
The Bladen County Board of Elections on Monday released a log of in-person deliveries of absentee ballot request forms from Aug. 22 through Oct. 30.
The log shows Dowless submitted requests for 592 absentee ballots out of more than 1,300 requests in that time frame. Chris Eason's was submitted on Sept. 28.
Though Chris Eason says he does not vote, there are votes recorded under his name for a hodgepodge of nine elections over the past decade, public records show.
In three elections, it indicates he or someone under his name appeared in person for early voting.
The other six were mail-in absentee ballots.
Eason also said that McCrae had offered him money in this past election and in previous elections in exchange for his vote.
"He offered me money to sign a certain person on the ballot, but I won't do it," he said. "I told him I'm not voting, I don't vote. I don't care who gets in there because whoever gets in there, they don't help me."
When asked why he came forward, Eason told BuzzFeed News, "It hurts everybody. There's a lot of people who are really struggling."