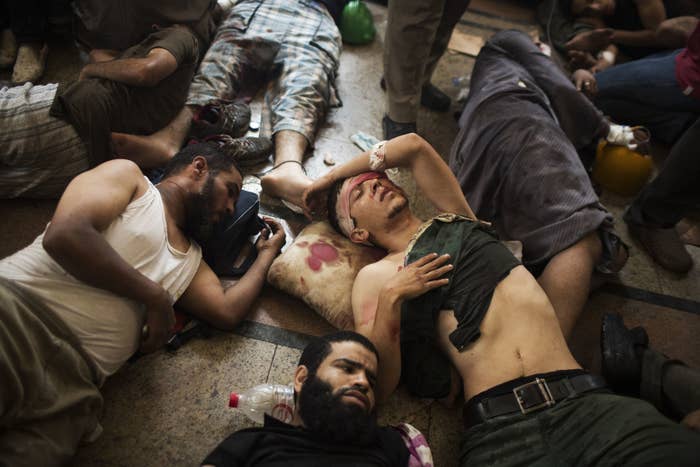 A court in Egypt sentenced 75 people to death and 47 others to life in prison at a mass trial on Saturday over a deadly 2013 protest that turned into "the massacre that ended the Arab Spring."
The trial of 739 people in a Cairo criminal court was condemned as a "parody of justice" by Amnesty International.
The court was considering a range of charges — including murder, involvement in violence, "illegal gathering," and "membership in an illegal group" — over the defendants' role in a sit-in in Rabaa Square on Aug. 14, 2013, to protest the army's overthrow of president Mohamed Morsi. Hundreds of demonstrators were killed and thousands of others injured when security forces cracked down on the protest.
Prosecutors did not present evidence to independently establish the responsibility of each defendant, according to Amnesty International.
Those on trial included the photojournalist Mahmoud Abu Zeid, known as Shawkan; the spiritual leader of the now-banned Muslim Brotherhood, Mohammed Badie; and Osama Morsi, the son of the former president, who is also currently detained.
Some 374 people were sentenced to 15 years and 215 others to five years, according to the Associated Press. Twenty-two were sentenced to 10 years in prison.

Shawkan was sentenced to five years in prison, but is expected to be released in the coming days, having already spent five years in pre-trial detention. The sentence was condemned by the Committee to Protect Journalists, which said that Shawkan's "only 'crime' was taking pictures."
The treatment of Shawkan "and that of scores of other journalists under Egypt's totally discredited judicial system, is a stain on Egypt," said Sherif Mansour, CPJ's Middle East and North Africa program coordinator.
At least 817 people were killed in the 2013 crackdown, which led to the resignation of Vice President Mohamed ElBaradei and marked the end of the Arab Spring for many observers. Secretary of State John Kerry called it a "pivotal moment for all Egyptians" at the time.
Under President Abdel-Fattah el-Sissi, the army leader who overthrew Morsi and eventually installed himself as leader, Egypt has grown increasingly authoritarian.
"The mass killing at Rabaa five years ago marked the bloody beginning of an unprecedented wave of repression that plagues Egypt to this day," human rights advocate Mohamed Soltan wrote recently in the Washington Post. "The crackdown has suffocated the political and public space, even for opposing voices within the regime and military."