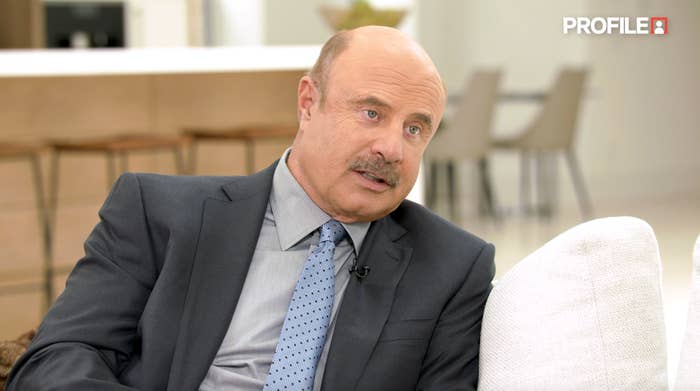 Dr. Phil McGraw says that he's privately counseled a "staggering" number of public figures and celebrities who have come to him seeking help.
Speaking to Ashley Ford for an episode of BuzzFeed News' Facebook Watch show Profile that is set to air on Sunday morning, the talk show host also hit back at criticism that his show exploits the suffering of people with mental illnesses.

"I'm just out there every day putting it on the line, and people grade my paper every day and they take issue with it," McGraw said. "So, fine. You know, it's easy to do from the cheap seats."
"So, you know, come down here and do better," he said. "If you don't like what I'm doing, do better."
Although he said he personally doesn't do private therapy, McGraw said he has been an "emotional compass" for many people in the public eye who have come to him for help.
"I'm so glad when they do that because I'm happy to help. And, I always do it privately," he said. "I never — you've never heard me say one word about one person that doesn't come on the show."
He added that even though the issues are typically handled privately, his work with public figures still has a big impact because "they always pay it forward."
McGraw, who became a celebrity in his own right after he began appearing regularly on The Oprah Winfrey Show in the '90s, has built a media empire encouraging audiences to "get real."
While his shows — not to mention multiple books, an app, and now a podcast — have opened up conversations about psychology and therapy to millions of viewers, the talk show host has also faced criticism that he is exploitative, putting vulnerable people on display for entertainment.
One celebrity appearance on the Dr. Phil show that garnered widespread attention was the talk show host's 2016 interview with Shelley Duvall, famous for her role as Wendy Torrance in Stanley Kubrick's film The Shining.
Duvall, who also starred alongside Robin Williams in Popeye, said on the show that the comic actor, who had died roughly two years prior, was still alive and was actually "shape-shifting."
The episode drew widespread criticism, with Vivian Kubrick, daughter of director Stanley, accusing McGraw of being exploitative and cruel.
McGraw opened up to Ford about accusations of exploitation saying that he views it as the cost of striving to do something great in the public eye.
"Somebody's gonna have an issue with what you do, no matter what you do," he told Ford. "You can sit there and read the phone book. You can stare at the camera and go into a coma. You can say A, B, or C. Somebody is going to have an issue with what you do."
"You know, President Roosevelt said it well — you know, the credit goes to the man in the arena, you know, the man that stumbles while striving to do greatly," he told Ford.
Watch the full interview with Dr. Phil on Profile on Sunday morning at 8 ET.