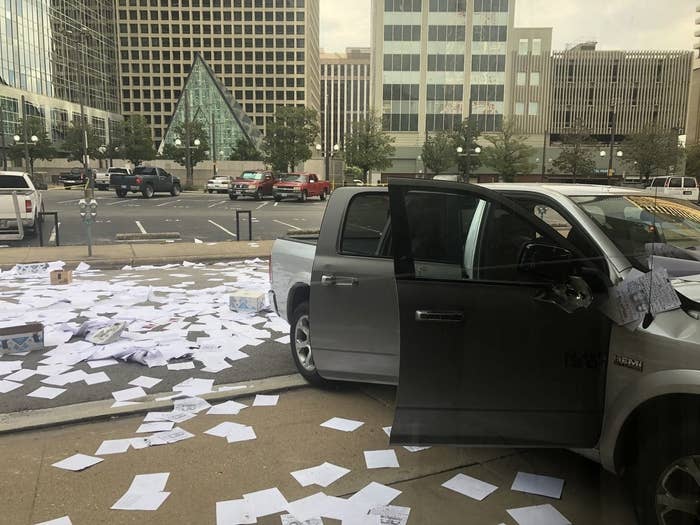 A man drove a truck into the Fox 4 News building in Dallas early Wednesday morning, ramming into a glass window before scattering flyers about a police-involved shooting in another city, authorities said.
The man crashed into the building just before 6 a.m. local time and then began yelling about "high treason," according to Fox 4 reporter Brandon Todd, who was at the scene. He also removed a duffel bag and a helmet from the truck, according to Todd.
"He believes that someone was trying to kill him," said Todd.
Dallas police responded to the scene and the call was upgraded to a major disturbance "when it was determined that the suspect had intentionally crashed into the building multiple times," according to a statement from police spokesperson Debra Webb.
The driver was arrested and was transported to Parkland Hospital for evaluation before being taken to a jail, according to the police report.
Officers later identified him as 34-year-old Michael Chadwick Fry. He has been charged with second-degree felony criminal mischief.
The police department's bomb squad was also called to the scene, which was cleared after no suspicious devices were found.

No one was injured, and Fox reporters continued the broadcast of their morning Good Day program.

"It does not appear the suspect was directly targeting the media in this incident," Dallas police said.
One of the papers distributed by the man also mentioned the Denton County Sheriff's Office, according to Todd, the Fox 4 reporter.

Capt. Orlando Hinojosa of the Denton County Sheriff's Office, 45 minutes northwest of Dallas, also identified the man as Michael Chadwick Fry, but said he had "no clue" as to why Fry might have crashed his truck into the Fox 4 building.
Jail bond records from Denton County show numerous entries on Fry dating back to 2004. The latest, from June 2018, listed the offenses "assault bodily injury" and "resist arrest search or transport."

When asked if the Denton County Sheriff's Office found Fry threatening, Hinojosa said, "We don't."
Photos from the scene posted by reporter Shannon Murray showed a flyer that appears to be a news report from local ABC affiliate WFAA with the words "they tryed [sic] to kill me and they missed and hit him" scrawled across the page.
The photos on the flyer appeared to match another NBC 5 news report from 2012. The report said that Fry was in a car when Denton police shot and killed the driver, Roberto Carlos Hernandez, when he rammed his vehicle into a patrol car.

"He was trying to get his story out," said Todd, the Fox 4 reporter.
UPDATE
This story has been updated with Dallas police identifying the suspect and outlining the charge against him.