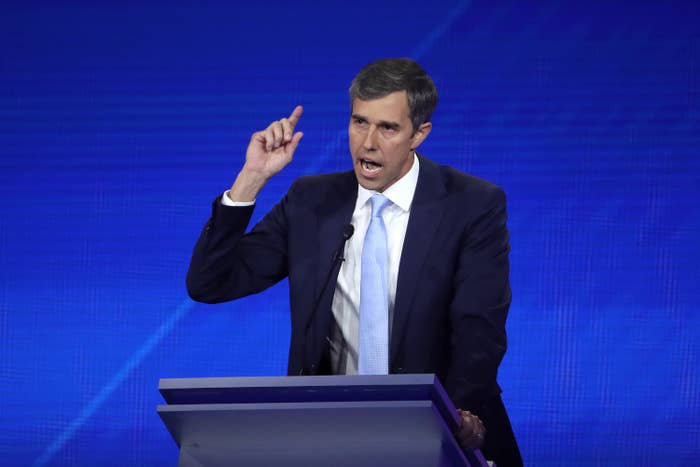 A Texas state representative tweeted at Beto O'Rourke Thursday night, saying, "My AR is ready for you" — a message the presidential candidate called a "death threat" — after the Texas Democrat supported a mandatory buyback plan for assault weapons.
The tweet was later removed by Twitter, which said the post broke the site's rules forbidding violent threats.
During Thursday's presidential debate, O'Rourke described AR-15 and AK-47 rifles as a "weapon of war" and defended his plan for a mandatory buyback program, saying, "Hell yes, we're going to take your AR-15, your AK-47. We're not going to allow it to be used against your fellow Americans anymore."

"My AR is ready for you Robert Francis," Briscoe Cain, who represents Texas House District 128, tweeted, using O'Rourke's first and middle names to refer to the candidate.

O'Rourke tweeted a screenshot of Cain's tweet saying, "This is a death threat, Representative. Clearly, you shouldn't own an AR-15 – and neither should anyone else."

Twitter later took down Cain's tweet for violating the platform's policies.
"The Tweet is in violation of the Twitter Rules for violence and wishing harm against others," a company spokesperson told BuzzFeed News.
After the tweet was removed, Cain responded to O'Rourke with another post. "You're a child Robert Francis," he wrote.

O'Rourke, who took time off from campaigning to return to El Paso, Texas — part of the district he represented as a US congressman — following the mass shooting last month that left 22 people dead, has been increasingly outspoken about gun control.
O'Rourke told CNN on Friday morning that he believed his campaign staff had reported the tweet to the FBI and to Twitter. A spokesperson for the O'Rourke campaign confirmed to BuzzFeed News that the campaign had reached out to the FBI, but declined to comment further.
Cain later told CNN that he had not been contacted by the FBI and said that his tweet was "not a true threat at all." The FBI, citing privacy concerns, declined to confirm or deny any contact with O'Rourke's team or the potential existence of an investigation.
"Any time you have somebody threatening to use violence against somebody in this country to resolve a political issue, or really for any reason, that's a matter for law enforcement," O'Rourke told CNN.
"It really drives home the point, better than I could have made, that Representative Briscoe Cain is making the case that no one should have an AR-15 that they can hold over someone else in this country and say, 'Look, if we disagree on something, let me introduce you to my AR-15,'" O'Rourke added. "Absolutely wrong."
A spokesperson for Cain did not respond to a request for comment from BuzzFeed News.