This is Karina Brown. She plays for the Australian women's rugby league team, the Jillaroos.
And this is Vanessa Foliaki. She plays rugby for the Jillaroos too.
Anddddd, they're dating!! It's extremely cute.
Brown's Instagram is full of adorable pics of them together, including this video where she voted YES for same-sex marriage in Australia's recent postal survey.
But they also play on opposing state rugby teams, and on Friday there was a really big game between Queensland and New South Wales. Dun! Dun! Dun!
Brown even said Foliaki blocked her number when it got close to game time. 😬
"Karina is messaging me, and I'm like, 'She's a Queenslander,' and I put my phone away. She's a Queenslander and I want to beat her," Foliaki told NRL.com.
(Brown didn't immediately respond to a request for comment from BuzzFeed News).
Well, NSW won the game 16–10, but it looks like their relationship made it through unscathed, because afterward they celebrated with a kiss on the field.
The sweet moment was shared by rugby officials in Australia, drawing praise from many fans.
And a bunch of people thanked the league for posting the photos.
Someone even said it should be a romantic comedy.
But not everyone was happy. Some thought the kiss was inappropriate.
They said these "private gestures should be left off the field."
But the National Rugby League, which was recently recognized for its support of the LGBT community, hit back at the haters.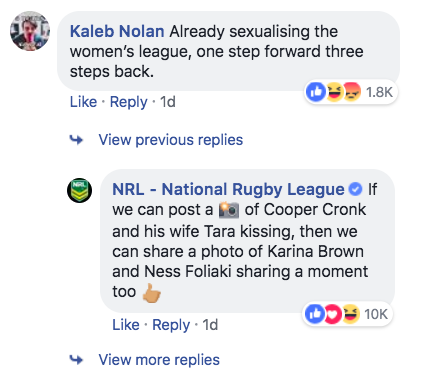 They wanted everyone to know they had Brown and Foliaki's backs. 💙💜💚💛❤️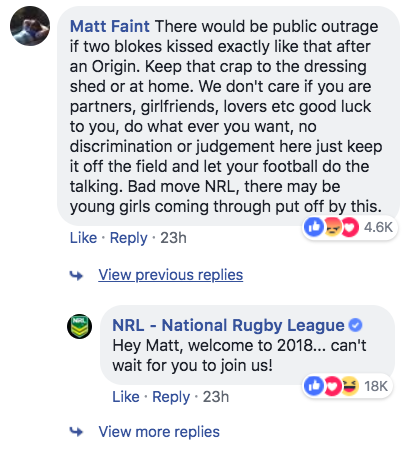 Other fans said they're looking forward to the day when they see a kiss like this from the men's teams.
Still, while some had no problem with the two women kissing, they simply couldn't support kissing a Queenslander. 😂
So, welcome to 2018, everyone! And, happy Pride, y'all.