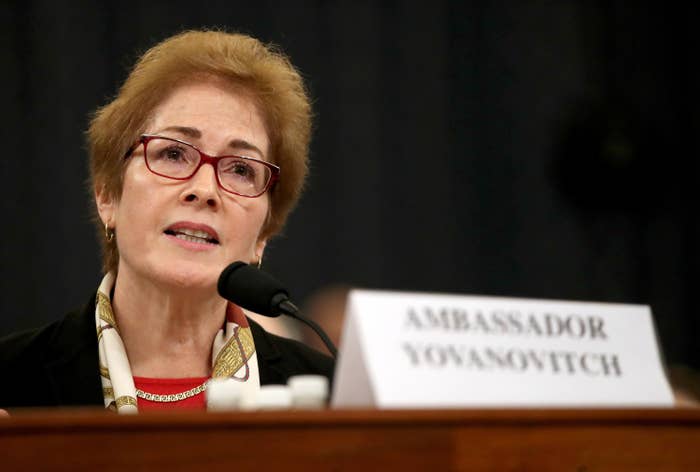 WASHINGTON — President Donald Trump ridiculed on Twitter the former US ambassador to Ukraine while she was testifying in his impeachment hearing, an experience she said was "very intimidating" when asked about it on live television.
Marie Yovanovitch was describing details of a smear campaign against her when House Intelligence Committee Chair Adam Schiff interjected to say that Trump was live-tweeting criticism of her testimony on Twitter.
"Ambassador Yovanovitch, as we sit here testifying, the president is attacking you on Twitter," Schiff said. He then read part of the tweet.

"Everywhere Marie Yovanovitch went turned bad. She started off in Somalia, how did that go?" Schiff read, as a seemingly stunned Yovanovitch smiled with her eyebrows raised and appeared to laugh to herself.
"He then goes on to say later in the tweet that it is a US president's absolute right to appoint ambassadors," Schiff continued. Yovanovitch nodded in agreement.
"First of all, Ambassador Yovanovitch, the Senate has a chance to confirm or deny an ambassador, do they not?

"Yes, advise and consent," agreed Yovanovitch.
"Would you like to respond to the president's attack that everywhere you went turned bad?" Schiff asked.
"I don't think I have such powers," Yovanovitch said, adding, "I actually think that where I've served over the years, I and others have demonstrably made things better for the US as well as the countries that I've served in."

"Ukraine, for example, where there are huge challenges — including, you know, on the issue that we're discussing today of corruption — huge challenges. But they've made a lot of progress since 2014, including in the years that I was there," Yovanovitch continued. "And I think in part the Ukrainian people get the most credit for that. But a part of that credit goes to the work of the United States and to me as the ambassador in Ukraine."
Schiff described Yovanovitch as courageous for choosing to come forward and testify, despite pressure from the White House and State Department not to, and despite what the former ambassador characterized as an implicit threat against her during Trump's July 25 phone call with Ukrainian President Volodymyr Zelensky, which is the heart of the impeachment inquiry.
"Now the president in real time is attacking you," Schiff said. "What effect do you think that has on other witnesses' willingness to come forward and expose wrongdoing?"
"It is very intimidating," Yovanovitch said.
"It's designed to intimidate, is it not?" asked Schiff.
"I mean, I can't speak to what the president is trying to do," Yovanovitch told the committee. "But I think the effect is to be intimidating," she added.
A Twitter spokesperson told BuzzFeed News that Trump possibly obstructing justice or intimidating a witness via tweet would be protected by their world leader policy.
Here's the full exchange:
Reactions from across the political spectrum were swift.
During a break, Schiff characterized the tweet as "witness intimidation," saying what "we see today is witness intimidation in real time, by the president of the United States."
"The president in real time is engaging in witness intimidation and witness tampering," Rep. Jackie Speier, a Democrat, said. "And I don't know how much more egregious it has to get before the American people are going to recognize that we have someone in the White House who conducts himself in a criminal manner on a day-to-day basis."
Some Republicans joined Democrats in criticizing the attack.
"I would not be attacking the poor career foreign service officers who're just out there trying to do their job," Rep. Francis Rooney, a Republican who recently announced his retirement, said.
"I disagree with the tweet," Rep. Elise Stefanik, a Republican from New York, told a CNN reporter.
Fox News host Bret Baier described Trump's attack on a "sympathetic witness" as a "turning point in this hearing so far."

However, Rep. Lee Zeldin, another Republican, said, "The president is going to defend himself."
"They wanted her to cry for the cameras," added Zeldin.
Trump told reporters at a healthcare event later in the day that Friday was the first time he had watched the hearings. He countered questions about the tweet by accusing Schiff of witness tampering for refusing to recognize Republicans who had attempted to circumvent the rules of the hearings to speak.
"I have the right to speak. I have freedom of speech, just as other people. But they've taken away the Republican's rights and I watched today as certain very talented people wanted to ask questions, and they weren't allowed to ask questions" he argued.
He also said that he didn't think his tweet had been intimidating.
Members of the House have so far largely avoided discussing the specific charges that may become part of the articles of impeachment against Trump, but Trump's real-time intervention in the hearing prompted at least two lawmakers to immediately call for the tweets to be taken into account.

Rep. Eric Swalwell, a Democrat who dropped out of the presidential primary race, told reporters that the tweets "will be considered" as obstruction of justice.
And Rep. Justin Amash, who announced in July that he was leaving the Republican party to become an Independent, put it more starkly.
"Expect witness tampering to be an article of impeachment," Amash tweeted.
Ryan Broderick contributed to this article.