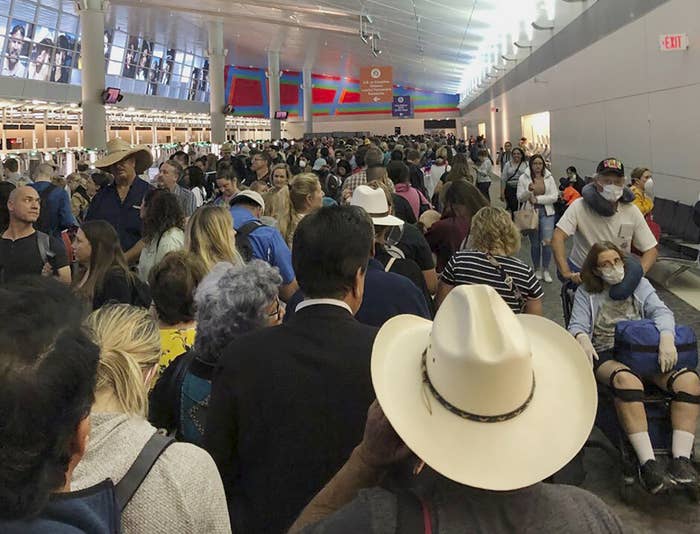 After the Trump administration ordered travel restrictions because of the coronavirus, people arriving at US airports Saturday night faced long waits in dense crowds — the kind of mass gatherings that public health officials have advised against.
People arriving in the US shared accounts of chaos and confusion as they waited to go through customs at airports including Chicago's O'Hare International Airport and Dallas/Fort Worth International Airport. Photos showed winding lines and shoulder-to-shoulder crowds, with people reporting wait times from 5 to 7 hours long.
"The federal government needs to get its s@#t together. NOW," Illinois Gov. J.B. Pritzker tweeted in response to the situation at O'Hare.
The chaos comes after the Trump administration announced new rules forcing all US travelers from 26 European countries to reroute flights to arrive at just 13 airports. The rule went into effect at 11:59 p.m. Friday.
The administration had previously blocked all foreign nationals who have been in mainland Europe in the two weeks prior to their planned visit from entering the US. On Saturday, Trump announced that foreign nationals who had been in the UK and Ireland would also soon be blocked.
"We knew when the president gave the orders that European travel back to the United States was going to be cut off, that there would be an influx of people, Americans and others, that would come before the final cutoff," Pritzker said on NBC's Meet the Press Sunday.
The new rules, and all the confusion about implementing them, led to airport hell for Americans traveling back from Europe over the weekend.
Brendan Schachle, a 26-year-old in Raleigh, North Carolina, told BuzzFeed News his family trip to Barcelona ended with the frantic rebooking of flights that were scheduled to take the seven of them through five different airports.
Originally, Schachle was supposed to fly from Barcelona to London and then straight back to Raleigh. But because of the travel restrictions, had to rebook his trip to fly from London to Washington, DC to Charlotte, North Carolina and then to Raleigh. The whole family wound up missing their connecting flights from DC and rented a car to drive them home to Raleigh.
Schachle said the airport in DC was absolute mayhem, and that he and his fellow travelers were crammed in together, bucking CDC recommendations to practice social distancing to stop the spread of the virus.
"[We were] just on line after line after line, just packed in there, thinking, 'Hey, I hope no one has [the coronavirus], because at this point, we're all going to get it," Schachle said.
Schachle said the biggest mess was the line intended to screen travelers for coronavirus. Travelers had their temperatures taken, and were asked to fill out a simple questionnaire that asked whether they were experiencing any symptoms.
"It's a mess there, everyone's just huddled in, trying to answer the questions and get going, and we've realized everyone's missing their flights at this point," said Schachle. "They actually asked at one point, 'Does anyone waiting in line have a connection in the next 30 minutes?' And 95% of people raised their hands."
In Chicago Saturday, a reporter tweeted a photo showing a large crowd filling a hallway and said that police were handing out water and disinfectant wipes.

Meanwhile, passengers at DFW told a local television reporter that they were not offered hand sanitizer, gloves, or masks while they waited, and hadn't had their temperatures measured.

A student in Chicago told the New York Times that she had had to wait for seven hours and ultimately missed her connecting flight after arriving from Frankfurt. "They gave us water and snacks but no updates on how long or what stages we had to go through," said Gabrielle Osterman said.

In response to the crowds, the official O'Hare Twitter account acknowledged that customs processing was taking "longer than usual."
"We've strongly encouraged our federal partners to increase staffing to meet demand," the airport's statement said.
Acting Department of Homeland Security Secretary Chad Wolf, who oversees the TSA, tweeted that the DHS was aware of the situation and was working to expedite the screening process by adding more staff.

"It currently takes ~60 seconds for medical professionals to screen each passenger," Wolf added on Twitter. "We will be increasing capacity but the health and safety of the American public is first & foremost."
On Sunday, a top public health official downplayed the chaos.
"I don't think anything went wrong. I think it's just the nature of the problem," said Dr. Anthony Fauci, director of the National Institute of Allergy and Infectious Diseases, in a separate appearance on Meet the Press.

"That's just not right. I have enormous respect for Dr. Fauci, but that's just incorrect," Pritzker responded afterward. "They should have increased the Customs and Border Patrol numbers, and they should have increased the number of CDC personnel on the ground doing those checks. They did neither of those."
Pritzker emphasized that hundreds of people were stuck in a small area inside O'Hare.
"And that's exactly what you don't want in this pandemic," he said. "So we have that problem and then today it's going to be even worse."