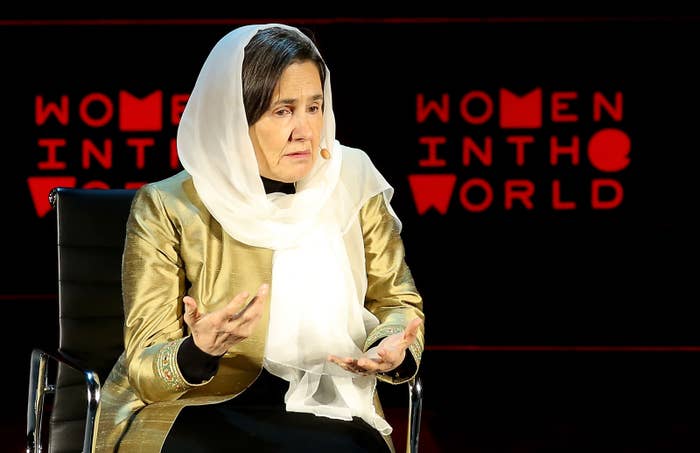 NEW YORK — First Lady of Afghanistan Rula Ghani, speaking before a room filled with female politicians, activists, media personalities, and celebrities on Wednesday night, challenged representations of Afghanistan as anything other than a normal country.
During a discussion of women's issues in Afghanistan, journalist Thomas Friedman asked "Would you say your husband [Afghan President Ashraf Ghani] is an Afghan feminist?" As the crowd tittered, Ghani replied, "You all think it is a contradiction in terms. Well, let me tell you something: Afghanistan is a normal country and like in any country there are chauvinists and there are regular men."
The comments were made during the Women in the World Summit, hosted in New York City from April 6-8, where a range of participants are discussing the state of women's issues around the world.
Women's rights in Afghanistan have been a focus of Western attention since the US-led invasion in the wake of 9/11. The issue was widely discussed in the public debate surrounding the invasion and became a pet project of former American First Lady Laura Bush, who founded the US-Afghan Women's Council.
U.S. efforts to improve the situation of Afghan women have had a mixed record, with both Ghani and the U.S. Inspector General for Reconstruction in Afghanistan (SIGAR) John Sopko warning that millions of dollars earmarked for promoting women's rights could go to waste in Afghanistan.
Raised as a Maronite Christian in Lebanon, Ghani has Afghan, Lebanese, and American citizenship. She studied at the American University in Beirut and "collected MAs." She also spent a year at Sciences Po in Paris, where she witnessed the 1968 student riots.
By the sheer fact of her public presence, Ghani is stepping out of the traditional place set for Afghan first ladies, and her role in addressing social issues has drawn comparisons to Queen Soraya, who sat on the Afghan throne in the early 20th century, and many Western First Ladies.
Ghani, who began by saying that "Afghanistan is not as bad as it first seems," pointed to the last 23 years of war as the main source of women's problems in Afghanistan.
"This is something that people should understand," she said, responding to a picture Friedman showed of women in Afghanistan in the 1970s wearing miniskirts. "It is maybe more difficult for people who are living in the United States where you have not witnessed war and its destruction on your soil. War destroys and destruction is quick...War destroys the fabric of society, dislocates families. There is no more right or wrong." She urged leaders to, "think through — war does not resolve anything".
In dialogue with some of the Summit's other panelists, Ghani also pushed back against the notion that women were being oppressed by Islam:"I happen to be fluent in Arabic — it's my mother tongue — I read the Quran, and I have trouble finding where [the Taliban and others] get their inspiration in the Quran from."
Addressing the murder of Farkhunda Malikzada — an Afghan woman who was beaten to death by a mob after being falsely accused of burning a Quran — she said "women are starting to have...meetings...with mullahs and imams to try and discuss 'what does religion say about the treatment of women and what is the place of women in Islam'. And, I think this is extremely important and I think it's a very very good step because we need to get rid of all the, how shall I say, half-truths that are the norm these days".