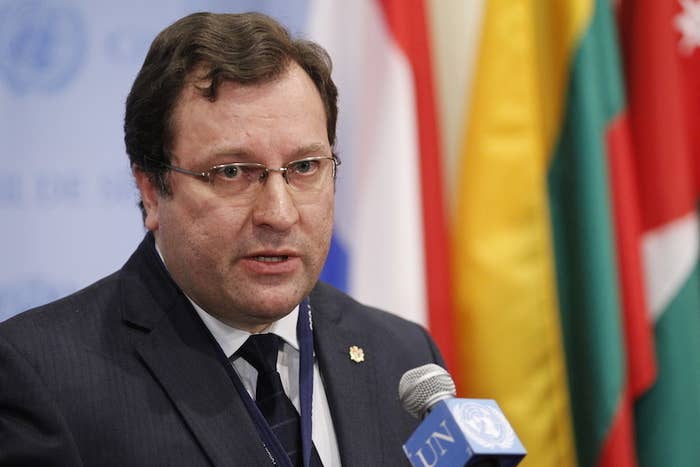 A former ambassador to the United Nations claims he was improperly removed from his post last year following repeated pressure from Russian officials.
Vlad Lupan, who served as Moldova's ambassador to the UN from 2012 until he was asked to leave in June 2017, told BuzzFeed News that he was the subject of years of attacks by Russia through diplomatic channels and others means, including a fake news campaign in 2014 that contributed to a vote of no confidence in Parliament against the ruling coalition in Moldova, a country that has long wrestled with Russian influence.
Lupan told BuzzFeed News in an interview that shortly following a visit to Moscow in early 2017, Moldovan President Igor Dodon told a meeting of foreign diplomats that removing Lupan from his post at the UN was a priority. Russian Foreign Minister Sergey Lavrov also made complaints against Lupan to Moldova's Minister of Foreign Affairs Andrei Galbur at a meeting in December 2016, according to a confidential document reviewed by BuzzFeed News. BuzzFeed News was not able to independently verify Dodon's comments about removing Lupan.
Moldova, which is wedged between Ukraine to the east and Romania to the west, was part of the Soviet Union until its fall in 1991, and Western observers have long warned against turning a blind eye to Russian influence in the country. Transnistria, in the eastern part of the country, has been in a state of frozen conflict since a 1992 civil war, when Russia sent troops to support the separatist movement there. "Geopolitics here, unfortunately, sometimes play a bigger role than they are supposed to," said Stanley Vartanian, a representative of the Socialist Party. "That's how the politics work here."
The fake news campaign against Lupan revolved around a speech he gave at the UN on March 27, 2014, as the General Assembly was preparing to vote on the "territorial integrity of Ukraine," following Russia's annexation of Crimea. Russian-language media reported that Lupan had argued that Russia should lose its veto on the UN Security Council because of the invasion. However, video footage of the speech and the UN's official record of the meeting show that Lupan never mentioned Russia in his comments.
"I never, never said that. Because this is impossible," said Lupan. "For all of the implications that Russia had in Ukraine, this is impossible. Because there are certain rules in the UN that prohibit that."
The UN vote that preceded the false reports was tense — Russia was accused of threatening Moldova and other countries with retaliation if they voted for the resolution. As the false reports spread, Moldova's pro-Russian Communist Party called for a vote of no confidence in the government leadership and raised Lupan's supposed statements in support of their case. Lupan was also later told that Russian Foreign Minister Lavrov demanded an apology from the Moldovan government.
Gheorghe Brega, who was Moldova's acting prime minister from October 2015 until January 2016, accused Moldova's current president of instigating the 2014 fake news incident, saying that Dodon, then a member of Parliament, was acting on "the Kremlin's instructions." Brega also told BuzzFeed News he suspected the pro-Western Democratic Party of collaborating with Dodon in 2017 to oust Lupan, saying the Democratic Party "would prefer someone [at the UN] who would play both cards."
As the US continues to grapple with the specter of fake news and Russian election meddling, Lupan said the former Soviet satellite state offers important lessons for Americans concerned about Russian interference and the rule of law.
"Moldova is a testing ground, and Eastern Europe generally is a testing ground, for whatever technologies that Russia is using," he said. "All the fake news, all the involvement in elections — we've had them. ... If you want to learn our experience, please do come ask us. We can share with you a lot of technologies that will be used in the United States later."
"It's a media environment that suffers a great deal from a frequent lack of connection to reality," said Dr. William Hill, a global fellow at the Wilson Center and former head of the Organization for Security and Cooperation in Europe (OSCE) Mission to Moldova.
In January, the Moldovan government passed a law aimed at prohibiting the broadcast of Russian news programs in Moldova. Estonia, Georgia, Latvia, Lithuania, and Ukraine have also pursued measures to limit the influence of Russian media in recent years, and in September the US Department of Justice asked Moscow-based RT to register under the Foreign Agent Registration Act.
"With Moldova having its own parliamentary election at the end of this year, we've seen Russia become more and more active in Moldova this year," said Timothy Fairbank, a senior fellow at the Atlantic Council. "This is, I think, a very necessary step that Moldova has taken to make sure that there's not inappropriate foreign interference."
The law was ratified over opposition from the country's president, who has publicly aligned himself with Moscow. Vartanian, of the Socialist Party, disputed that President Dodon was pro-Russian, but acknowledged that Dodon campaigned on a platform of restoring good relations with Russia in 2014 and Dodon made his first state visit to Moscow in 2017.
There is already substantial resistance to the law from some parts of the country. In the autonomous region of Gagauzia, pro-Russian Gov. Irina Vlah has said she would not recognize the new law and would continue to permit Russian broadcasting.
Such regulations have also raised concerns among free speech advocates. The office of OSCE's Representative on Freedom of the Media said the impact of the Moldovan law remains to be seen, but that it would follow the implementation to ensure that the changes "do not affect freedom of the media in the country," and added that the answer to propaganda "must be in quality of information, support to ethical journalism, pluralism, and media literacy, not in censorship."
With elections in November, however, many see the law as a play to consolidate power by the oligarch and politician Vlad Plahotniuc.
"You have to look at who is actually pursuing policies that benefit Moldova," Hill, of the Wilson Center, said.
Plahotniuc, who currently controls 70% of the Moldovan media market according to a report from Freedom House, leads the Democratic Party and has positioned himself as pro-Western, though various analysts have speculated that Plahotniuc and the Democratic Party occasionally collaborate with Dodon. Brega, from the Liberal Party, said that, for him, the Democratic Party and the Socialist Party are "one and the same."
Andrian Candu, the speaker of Parliament and a member of the Democratic Party, told BuzzFeed News that Lupan was recalled because he was a political appointee of the previous government and that his term limit was up. Candu also denied any association with Dodon and the Socialist Party saying, "It is nothing related to Dodon, because these decisions are taken by the Ministry of Foreign Affairs and the government."
Lupan said he found out that he would be dismissed in February after reading an article in the Moldovan press that stated as much. He said he made multiple inquiries about his dismissal and tried to fight it, but didn't receive a reply until getting the official notice of his recall on May 12.
Lupan, who first joined Moldova's foreign ministry in 1996, reflected on the 2014 fake news incident, saying: "You throw a lot of mud, eventually some will stick. And it doesn't matter whether it's true, your image is damaged anyway."