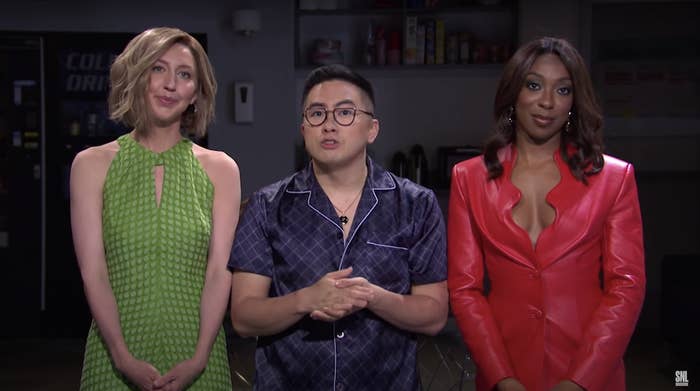 Live from New York — it's been a really, really weird year.

The cast of Saturday Night Live paid tribute to all of the grueling, heartbreaking, and head-scratching moments from the past year during the cold open of this week's episode, the finale of a season truly unlike any other.
"We went from doing very weird shows at home to terrifying shows in person," Bowen Yang said.
"Everyone else was leaving New York, but Lorne [Michaels] was like, 'We should go back, for comedy,'" Ego Nwodim joked about the show's decision to return to taping before a live audience last fall.
From getting a COVID-19 test alongside pop star Adele to performing for audiences of exhausted doctors and nurses, the cast reflected on how the pandemic touched every aspect of producing SNL's latest season.
"One time, and this is true, in the middle of our show, a guy in the audience was just reading a medical textbook," Cecily Strong said.
While the pandemic created unprecedented challenges, the absolutely surreal year in politics was ripe for skits.
"Remember when a fly landed on Mike Pence's head, and then we did a 15-minute sketch about that?" recalled Beck Bennett.
"And then at the end of that sketch, I said, 'Live from New York' as another fly, who was the ghost of Herman Cain," Kenan Thompson said. "That's what this season was like."
Comedian Chris Rock, who hosted the season's first episode in fall 2020 (which, as he noted, feels like six years ago), stopped by to share his experience helming the season opener.
"Here's how messed up the world was when I hosted," Rock said. "I wanted Kanye West to be the musical guest, and he couldn't do it because he was running for president. Remember that?
"Also," Rock continued, "the week I was here, the sitting president, who said COVID would disappear, got COVID. That was this season."
While the election of President Joe Biden and, with it, the end of the Trump administration might have been a good opportunity for the cast to throw in the towel on the season, Rock joked, they ultimately produced 12 more shows, including one following the Jan. 6 insurrection.
"Thank you for staying with us through an election, an insurrection, and an objection that there was an insurrection," Strong said.
On a more somber note, the cast also paid tribute to the victims of the coronavirus pandemic, including SNL music producer Hal Willner, who died in April 2020 of complications related to COVID-19.
"This was the year we realized we're more than just a cast," said Kate McKinnon, her voice breaking. "We're a family."
Correction: Chris Rock was misidentified in an earlier version of this post.