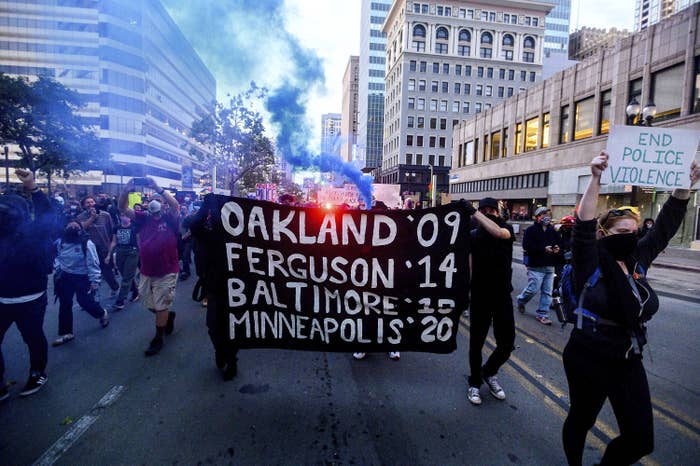 A federal security officer was shot and killed during a protest against police brutality in Oakland on Friday night, authorities said.

According to the FBI, the shooting occurred when someone in a vehicle opened fire at the Ronald V. Dellums Federal Building around 9:45 p.m, striking two contract security officers for the Federal Protective Service of the Department of Homeland Security.
One of the officers was killed, while the other was critically wounded. Neither of the officers has been identified.
In a statement sent to BuzzFeed News, the FBI's San Francisco office said it was too early to determine a motive for the shooting and that the investigation is ongoing.

However, DHS Acting Deputy Secretary Ken Cuccinelli called the shooting an act of domestic terrorism in a press conference Saturday.
"When someone targets a police officer or a police station with an intention to do harm and intimidate — that is an act of domestic terrorism," Cuccinelli said.

The officer's killing is one of two protest-related deaths reported Friday night, as people in cities across the country took to the streets in protest of George Floyd's death in the custody of a Minneapolis police officer.
A 19-year-old man was also shot and killed by a person in a car who fired into a crowd of protesters in Detroit, Michigan Live reported.

What began as peaceful protesting in Oakland on Friday night devolved into violence as police fired tear gas and ordered the crowd to disperse before declaring the protests an unlawful assembly around 9:30 p.m, the Mercury News reported.

Protesters and police faced off with flash-bangs, Molotov cocktails, and fireworks, while photos showed vandalized cars, stores, and demonstrators blocking freeways.
Oakland's police chief condemned the protests as "violent and disruptive" in a tweet Saturday, and encouraged demonstrators to respect the memory of George Floyd and the community as the country prepares for another night of protests.