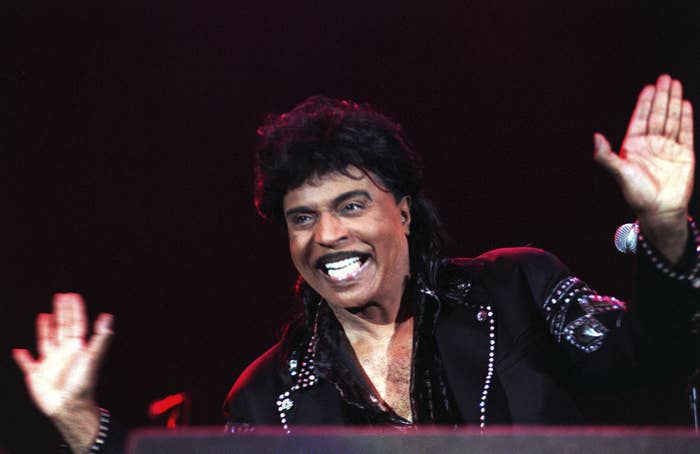 Little Richard, the legendary rock 'n' roll artist whose musical style and larger-than-life persona broke barriers, has died, his former bass player Charles Glenn and agent Jeff Epstein confirmed to BuzzFeed News. He was 87.

His cause of death was not immediately known.
Born Richard Wayne Penniman in Macon, Georgia, Little Richard rose to fame in the 1950s with hits like "Tutti Frutti," "Long Tall Sally" and "Rip It Up." He was known for his high-energy piano performances, which included flailing and screaming.

His androgynous, over-the-top persona, as well as makeup and flamboyant clothing were a source of inspiration for legends like Prince and Elton John, while his pioneering rock 'n' roll heavily influenced Elvis Presley.
Little Richard also helped launch the careers of The Beatles — who opened for him on his European tour in 1962, covering his songs on tour and on the radio — and the Rolling Stones, who opened for him in 1963.
"Little Richard drove the whole house into a complete frenzy," Mick Jagger said. "There is no single phrase to describe his hold on the audience."
"He was definitely one of the most powerful music people that I've ever met in my life and I've been around some of the largest," said Glenn, who last performed with Little Richard in Las Vegas in 2012. "We did shows for 30 years, and it was really some of the most incredible shows that you could ever want to go see."
Glenn said the musician had been sick for a while, and had called him on March 27 asking him to visit his home in Tennessee, but Glenn was unable to due to coronavirus pandemic.
After Glenn's parents died, Little Richard became a father figure to him.
"He was also like my second dad too," Glenn said. "I was the young one in the group, and when my parents passed away he felt like he really wanted to make sure I was OK and took care of me. He introduced me as his son on stage. He was definitely my second dad — I used to call him dad, actually."
Following the peak of his rock 'n' roll career, Little Richard became an ordained minister and released a gospel album called God Is Real.
Musicians and other celebrities paid tribute to Little Richard on Twitter after Rolling Stone broke the news of his death Saturday morning.
Little Richard was briefly married to Ernestine Campbell in the late 1950s and early 1960s, but had struggled publicly with his sexuality for decades, telling Penthouse in a 1995 interview he was gay, but denouncing homosexuality at times.
He is survived by his son, Danny Jones Penniman.