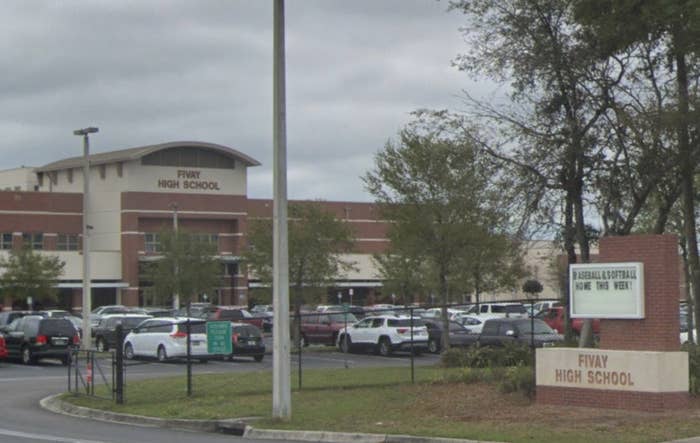 A Florida teen was arrested for using Instagram to try to hire someone to kill a school employee, police said.

Nicholas Godfrey, 18, was charged with a first-degree attempt to solicit murder Thursday after police said he asked someone to kill a staff member of Fivay High School, where he is a student. The high school is located in Hudson, Florida, about 45 minutes outside of Tampa.
Direct messages sent from the Instagram account @fivayfanclub to another student at the high school allegedly read "I need a guy who could kill someone" and offered to pay $100,000 for the victim's "head," Pasco County Sheriff Chris Nocco said at a press conference Friday.
A third message read, "No joke, I need him eliminated as soon as possible," Nocco said.
After the messages were shown to the school resource officer, police obtained a search warrant for the Instagram account and traced its IP address to Godfrey's house, according to the criminal complaint reviewed by BuzzFeed News.
Godfrey then admitted to sending the messages, the criminal complaint stated.

When asked at the press conference about the position of the school employee who was threatened, Nocco declined to comment.
"You threaten a member of the school district, who's out there trying to do their job, to educate children, to be part of that process, we're gonna come hunt you down," Nocco said.
Pasco County Detective David Dacey told reporters that when confronted by police about the messages, Godfrey claimed he was joking around and didn't have any plan to follow through on plans to kill the staff member.
Nocco said Godfrey's record "did not show somebody that had consistently terrible issues" and that the teen's parents were "shocked" and had "no idea" about the messages."
The school district's superintendent said Godfrey had not yet been expelled.
It's unclear if he has legal representation as of Saturday afternoon. Godfrey was released from jail Friday on $10,000 bond, arrest records show.