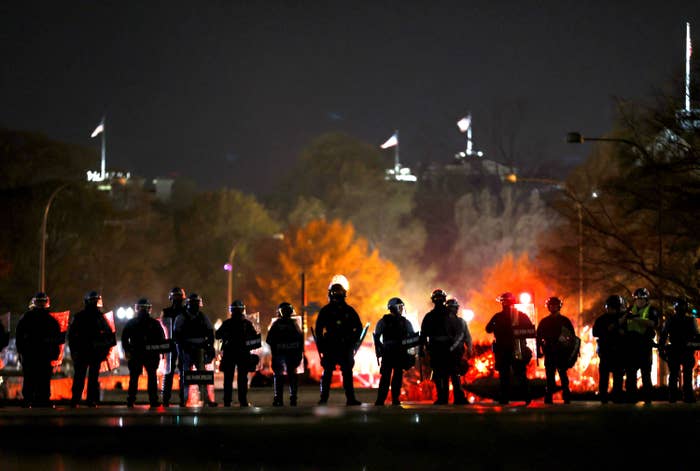 There were violent scenes in Washington, DC, on Saturday night amid clashes between Donald Trump supporters falsely disputing the outcome of the presidential election and counterprotesters.

Police said at least 20 people were arrested amid unrest after the so-called Million MAGA March attended by tens of thousands of Trump supporters in response to the president's baseless claims that Joe Biden's victory in the election was "rigged."
Video tweeted by both left- and right-wing attendees showed several instances of violence between the two sides.
"Fuck you, antifa!" alleged members of the far-right extremist men's organization the Proud Boys can be heard yelling in one video as they throw punches, followed by shouts of "Hey, we've got one on the ground!"
At least one person was transported after being stabbed at 11th Street and New York Avenue Northwest, a DC Fire and EMS spokesperson confirmed to BuzzFeed News.

Photos and videos showed Trump flags and hats being lit on fire and fireworks being thrown at apparent Trump supporters who were dining outdoors.
One graphic Getty photograph showed a woman supporting Black Lives Matter lying motionless on the ground and bleeding from the mouth after being injured. Another showed a Trump supporter being kicked as he lay on the ground.
Video also showed Trump supporters removing and stomping on Black Lives Matter signs that were displayed at BLM Plaza, and members of the Proud Boys speaking in defense of Kyle Rittenhouse, the 17-year-old who was charged with killing two people at Wisconsin protest against police brutality.
The Proud Boys' attendance contributed to a "notable extremist presence" at the march, the Anti-Defamation League said in a post Sunday.
Conservative commentators blamed so-called antifa for harassing Trump supporters, a sentiment echoed multiple times by the president himself Sunday morning.

"Antifa SCUM ran for the hills today when they tried attacking the people at the Trump Rally, because those people aggressively fought back. Antifa waited until tonight, when 99% were gone, to attack innocent #MAGA People. DC Police, get going — do your job and don't hold back!!!" Trump posted on Facebook.
Antifa, short for anti-fascist, is a decentralized movement that protests against the far-right, with some occasionally resorting to violence. The far-right and some Republicans have repeatedly fearmongered about the group in a bid to denigrate all anti-racism protesters.
During the march, the largely maskless pro-Trump supporters pushed the president's false rhetoric of an unfair election with signs reading "Stop the Steal." They also continued the president's attacks on the US voting system, President-elect Joe Biden, and public health expert Anthony Fauci.

Among the attendees were right-wing figures including Alex Jones, MyPillow founder and CEO Mike Lindell, and Marjorie Taylor Greene, a supporter of the QAnon mass delusion who was recently elected to the US House of Representatives. All three gave speeches incorrectly claiming Trump had been reelected and falsely accusing Democrats of trying to steal the election.
In addition to the march in DC, a "Stop the Steal" protest in Sacramento Saturday stirred up clashes between Proud Boys and counterprotesters as well, according to ABC. No serious injuries were reported.