Police Are Searching For A Man Who Punched A 12-Year-Old Dancer During A Street Performance
A 27-year-old man is wanted for punching a 12-year-old boy in the face, leaving him with a concussion.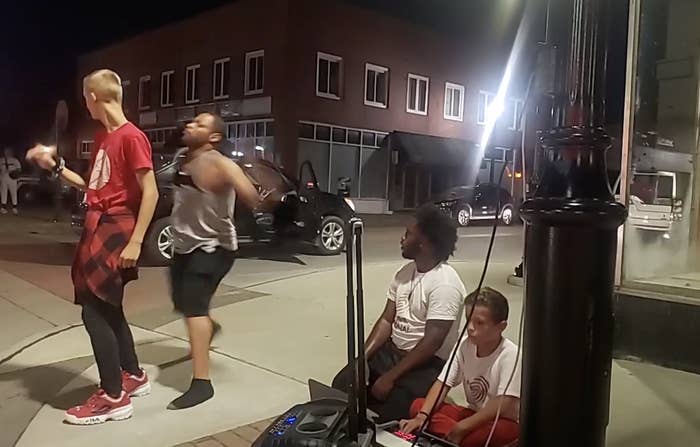 Missouri police are searching for a man who punched a 12-year-old child in the face during a street dance performance last week — an incident that was captured on video on Facebook, where it soon went viral.

Authorities in Cape Girardeau on Monday charged Cedric Charles Moore Jr. with second-degree assault and child endangerment, both felonies, but they are still searching for the 27-year-old and he has not yet been arrested.
The incident occurred on the evening of July 3 as dance instructor Michael "Crank" Curry was holding a sidewalk dance performance with his students in Cape Girardeau, which is about two hours south of St. Louis.

At around four minutes into the livestream, a black SUV pulls up to the corner where Curry and his students are stationed. A man gets out of the passenger side, dances up to the student who is performing, and hits him in the head, knocking him to the ground. The man then runs back to the car and the driver takes off.
The video shows a visibly stunned Curry getting up and chasing the man, but Curry told the Associated Press that he backed off after seeing that there were two other people in the car with the attacker.
The 12-year-old student, Ethan Hagler, is seen in the video bleeding from his nose and was diagnosed with a concussion, according to the AP.
"Right now he is still dealing with dizziness and his nose hurts," said Curry, who owns Fingerprint Urban Dance Studio. "He is just trying to rebuild himself and recoup from what happened."
BuzzFeed News' requests for comment from Curry and Hagler were not immediately returned Tuesday.
Police issued a public appeal for information on Facebook Monday because they haven't been able to find Moore.

"Officers have since travelled to the suspect's residence and various additional locations he is known to frequent; however, they have been met with a lack of cooperation from the suspect's friends and family," police wrote.
On Facebook, Hagler's friends and Curry have been offering support to the young dancer.
A fundraiser has been created in support of the student and Curry's dance studio.

"Let's make something POSITIVE out of this," the fundraiser's organizer wrote. "I want to make sure these kids keep dancing!"