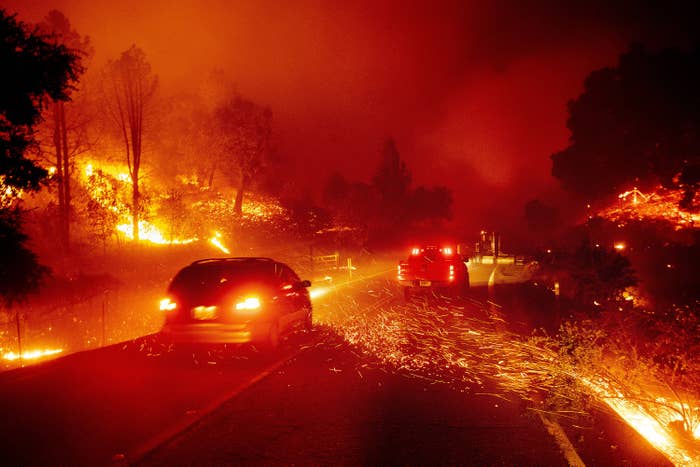 Nearly 3 million Californians lost power and tens of thousands were evacuated Sunday as a massive wildfire continues to threaten Northern California.
Pacific Gas & Electric (PG&E) shut off power for the second time this week out of concern that high winds could down power lines and spark fires. The blackouts affected an estimated 960,000 customers – which amounts to nearly 3 million people – in 36 counties, and began at 2 p.m. Saturday local time, the company tweeted. The outages began Saturday and continued Sunday as wind gusts reached up to 90 mph in some areas.
New mandatory evacuations in the area of Santa Rosa were announced early Sunday. The Sonoma County Sheriff tweeted that approximately 180,000 people were ordered to evacuate.

"This is the largest evacuation that any of us at the Sheriff's Office can remember," the tweet said. "Take care of each other."
Around 2,000 residents in Geyserville, another community in Sonoma County, were already under mandatory evacuation on Thursday. Authorities also ordered mandatory evacuations for 50,000 people in the Windsor and Healdsburg towns, both located about 70 miles north of San Francisco, on Saturday morning as the massive Kincade fire continued to rage.
California fire authorities said the Kincade fire had burned 30,000 acres as of Sunday morning and was just 10% contained.

In response to the fires and extreme weather conditions, Gov. Gavin Newsom declared a state of emergency.
The National Weather Service issued an update on the fires Sunday morning, noting that "the threat of fire is extreme" due to "very gusty winds" and will continue into Monday morning.
"Critical to extreme fire weather threat today over parts of northern to
central California," the release said.
The new red warning on Sunday covered the North and East Bay Area, the San Francisco peninsula coast, and the Santa Cruz mountains.
Sonoma County Sheriff Mark Essick compared the scale of evacuations to the deadly 2017 Santa Rosa fires, but said Saturday's evacuations were the largest he'd conducted in his 26-year career.

"Even that evacuation, at least in the northern Santa Rosa area, was not in comparison to this," Essick said at a press conference. "In my career here at the sheriff's office, this is the largest evacuation we've conducted."
Authorities have ordered residents to evacuate immediately. Residents in mandatory evacuation zones were told to evacuate to Santa Rosa Veterans Memorial Building, Petaluma Veterans Building, and the Petaluma Fairgrounds.
The cause of the Kincade fire is still under investigation, but a report submitted to the California Public Utilities Commission says the blaze erupted six minutes after one of PG&E's high-voltage transmission lines in the hills north of San Francisco malfunctioned Wednesday night, hours after a planned shut off.

"Those transmission lines were not deenergized because forecast weather conditions, particularly wind speeds, did not trigger the PSPS protocol," PG&E said in a statement Thursday.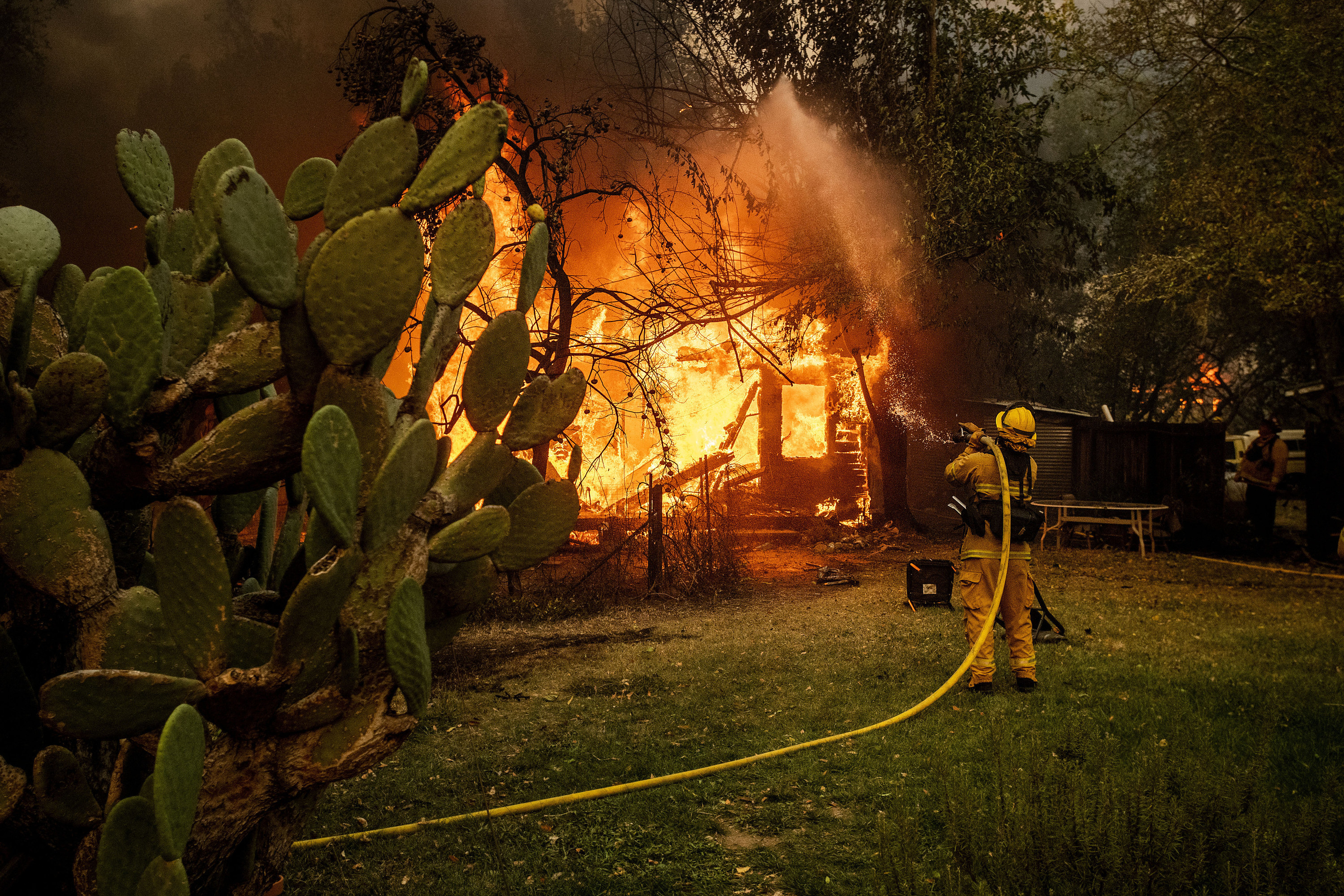 Cal Fire investigators have previously found power lines and equipment belonging to PG&E to be responsible for sparking wildfires across California.
Lenka Vodicka, 47, of Nevada City, California, told BuzzFeed News that Saturday's power shut off was the third time in as many weeks that her family has experienced an outage.
"Every few days you prepare for the next one, you have to be in this heightened response to demands that you're not used to," Vodicka said. "One thing that's good is we're all getting better at it in the community. Now, I know to get instant coffee little things … and so we're all coming up with skills to meet the challenges but it's hard it's a lot of work."

Vodicka, a freelance photographer, has had gigs canceled and been unable to work at home without power. Instead, her full-time job has been preparing for and cleaning up after each power shut off.
"It's like my job is now getting the family through the outage over and over again," she said.

California Gov. Gavin Newsom issued a state of emergency on Sonoma County Friday. In a video Saturday, Newsom called PG&E's impact "unacceptable" and vowed to hold the company responsible for the blackouts and fires.
A state of emergency was also issued for Los Angeles County, where the Tick fire had burned about 4,300 acres by Friday.