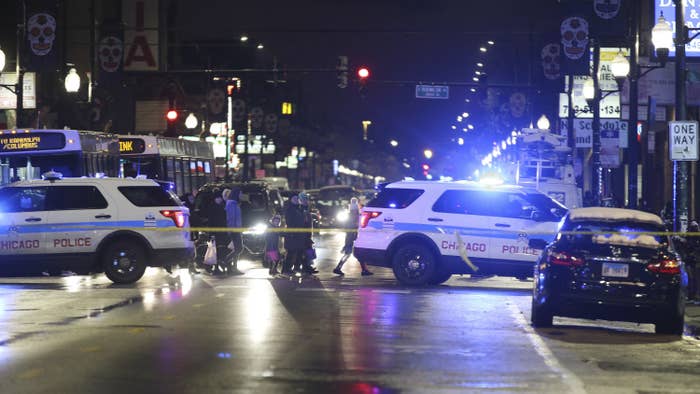 A 15-year-old boy was arrested early Friday in connection with the shooting of a 7-year-old girl who was trick-or-treating on Halloween night in Chicago, police said in a press release provided to BuzzFeed News.

The boy was charged with two felony counts of first-degree attempted murder and two felony counts of discharging a firearm, according to the Chicago Police Department.
The girl was trick-or-treating with her family in Chicago's Little Village neighborhood around 5:30 p.m. on Halloween when a 31-year-old man who was being chased by at least three other people ran past them, police said. When one of the people began firing a gun, police said the girl was caught in the middle and critically injured. The 31-year-old man was also shot in the hand.
The 15-year-old boy was wearing a "Jason"-style Halloween mask at the time of the shooting, Chicago Police Department Superintendent Eddie Johnson said in a press conference Friday.
Johnson said police believe the shooting to be the result of a gang dispute and that the girl was "in the wrong place at the wrong time."

The girl remained in critical condition as of Friday morning, Johnson said.

Police are still searching for "multiple offenders" involved in the shooting and asked the public to submit any information they had about the incident, Johnson said.

He said tips submitted by the public, as well as a video of the shooting, have been helpful in the investigation, though he did not specify which video he was referring to.
In one video posted to Facebook from the scene of the shooting, multiple gunshots are heard before people, including one in a white mask, are seen running away.
Asked to comment on Trump's tweet during Friday's conference, Johnson said, "What's the point? I don't need to respond to him."