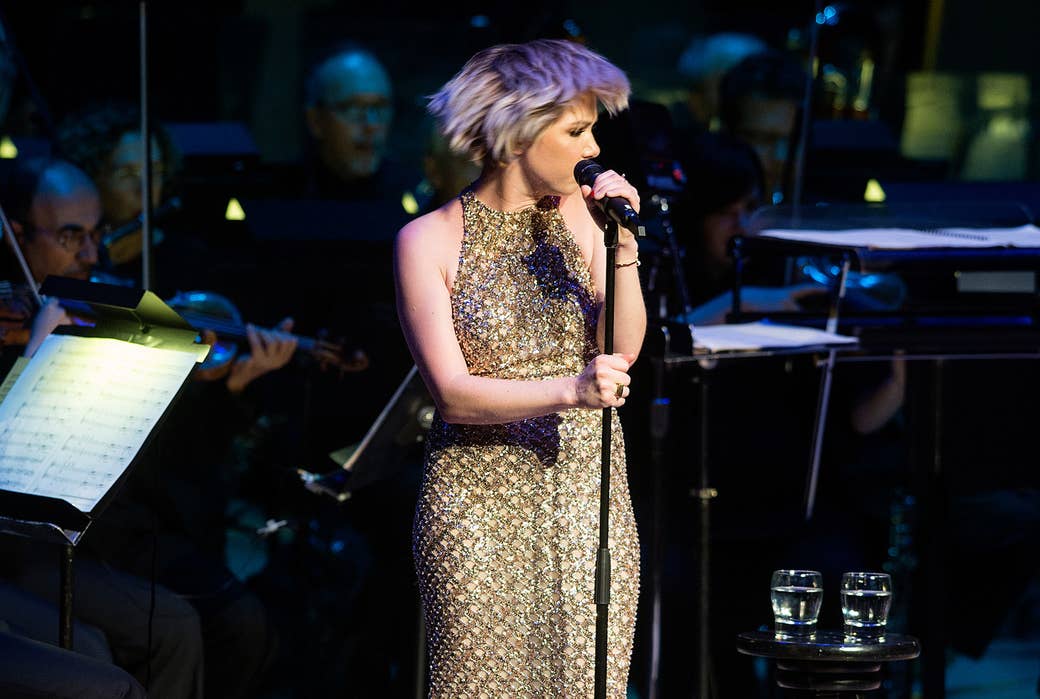 Inevitably, there will be a person who won't care that I was there last Saturday when Carly Rae Jepsen performed her 2015 album Emotion live with the Toronto Symphony Orchestra. He will think it is somehow less cool, less important than the time he saw LCD Soundsystem's ostensible goodbye show at Madison Square Garden. This will most likely occur while we are on a date, and he will probably be wearing a Strokes T-shirt he bought on Amazon. This dude sucks, and I would like to take the time now to tell him to go fuck himself.
It is this general need to prove myself, I think, that led me to buy a round-trip ticket to Toronto for a mere 32 hours just to bear witness to Jepsen's one-night-only appearance at Roy Thomson Hall backed by some of her home country's finest musicians. Maybe, I thought, a night with Carly Rae Jepsen would make the world feel like less of a horrible place. Maybe everything would be a little less serious for a few hours. At the very least, I knew I would have fun.
To varying degrees of success, recent pop music offerings have attempted to tap into America's political urgency. It does not always make for the kind of Leave It All on the Dance Floor catharsis that so many of us look for in pop music. The most blatant attempt to create a "woke" pop album came a couple weeks ago with Katy Perry's Witness.
Maybe, I thought, a night with Carly Rae Jepsen would make the world feel like less of a horrible place.
In an attempt to be palatable to an even wider audience, Perry tried to assert herself as someone who makes "purposeful pop" instead of the Teenage Dream–era bops we all actually like. It was a horrible misfire. "Perry seems like she's throwing everything at the wall in an album marketing meeting and waiting to see what sticks," wrote Ira Madison III for Vulture. "Katy Perry's Witness Has the Inherent Appeal of Spectacular Failure," said Spin. Though the album debuted at No. 1, Perry's public persona grates on our national consciousness. She wanted to move forward as an artist and, I guess, a person, so she dropped the artifice of Katy Perry and tried to introduce us to Katheryn Hudson. Suffice it to say, we didn't like Katheryn.
To be fair, most people don't like Carly Rae Jepsen. She's still known as the "Call Me Maybe" singer to a vast swath of the population. Emotion only peaked at No. 16 on the Billboard 200. It received positive reviews from critics, but gained little traction outside word-of-mouth endorsements. My guess is that if you chose a stranger at random, they would not know that listening to "Making the Most of the Night" at full blast is a scientifically proven way to get over even the most acute malaise. They are missing out.
A motif of Jepsen's oeuvre is "The Feeling." "Oh baby / Take me to the feeling / I'll be your sinner in secret / When the lights go out," the chorus of "Run Away With Me" goes. Her latest song, which came out last month and is the sonic equivalent of the exact moment when ecstasy hits, is simply titled "Cut to the Feeling."
"The Feeling" is, roughly, one that resembles love, or maybe just lust, but certainly exuberance. Jepsen's music, for those of us who have claimed her, is a refreshing offering from a pop star who has abandoned pretense. While Katy Perry insists that we view her as an artiste, Jepsen just wants you to dance with your friends. There is only one slow song on Emotion, the Dev Hynes–produced "All That," and even then, the chorus demands to be sung at full volume and accompanied by dramatic hand gestures. Jepsen takes having fun very seriously, and as a result Emotion is an album that could be played straight through without clearing the dance floor.
Despite what I just attempted, "The Feeling" is hard to put into words. However, it can be encapsulated in an experience. You will understand "The Feeling" the moment you hear a classically trained saxophonist performing the opening notes to "Run Away With Me."
This is how the concert opened, and just like that, there was no turning back. All 2,630 of us were ready to experience joy.
Jepsen's music, for those of us who have claimed her, is a refreshing offering from a pop star who has abandoned pretense.

With her short blonde hair reminiscent of a mom who decided to "change it up" and a floor-length sequined evening gown, Jepsen looked her age. She is 31 years old, which one might not guess from a song like "Boy Problems," whose Petra Collins–directed video features a bevy of young women bemoaning the boy (and he is definitely a boy, not a man) who has caused them so much strife.
Constricted by both her attire and the fact that this was an event that imbued a certain kind of decorum, Jepsen stayed in one spot for most of the show. Her minimal movement reminded me of what it's like to watch a Barbra Streisand or Bette Midler performance from the last 20 years. It felt as though we were all there watching the great comeback tour of an artist we had all spent our adolescence obsessing over, instead of someone performing an album that had debuted almost exactly two years ago.
A Streisand or Midler comparison feels apt if only for the sake of describing the audience that attends a Carly Rae Jepsen concert. It was summed up best by a woman I overheard at the end of the show, who declared the evening "gayer than Pride."
She wasn't wrong. The demographic that, based on a rough estimate of concertgoers, makes up the majority of Jepsen's most rabid fanbase is queer white people ages 25 to 35. At intermission, the group of men next to me debated who was a better live performer, Jepsen or fellow gay icon Robyn. The answer was resoundingly Jepsen, who sounds almost exactly like she does on a recording.
Just before the intermission, Jepsen stopped to tell us that she felt so incredibly happy, it verged on being uncomfortable. "It's like a painful happy, you know," she posited. This was not usual concert banter. It's easy to see through an artist when they say, "This has been the best crowd yet!" But Jepsen, surrounded by only people who had very purposefully chosen to be in her presence, had to be believed. She then launched into her virtually unknown 2008 single "Tug of War," a Vanessa Carlton–esque ditty that is mostly chorus. The applause was thunderous.
Throughout the show, I could not stop thinking about one particular line in Susan Sontag's 1964 essay "Notes on 'Camp.'" "In naīve, or pure, Camp, the essential element is seriousness, a seriousness that fails. Of course, not all seriousness that fails can be redeemed as Camp. It is the proper mixture of the exaggerated, the fantastic, the passionate, and the naīve."
To call Jepsen's concert "the proper mixture of the exaggerated, the fantastic, the passionate, and the naīve" amidst a night where seriousness had failed feels almost too neat. And yet, looking back on it, that's what it was. What was intended to be a night at the orchestra to celebrate Canada's 150th birthday quickly became a thrilling gay dance party helmed by an artist a majority of people consider to be a one-hit wonder. It was two hours of pure bliss, surrounded by people who understood, completely, what we had all come to do.
Saying "I was there" is one of the great prides of a music fan. It's kind of bullshit, because most of it is just luck anyway. No one who went to Woodstock or, regrettably, Altamont knew that they were going to be part of history. But I like to think that everyone at the Roy Thomson Hall last Saturday night knew what was happening. We were all there. Carly Rae Jepsen was there. And in a world where everything is terrifying — especially if you are a woman, a person of color, queer, or any combination of the three — for a brief two hours, we got to go to The Feeling.
Olivia Craighead is a freelance writer based in Brooklyn, New York.

CORRECTION
Barbra Streisand's name was misspelled in an earlier version of this post.