Women's Group Slams Netflix For Denying Poor Workers Benefits
Workers in Netflix's DVD division are not eligible for its new unlimited parental leave policy.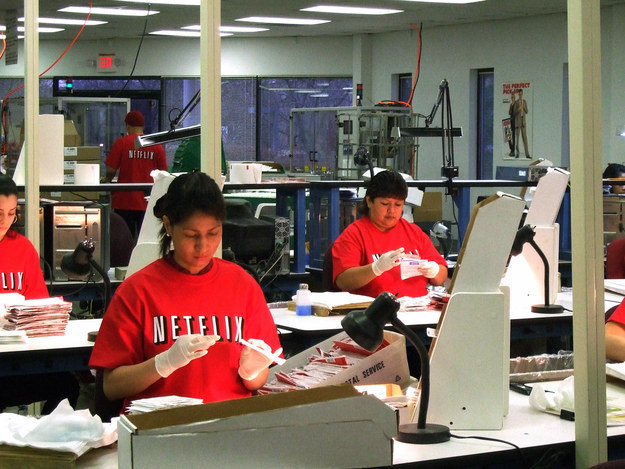 Netflix sought publicity for its generosity toward workers earlier this month when the company announced "unlimited" maternity and paternity leave for employees in the first year after a child's birth or adoption. The announcement failed to mention that the offer only applied to full-time salaried employees in its streaming division. Workers for its DVD division, who are often paid hourly, would not be covered. Now UltraViolet, the women's advocacy group behind high-profile campaigns targeting Reebok and the NFL, is pressuring Netflix to stop "leaving poor women out of parental leave."
According to its 2014 annual report, Netflix has roughly 2,189 full-time employees and 261 part-time and temporary workers. The Huffington Post, which reported on the benefit split, spoke with an employee in the DVD division who said, "We just get the raw end of things now since streaming is bigger."
Across Netflix, we compare salary and benefits to those of employees at businesses performing similar work. Those comparisons show we provide all of our employees with comparable or better pay and benefits than at other companies. For example, medical and life insurance for DVD workers exceeds market standards. All DVD employees including hourly also are eligible for a minimum of 12 weeks off for maternity or paternity leave. We are regularly reviewing policies across our business to ensure they are competitive and help us attract and keep the best employees. Separately, our new parental leave policy applies to all salaried streaming employees regardless of title or compensation.
In a press release today, UltraViolet said its 46,000 members are petitioning Netflix to "do the right thing":
"Netflix is leaving workers who could benefit the most from a generous paid leave policy behind and that is offensive, said Nita Chaudhary, co-founder of UltraViolet. "With childcare costs skyrocketing nationwide, hourly workers at Netflix need parental leave more urgently than ever. Two thirds of minimum wage earners are women. For that reason, women are watching Netflix right now to see if they do the right thing. We urge them to support all of the many working moms and dads who contribute to their success."
[T]oday we're introducing an unlimited leave policy for new moms and dads that allows them to take off as much time as they want during the first year after a child's birth or adoption.We want employees to have the flexibility and confidence to balance the needs of their growing families without worrying about work or finances. Parents can return part-time, full-time, or return and then go back out as needed. We'll just keep paying them normally, eliminating the headache of switching to state or disability pay. Each employee gets to figure out what's best for them and their family, and then works with their managers for coverage during their absences.
When Netflix announced enhanced benefits for parents, tech corporations like Microsoft and Adobe quickly followed.
Update
This post has been updated to include comment from Netflix. When contacted by BuzzFeed News, the company initially declined to give a statement.