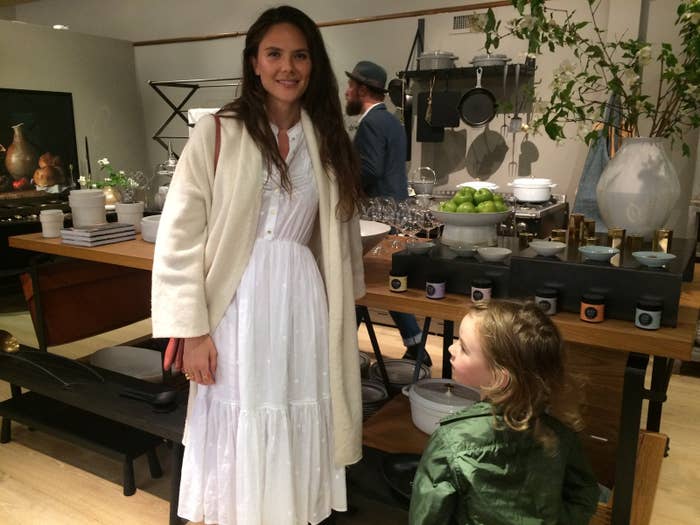 This week Gwyneth Paltrow, patron saint of conscious uncoupling, opened a pop-up store called goop MRKT near San Francisco's Union Square. The temporary storefront was set up inside a former gift shop designed by Frank Lloyd Wright. French sandalwood candles and an 18-karat gold nameplate "Mommy" necklace were on display in glass cubbies along the building's winding white ramp. Wright used the circular design as a prototype for the iconic interior of the Guggenheim Museum in Manhattan. One guest at the opening night soiree hashtagged his party pics #goopenheim.

Guests at the opening on Wednesday night — including the founders of Instagram, Pinterest, and Eventbrite, at least one venture capitalist, and a Twitter exec — were treated to fresh oysters, hand-shucked by a roving waiter with a man bun. Thursday evening, the store was closed for another, second-tier private event for the press. All the hors d'oeuvres were recipes made from It's All Easy, Paltrow's latest best-selling cookbook promising the masses a macrobiotic glow.
The waiter passing around a "pizza" made of flatbread and light green vegetables offered the corresponding page number from the cookbook. The triangle-shaped treat was about as close to a pizza as zoodles are to pasta carbonara. It tasted yeasty, but with a bright cucumber finish. For beverages, your choice was pinot grigio or an adorable mini-container of Goop Glow Beauty Milk (a breakfast smoothie) that had been "alchemized" by Moon Juice, one of the vendors at the market. It looked like chocolate milk and tasted like the slushy remains of a berry Jamba Juice. Again, unsettling, but not unpleasant.
The building's interior was divided up into sections for kitchen, home goods, lounge, sporty clothing, work clothing, etc.; the effect was almost like perusing Gwyneth's home in Brentwood, California, except with price tags. Rooting around for the tag was like a tiny adventure: Would an item be overpriced? (Plastic "Love" keychain by Stella McCartney, $165). Would it be bananas? (Yoga mats made from 100% recycled wetsuits, $79). Or would it almost seem reasonable, in context? (Individually wrapped bamboo face wipes by Ursa Major, $24). The smell of the room — tropical with herbal undertones — evoked the sense that you were about to get a very expensive massage.
This is the fifth pop-up store for GOOP, the lifestyle brand that introduced US Weekly readers to the master cleanse, cupping, and vaginal steaming. It's part of Goop's expansion into a "contextual commerce brand." Paltrow hired Lisa Gersh, the former CEO of Martha Stewart Living Omnimedia, as Goop's CEO. And to fund the expansion, Goop raised a $10 million series A financing round last year, led by the venture capital firm New Enterprise Associates, which has also invested in Gilt Groupe, Groupon, WebMD, and BuzzFeed.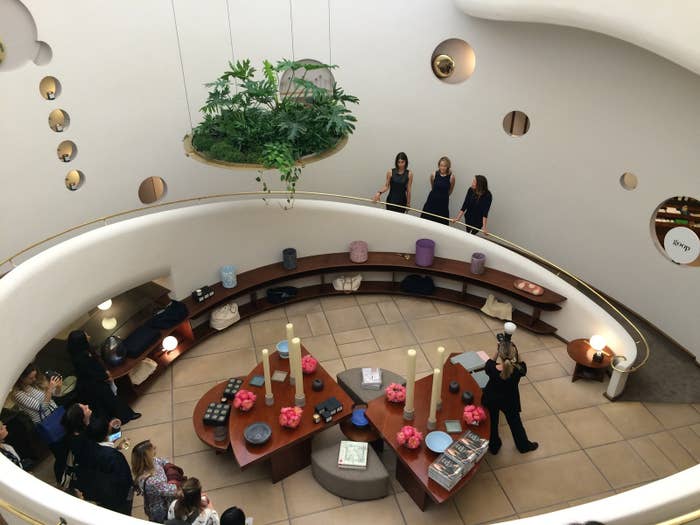 Contextual commerce is industry jargon for an editorial presentation and point-of-view so compelling that it seamlessly results in a sale. I experienced this phenomenon at the market's Clean Beauty Apothecary when I was overcome with the need for a sleek pink bottle of Rosewater Uplifting Spray ($35) located in the best-seller drawer. It was a steal compared to Tammy Fender Bulgarian rose water ($65) in the anti-aging section. Perhaps it was so convincing because the Goop reps, who referred to their boss by first name only, just like the rest of us, emphasized that "every product in this shop is something that she said yes to."

Before Thursday night's shopping got into full swing, a trio of Goop executives positioned themselves on the curve of the ramp to shout-out some of the participating brands. "We happen to have Amanda from Moon Juice here. She's the one that's glowing," said a Goop executive with stick-straight hair, gesturing to Amanda Chantal Bacon, a striking young woman in an oversize wool coat with a sundress underneath, who looked like she sprung up from the earth and an Abbot Kinney boutique simultaneously: horse-girl hair, hippie-girl skin, dgaf eyes. "You probably read about Moon Juice's Moon Dust on Goop," said the exec, "You can ask her your questions about finding the right dust."
Internet dwellers are more likely to have heard about Moon Juice from the recent viral backlash than the webpages of Goop. The uproar was in response to an article in Elle detailing the oddball diet of "Hollywood's favorite juice bar owner," which calls for ingredients like shilajit resin, maca, mint chip hemp milk. The Frisky priced it out and found that eating like her for a day could cost $710, depending on how many "activated cashews" you have lying around your bungalow. Haters objected to the obscurity of the ingredients, the seemingly disordered aversion to food, and the preposterous statement that raw chocolate made of sprouted brown rice protein and chaga mushrooms is an "indulgence." It's roughly the same condemnation of obliviousness and privilege that tends to circle Paltrow more so than humbler female-fronted brands like Jessica Alba's Honest Company, or ones that give off an empowering veneer, like Beyonce's Ivy Park.
Bacon was milling about in the kitchen section of the pop-up store, in front of a display of Moon Dusts, which the Goop site describes as elixirs and formulas. In person, Bacon made Moon Dusts sound like an additive that could be thrown in a batch of pancakes, just as easily as a tea. A full collection of all seven costs $340, but individual containers range from $55 to $65. Tiny mounds of each powder were displayed in little ceramic dishes; it wasn't clear if those were testers, although one pile of dust had a distinct fingerprint.
"I did reach a plateau where I was like how much healthier can I be? That's where the quest began with these guys," Bacon said, pointing to her dusts. Bacon said it was less about an immediate boost and more about the cumulative effect of taking the dusts and building a ritual around it. "It's like tricking out your system, or you could look at it as biohacking," she said. "Plays into the idea of slow beauty or slow conscientiousness in that these plants have all of their own intelligence." Whereas a martini will knock you down or a quadruple espresso shot will send you on a roller coaster, the dusts represent a "sustainable force to tap into."
Bacon said that the term biohacking usually connotes a male, extremist vibe, but her product line was just as fixated on optimization, efficiency, and a willingness to not give a shit about sounding crazy. "When it tumbles out of me it looks like this," she said, gesturing again to her dusts. "But this is some hardcore biohacking."
In that context, the Goop experience, normally derided for its costly, out-of-touch solutions to nonexistent problems (like an unsteamed vagina) sounds just like a contemporary tech startup. Behind me in the corner of the kitchen was Juicero, a Wi-Fi-connected juicer ($699), and a carrot-beet juice pouch ($5) that users have to get mailed to them since regular ingredients can't be inserted into the machine. The company raised more than $100 million in funding from prestigious Silicon Valley venture capital firms like Google Ventures and Kleiner Perkins.
Bacon told me that Paltrow was a good touchstone for dealing with this kind of criticism in the face of new ideas. "I really have her to look to in any moment of doubt," said Bacon. "The negative storm, especially when it goes viral, means that there's some success to be had. There's an awakening."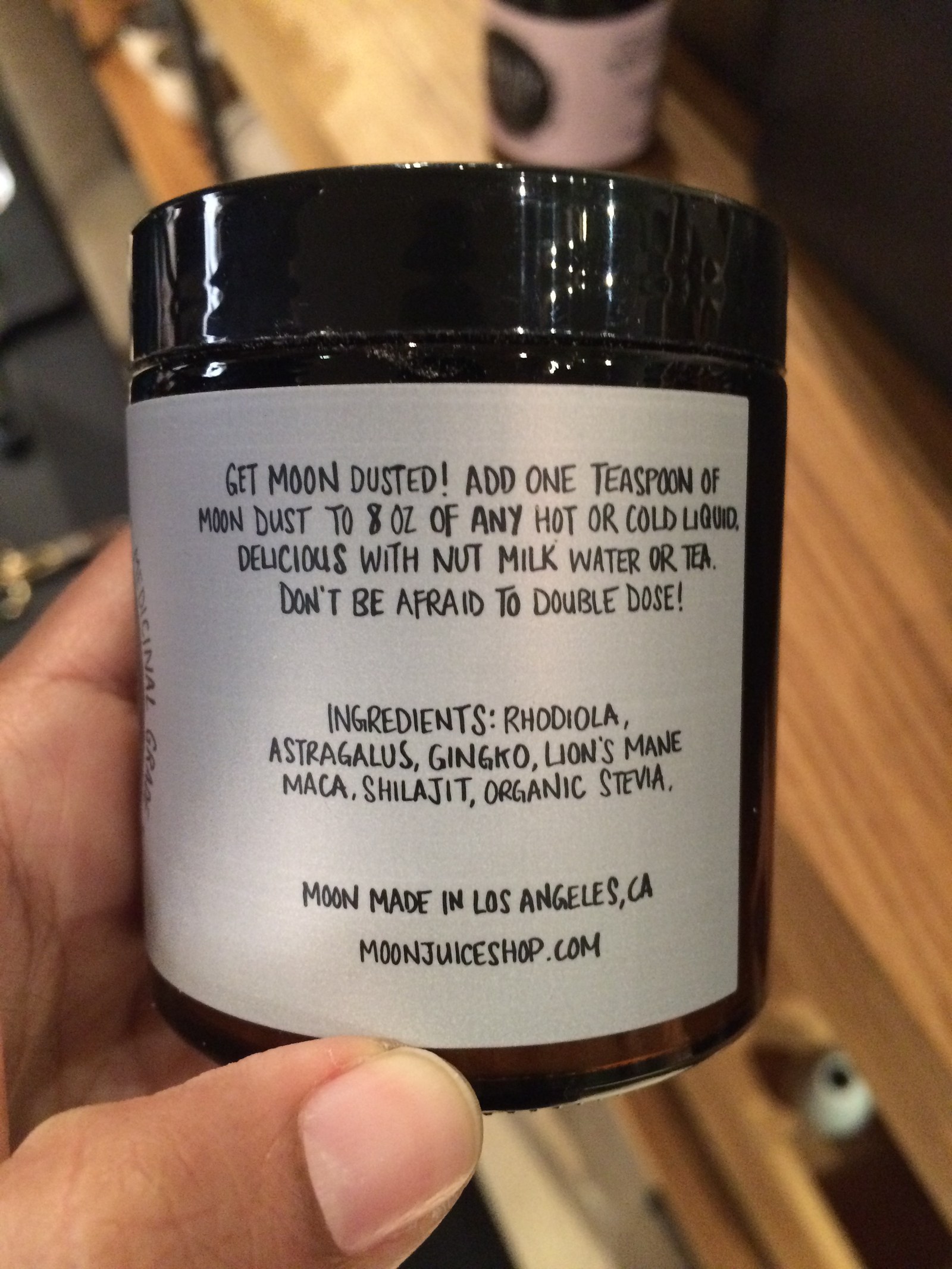 She was more taken aback by the strength of the response than the negativity. "I actually thought, People are ready to take that seriously!"
"If you're spending that much time on it that's saying, 'Oh no, the wave is coming! Goddamnit, I'm going to have to try Sex Dust! It's coming for me.' Our sales went through the roof." In fact, the bigger repercussion on her brand was finding more vendors "because the demand globally has been out of control."
Bacon gamely answered other questions about the backlash. "Bad manners aside," she said, "I thought there were valid and thoughtful questions: 'Does that work? Is it safe? Is it pleasurable? Is this meant for me? Can I afford this?'"
"The tone around it was a little bit aggressive, but that's just sort of the general tone out there," she said.
On the eating disorder question, she expressed the same fear as many women who have found their name in the comments section of a post. "I was surprised that people didn't call me fat," said Bacon. She was under the impression that for women being torn up on the internet, "the thought is you're always going to be called fat." When she saw herself described as the opposite, it was "only laughable to me," she said, gesturing to herself this time. There is "absolutely nothing frail about me."
Bacon also said that after the response, she went back to the "scientific nutrition program" that she uses to vet the labels for Moon Juice products and found that she had consumed 2,664 calories, 50% of which were from plant-based fats. (Her PR rep had trouble confirming the number, but said it was safe to say it was around 2,000 calories.)
"I eat in a very particular way and it's my hobby," said Bacon. "I'm a nerd. When you nerd out really hard on something for a lifetime, there are a lot of strange things that can happen."
Just then Bacon's 4-year-old, Rohan, came by. She picked him up and slung him on her hip, answering questions through a curtain of glossy hair that he pulled across her face. After a blood test at age 17, Bacon was diagnosed with an autoimmune disorder called Hashimoto's disease. She was told that she may not be able to get her period or that she might be diabetic by the time she was 25. But, said Bacon, "I completely changed my blood. Now, I have the blood of an 18-year-old and I'm in my mid-thirties."
How singularitarian.