On the Friday after the US presidential election, Andrew Torba, CEO of Gab.ai, a social network favored by conservatives, was kicked out of Y Combinator, the influential Silicon Valley startup accelerator, for violating its harassment policy. Torba, a fervent Trump supporter, called members of the Y Combinator community "cucks" and told them to "fuck off" earlier that day in a heated Facebook discussion about racism after the election. "I am actually surprised it took them this long to excommunicate me," Torba told BuzzFeed News. "Y Combinator doesn't accept conservatives and they don't accept Trump supporters."
Torba was speaking from Restoration Weekend, a right-wing political conference in Palm Beach, Florida, attended by alt-right figurehead Milo Yiannopoulos, Trump campaign CEO Steve Bannon, and Brexit leader Nigel Farage.
In the Facebook thread, before he was booted from Y Combinator, Torba wrote:
"All of you: fuck off. Take your morally superior, elitist, virtue signaling bullshit and shove it.
I call it like I see it, and I helped meme a President into office, cucks."
Over the phone and in the conservative press, Torba has been claiming that he was removed from Y Combinator because he tweeted "build a wall," a reference to President-elect Donald Trump. Y Combinator partner Kat Malanac, who was part of that Facebook thread, said the tweet brought Torba's actions to Y Combinator's attention, but Torba was removed "for speaking in a threatening, harassing way toward other YC founders," which violates its ethics policy, she said by email.

After he was kicked out of Y Combinator, Torba addressed Malanac on the same Facebook thread:
"if you feel 'unsafe' from from [sic] me saying 'fuck off' or 'build a wall,' you probably shouldn't be on the internet."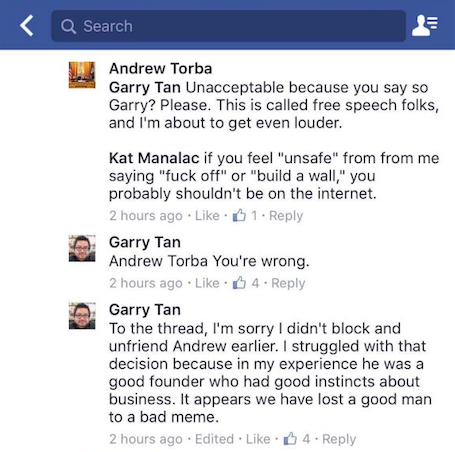 Torba's version of events will likely be well-received by the crowd at that Restoration Weekend, where he is scheduled to give a talk on free speech on Sunday. Torba's narrative has already been embraced by right-wing media like Chuck Johnson's GotNews, which said he was "purged" from Y Combinator "for a tweet" supporting Trump.

After the election, Torba reactivated his dormant Facebook account. "I was looking at what people were posting and taking screenshots … just them whining about losing the election," he told BuzzFeed News, emphasizing that names were removed from the screenshots. One of the screenshots was from a Latino startup founder who posted a status update expressing fear for minorities after the election: "Tomorrow, being a Hispanic, Black, Muslim or woman in the USA is going to be very scary." Torba tweeted that screenshot with the words "Build the wall."

Torba referred to his tweet as a meme and got upset when he saw "an indirect reference to the meme" on a Facebook post from Garry Tan, a former Y Combinator partner.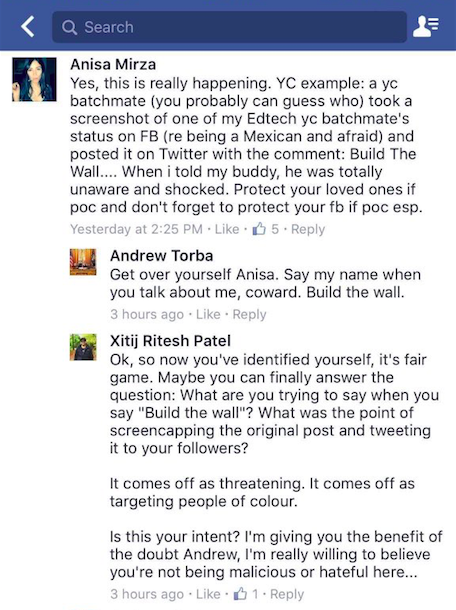 Tan had posted a link to a story about increased incidents of aggression toward minorities and asked if anyone had seen it happen firsthand. Y Combinator alum Anisa Mirza, the CEO of Giveeffect, offered Torba as an example of that behavior, but without using his name. Mizra is friends with the Latino founder whose status Torba screenshot and tweeted. She wrote that a member of her Y Combinator batch — "(you can probably guess who)"— took a screenshot of her friend's Facebook status about "being a Mexican and afraid" without the friend knowing.

On the phone with BuzzFeed, Torba said he got upset that they were talking about him, so he jumped into the thread. "Get over yourself Anisa. Say my name when you talk about me, coward. Build the wall," he wrote. According to Torba, his response resulted in a "massive pile-on," so he said, 'You know what, fuck you all. Just leave me alone.'"

As the argument in the Facebook thread intensified, Torba began posting screenshots of it on Twitter with the names of Y Combinator alumni visible. While he was in Palm Beach for the conference, Torba received a phone call from Jon Levy, Y Combinator's in-house counsel, telling him that he had been "banned," said Torba. His log-in for Bookface, a private social network for the Y Combinator community, was disabled.
"[F]ree speech is of course allowed," Sam Altman, the president of Y Combinator's parent company, told BuzzFeed News by email. "[H]arassing, which [Torba] did to several members of our community, is not. have a look through his twitter/fb."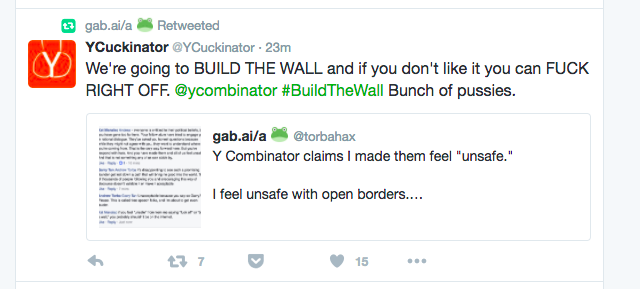 Manalac told BuzzFeed News that Y Combinator has removed founders from its network before, but never publicized the move. "We didn't plan on publicizing this either, but Andrew chose to be vocal about it, likely to get more attention for his site." Gab.ai was not a part of Y Combinator. Torba was accepted into the program's winter 2015 batch for another startup called Kuhcoon, a Facebook ads management platform.
Torba claimed that he was being treated differently than Peter Thiel, a part-time investor at Y Combinator and another outspoken Trump supporter, because Thiel is a billionaire. In the last leg of the campaign, Thiel, who is also on Facebook's board of directors, donated $1.25 million to support Trump's presidential bid. At the time, activists pressured Altman and Mark Zuckerberg to sever ties with Thiel. Altman and Zuckerberg both refused, citing the importance of diversity of opinion.

Y Combinator, however, stressed that the issue was harassment. Tan, who left the firm a year ago, said alumni and partners have been trying to keep dialogue open. "I see everyone, at least on this side of reality, try to be really reasonable with [Torba]. I've seen other interactions that were really personable," Tan told BuzzFeed News, calling the discussion "a tempest in a teapot."
"This is the kind of Facebook interaction that ends up happening," said Tan, who noted that yesterday was the first time he had been "directly targeted" by Torba. "It probably helped to get more right-wing members to sign up."
"There are legitimate reasons to support Trump," Tan said, but posting threats "if you have more or less a troll army behind you, to me that's too far."
The troll army Tan is referring to is Gab.ai, which has been described by some as an alt-right social network. "Imagine a 4chan that is basically all alt-right Trump supporters and he's their leader of sorts. He created the site. Imagine a sort of like Bizarro Zuck or Bizarro Jack," said Tan, referring to the founders of Facebook and Twitter, respectively. "He has a social network of people who will basically validate whatever he says."
According to Tan, Torba's advertising startup had been making money and doing fine. "He just reached this boiling point," as rhetoric around Trump intensified, particularly on Facebook. Torba "got a lot deeper in this alt-right world and he just went all the way when he made Gab.ai," said Tan.
On the phone, Torba rejected the idea that he or Gab.ai were part of the alt-right. "I do not identify as alt-right. I am a conservative Christian, I am a Republican," he said. "I don't know why people label me."
Torba said he had been "facing this backlash" for six months, ever since he came out as a Trump supporter. "It is pretty sad that I have to say 'came out' in 2016," said Torba, who claimed he was called a racist, bigot, "and every whine in the book."
The response prompted Torba to relocate to Austin, Texas, this fall, he claimed. "I didn't feel safe anymore in Silicon Valley as a conservative. I felt like such a minority that I just didn't feel safe being there anymore."

Torba said that he had been introduced to Thiel last week by conservative blogger Michelle Malkin. Torba met Malkin because she has an account on Gab. Thiel hasn't responded yet, but Torba told BuzzFeed News, "I would put him on the board on in a heartbeat."