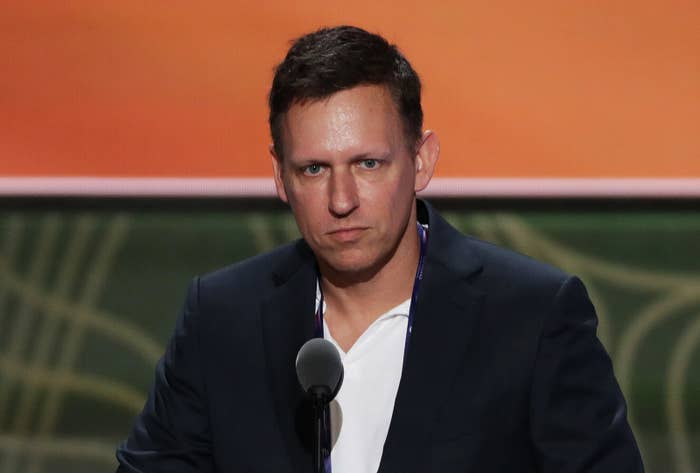 Silicon Valley luminary Peter Thiel, a Facebook board member and prolific investor, will speak on stage Thursday night at the Republican National Convention. Although some wondered if Thiel would pull a coup, BuzzFeed News has learned that Thiel will use the opportunity to talk to both the country and Silicon Valley about his support of Donald Trump.
The speech will cover why Donald Trump is better for America over Hillary Clinton because of Trump's anti-war stance and Trump's economic credentials. Thiel is also expected to say that he's proud to be gay.
During the course of the campaign, Trump has argued that the Middle East would be less chaotic had the United States not pursued interventions in Iraq and Libya, or supported the overthrow of authoritarian leaders. Trump, however, in the past supported many of these U.S. actions, calling in the last decade for a humanitarian intervention in Libya against Moammar Gadhafi, for instance. Most infamously, despite his frequent claims that he opposed the Iraq War from the beginning, there is no evidence to support that claim.
Trump has largely distanced himself from the social issues — same-sex marriage and abortion — that have dominated Republican politics over the last two decades. Although he says he is anti-abortion and supports traditional marriage, Trump has said contrary things about abortion over the years, and has openly said he wants the support of LGBT voters.
Thiel recently acknowledged that he financed Hulk Hogan's lawsuit against Gawker in an effort to bankrupt the company. Thiel, who has donated to Libertarian causes including funding Rand Paul's campaign, called funding the lawsuit a philanthropic gesture. Facebook has said that Thiel is attending the RNC "in his personal capacity. He is not attending on behalf of Facebook or to represent our views."