The Mona Lisa of Unicorn Art Will Be On Display In San Francisco
A High Renaissance coincidence
Raphael's 16th century painting Portrait of a Lady with a Unicorn is considered a masterpiece of the High Renaissance. For the first time ever, the work of art will be on display in San Francisco as a one-painting show at the Legion of Honor starting in January. Elsewhere in the Bay Area, adults have become enchanted with the word unicorn — the jargon du jour for tech companies valued at one billion dollars or more. But the painting's arrival and the region's newfound belief in magical beasts is merely a coincidence, Dr. Esther Bell, the exhibit's organizing curator, told BuzzFeed News.
"It's really interesting timing for certain, so maybe the painting will resonate with some of our local businesses for that reason," said Bell, who only recently learned of the word's contemporary usage in Silicon Valley. Bell is also the curator in charge of European paintings at the Fine Arts Museums of San Francisco (FAMSF), which encompasses the Legion of Honor. The museums' board of trustees includes investor Zachary Bogue (Marissa Mayer's husband), as well as Juliet de Baubigny, a partner at the venture capital firm Kleiner Perkins, so there is a connection to the tech sector. However, the exhibit has been in the works for two years. (The term was coined almost exactly two years ago, but has really only come into widespread usage this year.)
Bell marveled at the evolution of the unicorn imagery. "A unicorn as early as the third or fourth century was talked about in terms of purity and chastity, so it has a very long history of having those connotations," she said. And a very short history of symbolizing irrationality and excess? "Exactly," she replied.
The exhibit will highlight the stylistic similarities between this portrait by Raphael and the Mona Lisa, in terms of the format, the positioning of the sitter's hands, and the distant landscape in the background. Have a look: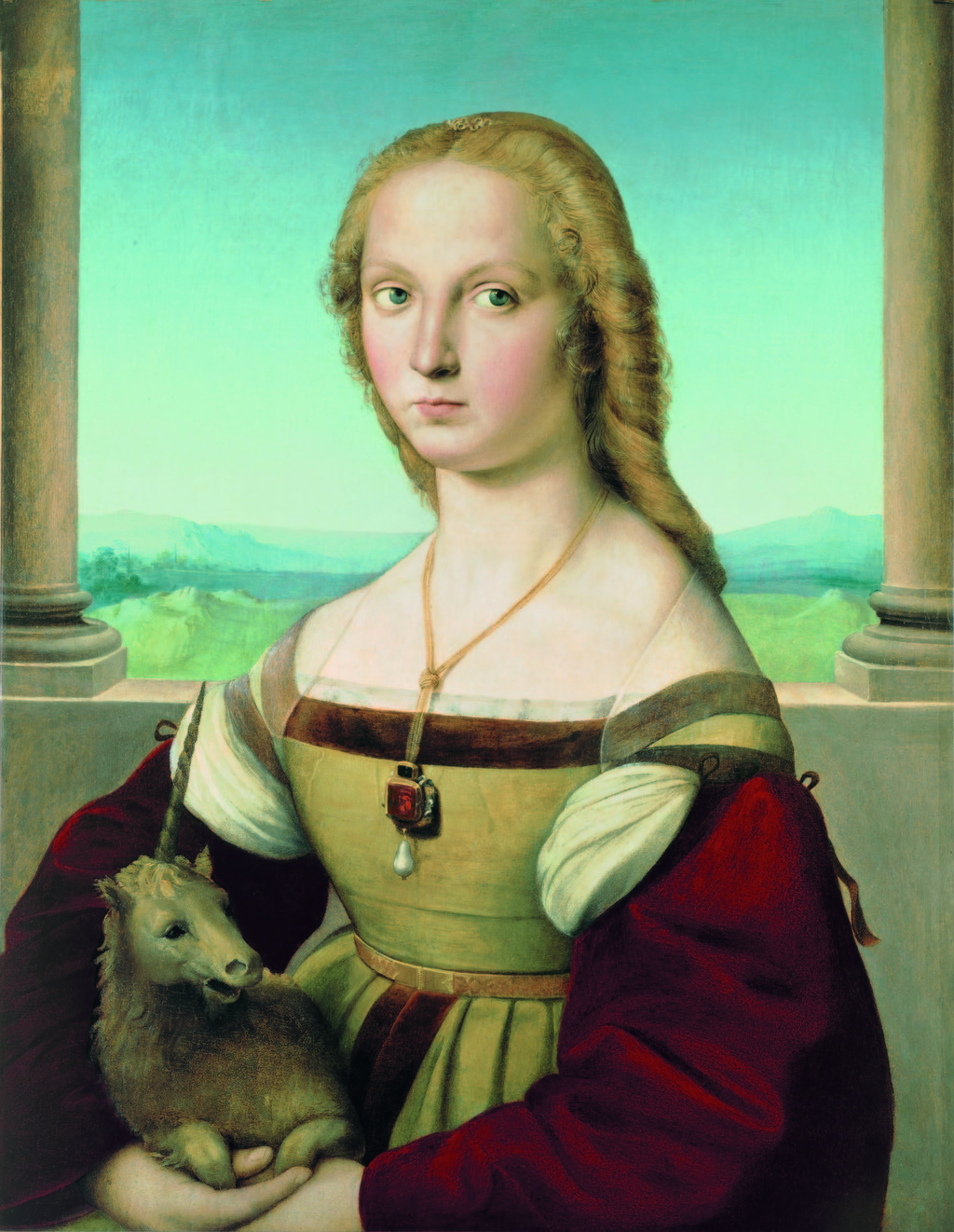 "What's really fascinating is the way she's kind of holding the unicorn in her lap, her hands clasped around its feet, so it might be a warning to a suitor, or her new husband," Bell explained. "She clearly has power and control over the beast, so it might signify her powers of seduction." In modern day terms that would perhaps make the sitter the unicorn's venture capitalist.