Tinder Forced To Include CEO's "Sodomy" Interview In IPO Filing
Not a good look.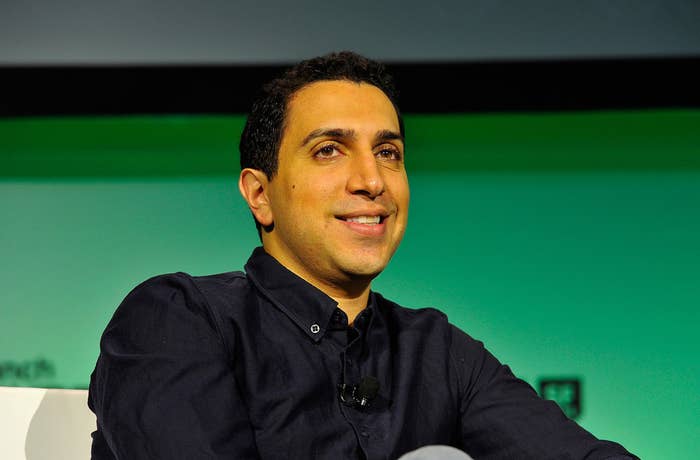 Tinder co-founder Sean Rad is causing trouble for his parent company. Again. Rad, who only recently regained his title as CEO after previously being demoted to president in November 2014, gave a disastrous interview published Wednesday morning in the Evening Standard. Questionable comments included Rad misusing the word "sodomy" and claiming a supermodel "begged" to sleep with him. As a result, Tinder's parent, Match Group, which had announced plans to go public on Thursday, was just forced to update its S-1 filing to disavow itself from Rad and claims made in the article.
Late Wednesday, Match Group priced its IPO at $12 a share, and it is scheduled to go public on Thursday.
Match Group also had to include the full text of the interview, including the sodomy quote, in its updated filing with the Securities and Exchange Commission. In the amended document, Match Group says: "Mr. Rad is not a director or executive officer of the Company and was not authorized to make statements on behalf of the Company for purposes of the article."
The amended filing also downgraded inflated metrics about Tinder's popularity published by the Evening Standard.
Here is Rad's quote about "sodomy" in the Standard:
He's desperate to impress on me how gallant he is, citing the fact that a "supermodel, someone really, really famous" has been "begging" him for sex "and I've been like, no". She's "taunted" him, he says, and "called me a prude".

"She's one of the most beautiful women I've ever seen but it doesn't mean that I want to rip her clothes off and have sex with her. Attraction is nuanced. I've been attracted to women who are …" he pauses "… well, who my friends might think are ugly. I don't care if someone is a model. Really. It sounds clichéd and almost totally unbelievable for a guy to say this, but it's true. I need an intellectual challenge."

He continues: "Apparently there's a term for someone who gets turned on by intellectual stuff. You know, just talking. What's the word?" His face creases the effort of trying to remember. "I want to say 'sodomy'?"

Rosette shrieks: "That's it! We're going to be fired" and Rad looks confused. "What? Why?"

I tell him it means something else and he thumbs his phone for a definition. "What? No, not that. That's definitely not me. Oh, my God."
Rad has previously inflated his role at Tinder, preferring to characterize it as an independent app and casting himself as your classic disruptive CEO. In truth, Tinder was formed in an incubator at IAC, the conglomerate where Barry Diller serves as chairman. IAC was the parent company of Match Group, which is being spun out as as its own public company.
This is not the first time a tech company has been forced to acknowledge an embarrassing interview just before a scheduled debut in the public markets.
In 2004, Google had to amend its S-1 filing because of an interview executives Larry Page and Sergey Brin gave Playboy. However, at the time, the Google co-founders spoke for the entire business, whereas Tinder is merely one dating app in Match Group's stable of companies, which includes OkCupid and Match.com.
Rad's demotion came two months after IAC settled a harassment lawsuit filed by Tinder co-founder Whitney Wolfe. When he was demoted in 2014, Rad told Forbes that the reason was because Tinder was "looking for an Eric Schmidt-like person."
Here's the full text of Match Group's update to its SEC filing:
On November 18, 2015, the Evening Standard (the "Standard"), an online and print news service, published an article based on an interview with Sean Rad, the Chief Executive Officer of Tinder, a subsidiary of the Company. The article is described in relevant part in the following paragraph and the full article is attached hereto.

The article was not approved or condoned by, and the content of the article was not reviewed by, the Company or any of its affiliates. Mr. Rad is not a director or executive officer of the Company and was not authorized to make statements on behalf of the Company for purposes of the article. The article noted that "Analysts believe the [Tinder] app, which launched in 2012, has around 80 million users worldwide and records 1.8 billion "swipes" a day." While these statements were not made by Mr. Rad, the Company notes that they are inaccurate and directs readers to the Preliminary Prospectus, which states that for the month of September 2015, Tinder had approximately 9.6 million daily active users, with Tinder users "swiping" through an average of more than 1.4 billion user profiles each day.

Evening Standard routinely publishes articles and is unaffiliated with the Company and all other offering participants, and, as of the date of this free writing prospectus, none of the Company, any other offering participant and any of their respective affiliates have made any payment or given any consideration to Evening Standard in connection with the article described in this free writing prospectus.

The statements by Mr. Rad were not intended to qualify any of the information, including the risk factors, set forth in the Registration Statement or the Preliminary Prospectus and are not endorsed or adopted by the Company. You should consider statements contained in this free writing prospectus, including those in the attached transcription, only after carefully evaluating all of the information in the Registration Statement and any final preliminary prospectus relating to the offering filed pursuant to SEC Rule 424(b) (the "Final Preliminary Prospectus"), including the risk factors described therein.
CORRECTION
Match Group priced its initial batch of shares today and is scheduled to begin trading on Thursday. An earlier version of this post misstated the timing of its IPO.
CORRECTION
Google had to amend its S-1 filing in 2004 because of an interview co-founders Larry Page and Sergey Brin gave to Playboy. An earlier version of this story said the interview was with Eric Schmidt.