This Tool Helps Brands Steal Their Competitor's Followers
SocialRank is publicly launching a way for brands to peek at their competitors.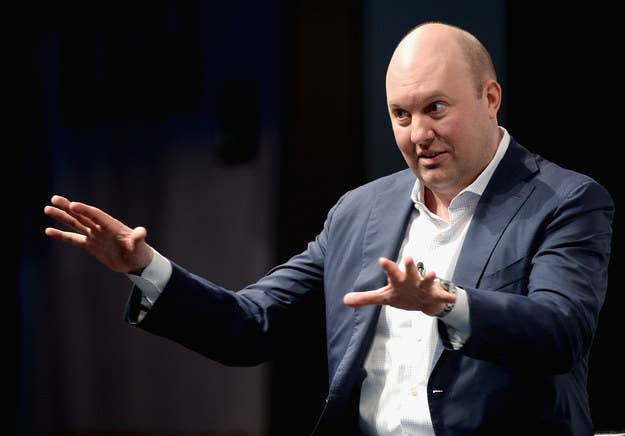 When SocialRank — a New York City–based startup that lets users analyze their Twitter and Instagram followers and is rolling out a new tool today — looked at which Twitter accounts early adopters wanted to spy on, the most popular choice (after major brands) was venture capitalist Marc Andreessen.
"His account is crazy. It's everyone from Glenn Beck and Tyra Banks to Justin Bieber's mom and what's-his-name from the New York Times, Paul Krugman," SocialRank CEO Alex Taub told BuzzFeed News. There are also notable exceptions, like the founder of Y Combinator. "Paul Graham doesn't follow Marc Andreessen. I think [Andreessen is] probably clogging his feeds?"
SocialRank's first product was a dashboard to help people track their Twitter followers, sorting them by location, interests, algorithmically determined "value," engagement, employer, influence, and even keywords in their Twitter bio. If you follow a sizable number of people, SocialRank offers an easy way to track down that woman who works at Pinterest when you can't remember anything besides the color of her avatar, or find all your followers in Mexico City if you're going on a trip. It's the kind of simple data that Twitter still makes impossible to search. SocialRank's revenue model, however, is focused on customers like Nike, Sony Music, Paramount Pictures, Red Cross, and Harvard University, who get even more exasperated by how hard it is to study a huge group of followers.
Today SocialRank is publicly launching a tool called Market Intelligence — in beta until now — that will let customers do the same kind of analysis, except with the ability to compare it to other Twitter accounts. "If you're Nike, you can run Puma. If you're Airbnb, you can run Hilton and Marriott," Taub explained. "It feels a little like you have access that you shouldn't have." (Market Intel for Instagram is on its way and already being beta-tested by social media celebs like Fuck Jerry and Crazy Jewish Mom.) In order to test-drive Market Intel for Twitter, SocialRank is offering users the chance to test their own account for free — and compare it to Andreessen's.
Taub checked with Andreessen before including the investor as a freebie, assuring him that SocialRank is merely repackaging publicly available data. "I also didn't want the most powerful man in Silicon Valley to be upset about it," he said.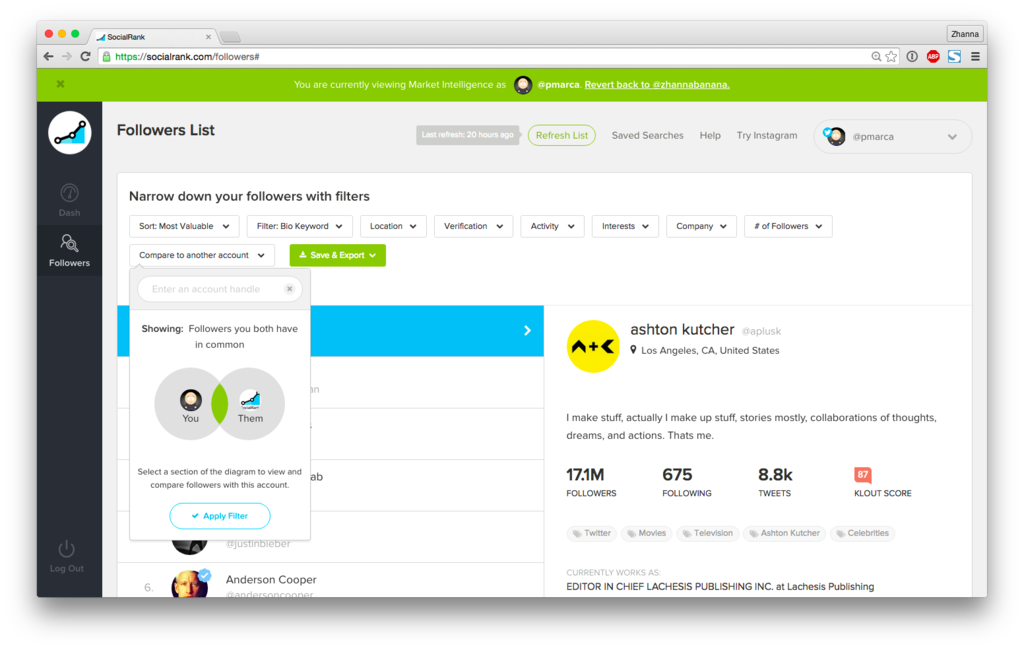 The launch marks Market Intel's debut as a self-serve product that brands can access without dealing directly with Taub. There will be discounts for nonprofits and startups, but otherwise SocialRank charges $150 per month per handle. Customers who want the ability to export their data will have to pay $250 per month per handle, and exporting a list is crucial. In order to do a promoted tweet, brands need to build a database of email addresses and Twitter handles, which can be difficult when Twitter lets you target only broadly. Taub said some customers were spending more than 200 hours on this, or throwing an intern at the job, whereas SocialRank lets them compile a targeted list with a few clicks.
Companies such as GoPro and Spotify had been trying SocialRank to run what's known in the biz as a "surprise and delight" campaigns. Brands know who the influencers are and which celebrities use their product, but SocialRank lets them find the real humans of Twitter. If Nike, for example, finds Twitter followers who are not yet in its customer database, it can drill down to 20,000 people who live in New York. "We're gonna enable you to DM all of them to go their local Nike store and get a discount."
Market Intel will could help companies do that, but in a more Sun-Tzu-of-social-media style, by running their competitors' accounts to find potential customers to poach.
Compared to cruise ship–size competitors like Sprinklr and Salesforce (in that case, the cruise ship is literal), SocialRank is cheaper, but less robust. However, Taub predicts a shift in resources where brands will spend "as much time, if not more time" examining the followers they have, rather than trying to get new ones.
What prevents Twitter from coming in and replicating SocialRank? Twitter's focus is on making its service better for consumers (or trying to, at least), Taub said. With tools like promoted accounts and promoted tweets, Twitter is selling "more followers, more reach, more engagement," he said. "They don't really care that much about your existing followers." Besides, he said, SocialRank already has beta testers for its Instagram tool, and plans on adding Facebook and Pinterest integrations soon. "To be honest, if [Twitter] added that stuff, it would just make our lives easier. Twitter is not going to let you run someone else's account in the granular way that we do."