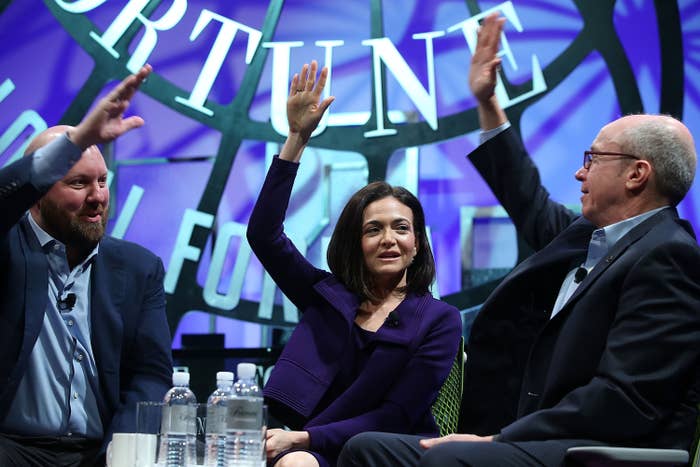 If there's anything Silicon Valley is good at, it's staying on message. We've seen it with recent attempts to reframe a Wall Street Journal investigation into the biotech company Theranos as an attack on innovation, and now, a similar strategy appears to be afoot to defend tech companies against fears of a bubble.
Earlier today at the Fortune Global Summit, venture capitalist Marc Andreessen was asked whether unicorns (the pet name for companies deemed to be worth a billion dollars or more by their investors) are over-valued.
"Oh, I don't think we're in a bubble, I think we're in a bust," Andreessen shot back. That response is exactly what Y Combinator president Sam Altman wrote in a blog post yesterday entitled The Tech Bust of 2015. "Maybe instead of a tech bubble, we're in a tech bust," Altman argued.
"Bust" is a catchier framing for a point investors have been trying to emphasize: That the upside of technological disruption is so enormous that even if the next few years leaves a unicorn graveyard in its wake, tech companies are still undervalued by the public market.
I think technology has been under-valued ever since 2000 and it's still under-valued. So the nature of venture capital and the nature of venture investments is that some companies are going to work and some companies aren't ...The entire basket of unicorns is worth like half of Microsoft — like the entire basket of all the unicorns. Microsoft is a fine company, but you need a couple to really take off and it becomes very clear that retrospectively they're under-valued.
But no matter what happens in the short- and medium-term, I continue to believe technology is the future, and I still can't think of an asset I'd rather own and not think about for a decade or two than a basket of public or private tech stocks.
Which would you rather own long term? Microsoft or a basket that includes Uber, Airbnb, Snapchat and Pinterest along with scores of others, a few of which will surely emerge as future PayPals, Twitters or Fitbits? Is that even a hard decision? And if not, what are we worried about? Quite the contrary: If you're looking for growth, the unicorns minted in the last few years may well be one of the most attractive investments anywhere. (Obviously you can't buy the whole basket of unicorns, but we did find several retail mutual funds that give you some exposure to them.)
Helft's article staunchly defended the beleaguered human resources company Zenefits, which has raised $596 million and is assumed to be worth $4.5 billion by investors such as Andreessen's firm, Andreessen Horowitz. The venture capitalist praised the article by saying that Helft went "full contrarian," a "rare" plane of thought more closely associated with futurist financiers, like self-described contrarian Peter Thiel than with journalists. Venture capitalist Keith Rabois later echoed the same sentiment about a hypothetical basket.
In addition to Zenefits, Andreessen Horowitz is an investor in other "unicorns," like Tanium, Instacart, and Pinterest (as well as BuzzFeed). Andreessen goes into more nuance in the clip above, putting valuations of private tech startups in the context of public tech companies burdened by "shareholder bases that do not want them to do new things and instead want them to give back cash." But "tech bust" sure works better as a campaign slogan.