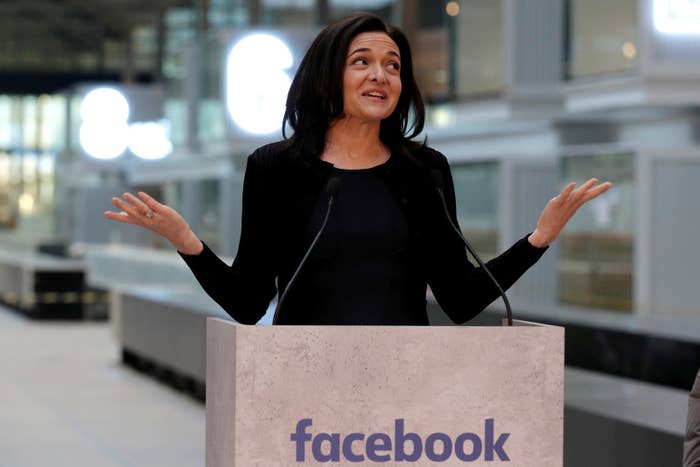 Sheryl Sandberg said on Wednesday that an ongoing dialogue between the tech industry and President Donald Trump is important, during a Q&A with Recode's Kara Swisher at the Watermark Women's Conference. The half-hour talk was the first time Sandberg has been interviewed since the Women's March, which drew nearly half a million people to Washington, DC, to protest in favor of equal rights and against Trump's policies. The Lean In author was criticized for neither attending nor acknowledging the event. Onstage, Sandberg said she was not able to attend because of a "personal obligation," and then felt guilty. "I just felt bad about not being there. So once I felt bad, I just didn't feel comfortable posting," she said. "I think that was a mistake and if I had to do it again, I certainly would post."
When Swisher asked why tech leaders did not voice their disagreements with Trump during their infamous trip to Trump Tower, Sandberg said, "You know this administration is going to have broad ability to take action on things we care about — jobs, our ability to hire, our ability to grow, everything, all the issues we're all posting about — and so a dialogue there is important."
At times Sandberg looked like a shruggie in human form, albeit a chic and professional version, thigh-high boots crossed, lifting her shoulders and holding her palms up when Swisher pressed her on issues like why one of tech's most famous feminists didn't attend the Women's March or if Sandberg would one day run for president (a firm-ish no).
Swisher was clearly skeptical about the effectiveness of working with Trump. Is dialogue working if Trump's policies all seem to contradict Silicon Valley's values? "I think it's early — I can't sit on this stage and predict (and predict) what will happen," Sandberg said, seeming flustered. "I have to remain hopeful. I have to remain hopeful. I have to remain [hopeful], looking at this audience of women."
Sandberg answered the question as though Trump hadn't yet taken office and issued 18 executive orders. The public, and certainly the audience at the women's conference, already knew that she opposed Trump's anti-immigration and anti-abortion policies.
Tech workers, activists, and the tech press are clinging to every line from tech executives, however strategic or meaningless or misleading, because despite its impassioned "public statements" on the immigration order, Silicon Valley has chosen to negotiate with Trump behind the scenes. Two of the largest corporations in the world, Facebook and Google, and two of the most revered CEOs in the world, Elon Musk and Travis Kalanick, are still working with Trump.
Onstage, Sandberg returned repeatedly to the idea that it is early in the Trump administration, downplaying the frequency and aggression of Trump's executive orders as well as the immediate negative impact of both Trump's appointees and policies. "I think we don't know what's going to be effective yet," she said, "it's very early days of the new administration, but we know that the issues for women in leadership are real, and it is about the steps we take as a society, it's about the public policy. It's also about the individual steps women take."
("She's good at dancing around a land mine," one conference staffer told her colleagues after Sandberg's talk.)
The author of Lean In, who tried to launch a movement around her self-help book, sounded contrite when she explained her absence at the Women's March. "I've been an active poster — you may have seen, if you've been watching — since then," Sandberg added, referring to carefully worded Facebook posts about the immigration order and the march, both published days after the news.
Sandberg called the march "an incredible showing of support for women," before segueing to Facebook, where both she and Trump adviser Peter Thiel have seats on the board. "I'm pretty proud of the role Facebook played in this; it's a great story," Sandberg said, referring to Teresa Shook, the retired grandmother from Hawaii who helped organize the march with a Facebook post.
The subject of Thiel never came up during the talk, and Sandberg was not available for follow-up questions, but Swisher was direct and steadfast in turning the conversation toward Trump. When Swisher asked Sandberg what actions she would take against the immigration order, beyond public statements, Sandberg replied: "Well, I think democracy is about using your voice and influencing policy."
Sandberg mentioned the importance of policy a few times, but not in the context of whether she would run for office, a question she's been asked "at least 400 times, often by me," said Swisher. "And I have said no, and I'm going to continue to say no," said Sandberg. "And I'm going to continue not to believe you in any way," said Swisher.