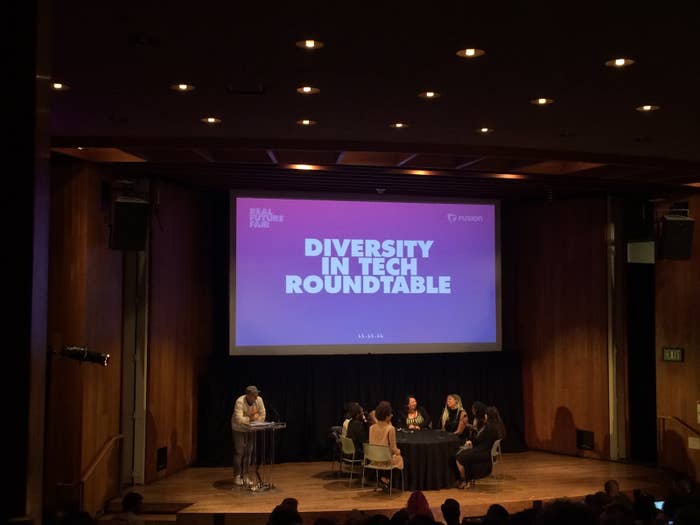 Since the election, much has been made of the way in which social media filter bubbles reinforce misinformation and ignorance between groups. Today at Fusion's Real Future Fair in Oakland, panelists discussed a different, but related phenomenon: self-segregation among the Silicon Valley tech workers who build and finance the platforms and products that shape our understanding of the world. According to the panelists, tech workers don't typically socialize with diverse networks offline. But the panelists also acknowledged that diversity advocates can silo themselves off as well.
"A lot of the problem with social networks is that we still don't have any diversity in co-workers [and] colleagues," said panelist Candice Morgan, head of diversity at Pinterest. She recounted a recent experience picking up her speaker's badge before getting on stage at another conference. The woman at the counter told her, "I'm sorry, she has to come pick up her badge herself," assuming Morgan, who is black, was not the speaker.
Erica Joy Baker, an engineer at Slack, veteran of Google, and co-founder of the nonprofit Project Include, said that fear impedes a healthy dialogue at tech companies. "People get that frozen moment and they get really scared, of having conservations with people — especially with people of color or people who don't look like them — in general about anything," said Baker.
Baker said she wasn't exactly sure how to get beyond that. "There's going to be some level of really uncomfortable moments that need to be had" in order for people to "understand and look at us like human beings," she explained. This emotional connection is "very important to building an inclusive workspace."
Tiffany Price, a panelist from the Kapor Center for Social Impact, a tech-focused organization in Oakland, acknowledged that filter bubbles exist among diversity advocates as well. "We're realizing that also in that space, we can also be siloed. How often are we opening up ourselves to the broader community of Oakland and the folks who don't know about tech?"
Price referenced the fact that the panelists all knew one another. "We're always in meetings together and that in and of itself is a silo."
The panel included five women of color. Karla Monterroso of Code 2040, another member of the group, offered a couple of statistics to illustrate how these silos play out. According to Monterroso, 75% of all white people only know other white people, and 88% of jobs are gotten through friends and family. "Add the wealth gap and you've got the situation we're in," she said.
Code 2040 is a nonprofit that helps find opportunities for black and Latino engineers in tech. Earlier in the panel Monterroso talked about how tech companies that pride themselves on diversity react "when we walk in with 40 or 50 black and brown people."
"You'd be amazed at the places we've gone — staring at the students at lunch, all sorts of security starts to come out to make sure that they go from the lunch area to the bathroom and no other place and just like the culture of that, the things that get said to them."
The discussion about silos was kicked off by audience member Bianca St.Louis, a former safety specialist at Pinterest and intern at the venture capital firm Andreessen Horowitz. The panel was conducted as a round-table with two seats left open for anyone in the crowd who wanted to participate. "Most people in tech don't really know [about the value of diversity] because I doubt they have very diverse networks on the weekend," St.Louis said on stage. "Genuinely how many folks sit down, break bread with someone who doesn't look like them?"

St.Louis asked the panel to talk about self-segregation in the tech industry in light of the way social interaction impacts ideas. "We all know that knowledge networks are so important — who do you feel comfortable sharing your ideas with, who do you value as a voice."
When St.Louis first joined them, Baker pointed out that everyone on stage already knew her. "It's because there are so few people of color in tech we all know each other and we all talk about everything. Everything," said Baker.