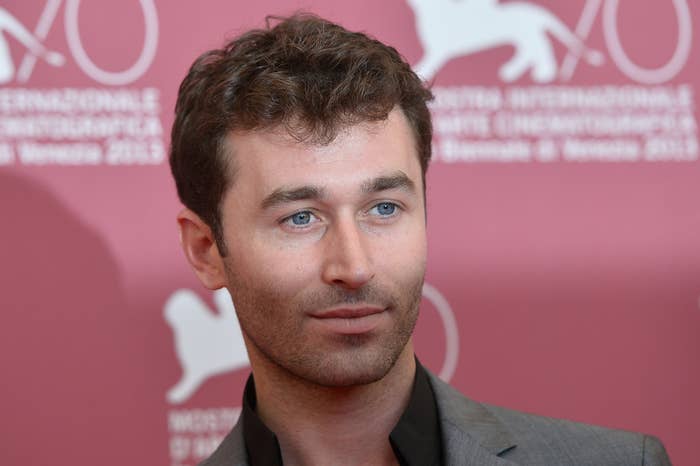 When Kink.com severed ties with adult film star James Deen, the company's disavowal was swift and unwavering. Two days after Deen's ex-girlfriend, Stoya, alleged on Twitter that he had raped her, the San Francisco-based BDSM and fetish porn studio said it would cease all ties with Deen, who had appeared in more than 250 of its films, effective immediately. "Consent and respect are sacrosanct," the company said in a public statement. "Our performers deserve not only safe sets, but the ability to work without fear of assault. Rape or sexual assault, with or without a safe-word, off-set or on, should never be accepted as a hazard of adult production."

What has not been previously reported, however, is that Kink is at the center of four lawsuits filed this year that each allege unsafe working conditions with consequences ranging from retaliation to HIV transmission.
The company's name also came up repeatedly as more women came forward with allegations against Deen. Adult film performer Ashley Fires told the Daily Beast that Deen had assaulted her a communal bathroom at Kink.com. A few days after that, another porn actor, Nicki Blue, told the Daily Mail Online that when she complained on a Kink.com forum about being brutally raped by Deen at a party, her post was deleted. "There's a lot [Kink] could have done so that it didn't happen, so that people don't end up getting raped," Blue told the Mail. Last week another performer, Lily LaBeau, alleged that Deen assaulted her on a Kink set in 2012. Deen was not scheduled to film and was eventually "ejected" from the shoot. Michael Stabile, a spokesperson for Kink.com, said that as the news unfolded, the company discussed ways to improve its detection of seemingly isolated incidents. Kink.com needs to do a better job, he said, of making sure directors aren't siloed and making sure that performers know exit interviews after a shoot are confidential and there won't be any retribution. Stabile said the alleged assault against LaBeau was likely discussed with talent and booking, but "other directors continued to work with [Deen] and had good experiences."
Of the four suits, three — filed by performers Cameron Adams, Joshua Rodgers, and an anonymous John Doe with the same lawyer, Sandra Ribera — allege that their respective plaintiffs contracted HIV on Kink sets as a result of negligence. (Kink.com maintains that neither Adams nor Rodgers, who were a couple at the time, performed with someone who was HIV-positive.) The fourth lawsuit, filed in June by a different lawyer, is from a former employee of Cybernet Entertainment, the company that operates Kink.com, who claims her managers did not protect her from assault while filming a public bondage segment, and then retaliated against her when she complained about unsafe working conditions.
All four lawsuits are still in the early stages. Kink.com has challeged the legal basis behind all three cases represented by Ribera. A hearing on Kink's objections will be held in February. Last month, the company filed an answer to the complaint from the ex-employee denying all the allegations.
The courts, or a settlement, will decide the merits of each case. But the filings present a vivid depiction of what life inside the Armory — Kink's 2.2-acre studio in San Francisco — can be like for some performers. The court documents also address the protocols for BDSM shoots put in place by an industry that has largely been left alone by regulators when it comes to sexual assault and allowed to police itself. Deen's female accusers have tried to explain the hardships of speaking up when boundaries have been crossed. These cases speak to those challenges.
The complaints describe a working environment in which employees and contractors are pushed beyond their limits and on-set issues are dismissed — an image that's quite contrary to the one that the company has projected in the wake of the allegations against James Deen. That image also runs counter to Kink.com's longstanding reputation as the progressive man's (or woman's) BDSM site — a company with strong worker protections, and one that "upholds an ironclad set of values to foster an environment that is safe, sane, and consensual," according to the official synopsis of Kink, a 2013 James Franco-produced, Sundance-approved documentary about the company.
BuzzFeed News contacted several Kink performers, and those who responded said that the allegations detailed in the suits don't match their own experiences at the 18-year-old studio. Madelyn Monroe, who appears in several Kink videos, told BuzzFeed News that she was "shocked" by the lawsuits, and that Kink.com "follows protocol more than anybody. They're really on their shit." Another, Roxanne Rae, told BuzzFeed News in an email that Kink is "the best and most professional company I've ever worked for."
Mona Wales, who has performed in more than a dozen videos for Kink's Public Disgrace series — including one at the center of the ex-employee lawsuit — said the same. "People are not running around like maniacs raping each other," she told BuzzFeed News. "That's just not what goes down in my day-to-day existence. I would not be a part of that community."
"Kink.com is about the safest place to make a BDSM porn," she said.
In interviews with BuzzFeed News, Karen Tynan, the lawyer defending Kink.com in all four cases, characterized the lawsuits as frivolous and not reflective of the company's record as an employer. The suits represented by Ribera were already dealt with as workers' compensation claims previously filed, said Tynan. "I think that having one employee sue you every 10 to 15 years is a pretty good batting average."
However, both Tynan and Stabile also expressed regret that Fires and Blue did not feel comfortable coming forward earlier. "We have quite a few cameras in the building," said Tynan. "We have security in the building, and we would expect that if any model ever felt that they were criminally assaulted," that Kink.com could help. The Armory deletes the footage from its indoor and outdoor cameras after seven days, unless the company is "notified of an issue" or receives a police request.
In the next few days, Kink.com plans on releasing new shooting guidelines as well as an update to its Model Bill of Rights, "establishing clearer, and perhaps anonymous, ways for performers to report incidents," said Stabile.
He told BuzzFeed News that LaBeau did not use her safe word on the set where Deen was ejected. "Maybe because she was too scared, or she was stunned. That's when we rely on the director or the crew to call the safe word for them." Derek Pierce, an actor and director, told Vocativ that he asked Deen to leave the scene after he saw LaBeau mouth the words "Help me."
"When you're dealing with BDSM, you're dealing with physical contact, pain, and violence and it can be difficult in the moment to say where does consensual activity turn into cruelty," said Stabile. "One thing we talk about it all the time is how does commerce affect consent."
Typically on a BDSM porn shoot, in addition to a safe word, models will fill out a checklist indicating which sex acts they're comfortable with, sometimes referred to as a "no" list. Kink.com also conducts on-camera interviews after a shoot where performers can talk about the experience. There's a financial incentive for exit interviews as well since credit card processors have restrictive rules for online porn, including concerns about consent.

The lawsuit from the former Kink employee, filed in June 2015, centers around Kink's Public Disgrace series, specifically a September 2014 shoot that took place at San Francisco's annual Folsom Street Fair for fetishists. During the shoot, the plaintiff — a onetime editor/production assistant for the company whom BuzzFeed News has agreed not to name at her lawyer's request — alleges that she, in addition to other Kink cast and crew, were "placed in an unsafe work environment" as a result of Kink's failure "to arrange for adequate security for the shoot." According to the suit, the plaintiff was "groped, fondled, and harassed" multiple times during the shoot, despite complaints to her producer and requests that Kink provide transportation, security, and other protections to prevent her from being assaulted.

"Throughout this experience," the plaintiff "was concerned for her personal safety and was concerned for the safety of the models, one of whom was naked and in bondage," the suit says, in reference to Wales, who was the submissive in that shoot. Wales also told BuzzFeed News that there were safety issues, but she did not go into details because she has been subpoenaed by both the sides of the case. Where the two women seem to differ is their estimation of how Kink.com responded to complaints.
The plaintiff alleges that when she brought her concerns about Kink.com's "failure to provide a safe environment for its employees" before and after the shoot to management and then human resources, they were dismissive. The suit claims that she was later laid off and told that Public Disgrace would be cancelled. But the site eventually reappeared along with some of the same staff, including a videographer and a producer who had not voiced concerns about the shoot.
During the meeting where she was laid off, the plaintiff requested to apply for an open position producing for another Kink series, Divine Bitches. With reluctance, she was permitted to do so, the suit alleges, but was not offered the position.
"During the interview, the director ... asked [the plaintiff] whether she would be able to 'start fresh' after the 'drama' over the Folsom Street Fair," the suit says.
Tynan, Kink.com's lawyer, described the claims as the rumblings of a disgruntled employee who was laid off during a reorganization. "Ultimately, the factual allegations are for a jury to decide," Sonia L. Smallets, the plaintiff's lawyer, told BuzzFeed, "but you see how the conclusion could be drawn that she was retaliated against."
This isn't the first time that a Kink employee has alleged retaliation for questioning studio practices. In 2013, SF Weekly reported that Maxine Holloway was fired for trying to organize Kink workers. She and three other employees filed a suit against Kink that was ultimately settled out of court, according to the article. The same piece detailed "doubts about [Kink's] ethical standards," including allegations from two former performers who say they were "denied workers' compensation when injured on Kink sets," [and] "one of whom further states she was coerced into a performance that left her with long-lasting injuries and was offered money in exchange for keeping quiet about those injuries."
For women reporting issues on a porn set, the broadest implication from these lawsuits may come from Kink.com's "answer" filing to its ex-employee. In the document, Kink states that the plaintiff's harassment claims are barred because "[Plaintiff] consented to or welcomed the actions complained of and made her own sexual sexually explicit statements and behaved in sexually explicit way in the workplace."
Smallets dismissed that defense strategy. "This is not an allegation that she was uncomfortable having witnessed a sexual act," Smallets said. "This is an allegation that she was sexually assaulted in her workplace. And no one consents to be sexually assaulted. I don't care who you are or where you work — you don't consent to be sexually assaulted."
Meanwhile, the plaintiffs in the HIV-related lawsuits are Cameron Adams, who worked under the stage name Cameron Bay, Joshua Rodgers, who worked under the stage name Rod Daily, and an anonymous professional actor, described as a male college student who filmed for the gay section of Kink.com's roster of 30 or so sites. The three lawsuits allege negligence, negligent supervision, intentional/fraudulent misrepresentation, and intentional infliction of emotional distress.
Adams and Rodgers revealed their HIV status at a widely covered press conference in 2013. The event was put together by AIDS Healthcare Foundation (AHF), a large nonprofit group that provides HIV-prevention and treatment services. AHF has come under fire from HIV-positive activists over its stance on preventative medicine. The organization has also been at odds with Kink for years over various public policy issues, especially mandatory condom use in pornography. After the couple filed, Kink.com released a lengthy and unequivocal statement pointing out that Adams and Rodgers were paid speakers for AHF in the past and that the potential transmission methods described in the suits "are unsupported by any existing science."
Skeptics of the central claim about contracting HIV are inclined to dismiss the lawsuits filed by Ribera, all three of which imply that the likely event for contracting the virus could have been shoots involving amateurs in the audience.
That narrative follows what people "imagine" happens on a BDSM shoot, said Stabile. "It's refuted in facts by people who shoot with us, it's refuted by the prints of those actual shoots." As of this morning, the videos in question were still available on Kink.com.
The complaints do indeed read like the worst fears about BDSM porn. The headlines around the press conference fixated on Adams' claim that her co-star was bleeding during the shoot. John Doe's suit also mentions one instance where he witnessed a partner get injected in the penis with an erectile-enhancing drug, but was not allowed by the director to use a condom in the scene for oral or anal sex despite seeing a drop of blood.
John Doe also claims that Van Darkholme, who directed him on a number of shoots, did not respect his limits, especially at a shoot for Bound in Public, Kink's gay public-humiliation series, which was filmed at a public event called the Rubber Party. The suit alleges that the plaintiff was too scared to ask to use condoms because previous requests had been denied.
"At the May 3 shoot, Plaintiff John Doe was forced by Defendants to sexually interact with almost every member of the public," the suit alleges. "While Plaintiff was physically restrained and blindfolded, Defendant Darkholme is clearly seen on video footage forcefully pushing Plaintiff's head and mouth into the penises of dozens of men to perform oral sex on them. None of these performers were wearing a condom nor were any bathers used." (Van Darkholme did not respond to requests for comment sent through an email form on his website.)
Kink.com said this is not how shoots actually operate. Performers only interact in that manner with tested models who have been planted in the audience.
Wales also balked at the lawsuit's depiction of sexual interaction with amateurs. She said she is informed and aware of who the planted performers are beforehand. "There's absolutely no fluid exchange with untested random people. Not at all, no way."
"It's like reality television," she said. "It looks like it's really happening but it's been manufactured to appear more brutal than it actually is. It's a form of edge play, but we do everything we can to keep everyone safe, the performers and the extras and the civilians around them, so that nobody is traumatized. We do our best. But it is BDSM and it is Public Disgrace and it is public humiliation-based and it is hardcore BDSM. People that participate in those kind of activities have to be aware of the risks involved. And I believe Kink.com does an adequate job of explaining that."
Depending on who you talk to, Kink.com did try to fix the potential hazards, or at least the corporate liability, of its Public Disgrace series, which was central to allegations by both the female plaintiffs. In 2014, the company shut down the site, albeit temporarily. At the time, CEO Peter Acworth did a Q&A with a reporter from Salon about closing Public Disgrace and relaunching another Kink vertical called HardCoreGangBangs as FantasyGangBangs, "while putting a stronger emphasis throughout the series on consent," as Salon put it.
Tynan did not know when the site was reinstated, but the videos are now produced by a different company and only distributed by Kink.com. As of Saturday, the bottom of PublicDisgrace.com says "copyright Kink.com," with links back to the company's stable of websites.
In court documents Kink says the Folsom Street Fair shoot was not a factor in shutting down Public Disgrace. Nonetheless, Wales said the timeline of events made her feel heard. After the shoot, she had "meeting after meeting" with Kink Talent and other directors. "I spoke to my experience there and they listened, they really listened." According to Wales, the new producers run the shoots "as ethically as possible" and include much more security. There are 10 people on set "just as lookouts to keep the public at bay," whereas the Folsom Street shoot only had two to three security people.
Stabile acknowledged that Public Disgrace was one of the company's most popular sites, but "as you can see with the Cameron Bay case," those shoots "could be used against us" because the edited footage looks extreme. For female performers in particular, he said, "There's an exploitation narrative in place that's easy to pull upon for anti-porn activists or part of a political campaign."
While these lawsuits deal with on-set safety, the sexual assaults that Deen allegedly committed at Kink.com buildings were mostly said to have happened off-set. "I think because we shoot a number of scenes and we have a building that people are coming in and out of, it's something that we are especially sensitive to," said Stabile. "With Ashley Fires, for example, that's something where performers are just sort of crossing paths."
In the case of Nicki Blue's allegation that her complaint about Deen on a Kink forum was deleted and her account was blocked from posting there, the company said it could not find any record of her comment, and that there were no HR records about an incident either. "Obviously if something like that had been discussed, alarms would have gone off," said Stabile. "It's not something that we would have swept under the rug, it doesn't matter how big of a star anybody is."
However, Stabile did acknowledge that Kink.com "may have lapsed" in figuring out how to "ensure the safety of performers when they're off set." The accusations from Blue and Fires concern incidents that happened off-set. "That seems to be, according to the allegations, the gray area that James Deen took advantage of," he said.