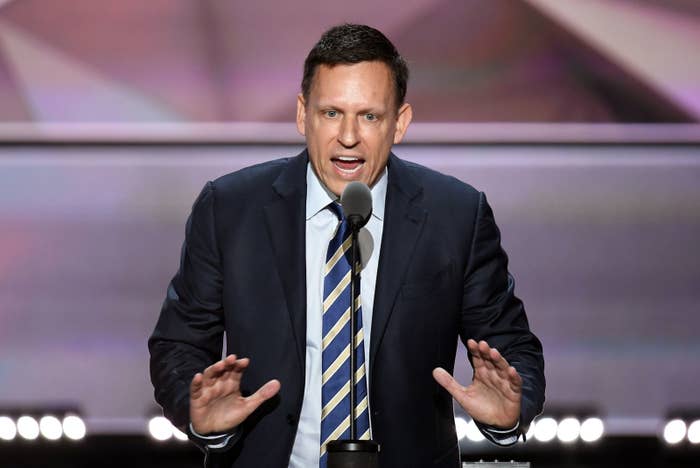 Billionaire Peter Thiel published a passionate op-ed in the New York Times today, mere hours before the deadline for bids to purchase Gawker, the media company that Thiel helped to bankrupt in response to a blog post that publicly exposed his sexual orientation. In the editorial, Thiel positions himself as a defender of online privacy against the media's "lurid interest in gay life" and a champion of "[p]rotecting individual dignity."
"All people deserve respect, and nobody's sexuality should be made a public fixation," Thiel writes.

Thiel recently baffled some of his Silicon Valley compatriots by speaking at the Republican National Convention in support of Donald Trump's presidential bid. During his RNC speech, Thiel made a historic milestone by saying he was "proud to be gay" from the event dais. (Thiel followed that up by dismissing as a "distraction" calls from transgender activists for bathrooms that match gender identity.) Today's op-ed is similarly savvy. It's perfectly calibrated to infuriate all the people Thiel wants to infuriate, i.e., defenders of free speech and the press, while causing the vast majority of the public to nod their heads in agreement.
However, in his defense of online privacy, Thiel understates his role in spending $10 million to support an invasion of privacy lawsuit filed against Gawker by Hulk Hogan. He also radically downplays his influence in matters of online privacy as a billionaire board member of two companies with vast data-mining operations: Facebook and CIA-backed Palantir.
Thiel's framing of his newfound crusade is canny. He mentions a widely reviled article in the Daily Beast last week:
Unfortunately, lurid interest in gay life isn't a thing of the past. Last week, The Daily Beast published an article that effectively outed gay Olympic athletes, treating their sexuality as a curiosity for the sake of internet clicks. The article endangered the lives of gay men from less tolerant countries, and a public outcry led to its swift retraction. While the article never should have been published, the editors' prompt response shows how journalistic norms can improve, if the public demands it.

He also attempts to draw a link between Hogan's lawsuit against Gawker and ongoing efforts to combat revenge porn. Thiel does this by claiming that a bipartisan proposal called the Intimate Privacy Protection Act is nicknamed "the Gawker bill," although the phrase is not commonly used. "It's the Intimate Privacy Protection Act or IPPA," a spokesperson for Rep. Jackie Speier, one of the bill's sponsors, told BuzzFeed News. "I have no idea where 'the Gawker Bill' name comes from, but it's incorrect."
Hogan won a $140 million legal judgment against Gawker. Both the media company and its founder, Nick Denton, filed for bankruptcy as a result. In the op-ed, published hours before the final bids to buy the once-independent media company were due, Thiel expressed pride in bankrolling Hogan's battle:

For my part, I am proud to have contributed financial support to [Hogan's] case. I will support him until his final victory — Gawker said it intends to appeal — and I would gladly support someone else in the same position.
This is an about-face for Thiel. Hogan initially sued Gawker back in 2012. Despite rumors, Thiel did not admit to financing the lawsuit until May 2016 hours after Forbes broke the news that the billionaire was financing a secretive campaign to bring down Gawker.
What's more, Thiel still has not disclosed which other lawsuits against Gawker he's financially backing. Charles Harder, the lawyer representing Hogan, also represents other plaintiffs suing Gawker or current and former employees. Those clandestine actions are not exactly the behavior of a crusader for people's rights.

Thiel also omitted the fact that he is paying for lawsuits against individual journalists, not just Gawker. Former Gawker editor A.J. Daulerio is a defendant in the Hogan case. In a signed affidavit last week, Daulerio included a screenshot of a bank statement that showed only $1,500 in his checking account. "I have been having trouble finding my own lawyer to advise me because I do not have enough money to pay for one," he wrote.

Though Thiel's war against Gawker was personally motivated and his revenge privately orchestrated, he invokes "public outcry" and "public demands" against the invasion of online privacy throughout. The billionaire even goes as far as saying, "It's not for me to draw the line":
A free press is vital for public debate. Since sensitive information can sometimes be publicly relevant, exercising judgment is always part of the journalist's profession. It's not for me to draw the line, but journalists should condemn those who willfully cross it. The press is too important to let its role be undermined by those who would search for clicks at the cost of the profession's reputation.
In a memo to his staff after filing for personal bankruptcy, Denton wrote: "Peter Thiel's legal campaign has targeted individual writers like Sam Biddle, editors such as John Cook, and me as publisher. It is a personal vendetta. And yes, it's a disturbing to live in a world in which a billionaire can bully journalists because he didn't like the coverage."

Thanks to Thiel's masterful spin, however, the more lasting memory will probably be champion of privacy, just as he hoped.
Ziff Davis filed the opening bid in the Gawker auction in June for $90 million. Final bids are due today.
Hamza Shaban contributed reporting to this post.
Disclosure: The author of this post was formerly employed by Gawker Media.