Eviction Party Celebrates The End Of An Era
A game of Pin the Protest on the Profiteer, anyone?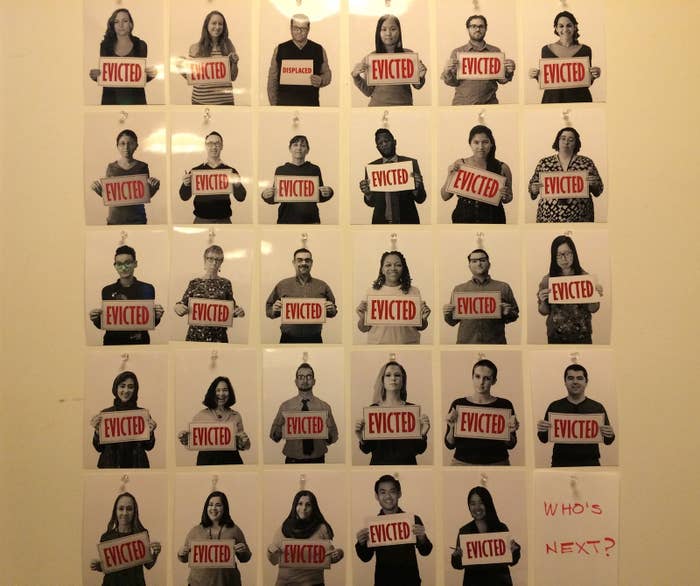 On Wednesday night, at an office "eviction party" in San Francisco, guests were handed bingo cards made especially for the unlucky occasion. The theme of the game was housing crisis, with squares like "Organizes protests against bad landlords," "Pays more than ½ of their income towards rent," and "Has been priced out of their office." The winners received a T-shirt.
"Priced out" also describes the two nonprofits throwing the party. The co-hosts were both anti-eviction groups about to be pushed out of their shared office in San Francisco's newly trendy Mid-Market District by a five-year-old tech startup that has raised more than $1 billion in funding.
The thematic games continued further into the nonprofits' cluttered, homey headquarters on the 12th floor, where guests were encouraged to don a blindfold and play "Pin the Protest on the Profiteer" with silhouettes of besuited bad guys like The Dirty Developer.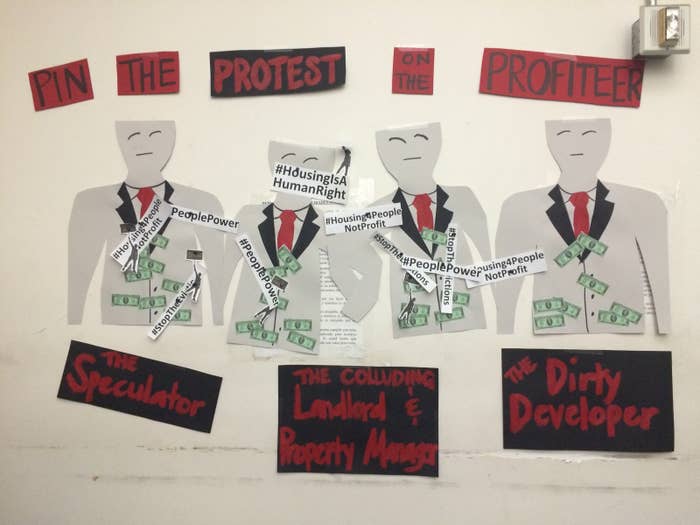 The two nonprofits, Eviction Defense Collaborative and Tenants Together, currently both operate out of 995 Market St. — an office tower that dates back to 1908 and was once filled with other community service do-gooders. EDC has been there for more than a decade and sublets space to Tenants Together. But its landlords, Long Market Property Partners and Columbia Pacific Advisors, did not renew the EDC's lease for 2016. Instead, the 12th floor will be taken over by the co-working company WeWork, which plans to repopulate the bulk of the building with sleek shared "co-working" space rented monthly to startups looking for an office with a venture-financed vibe.
WeWork is not wasting any time transforming floors into entrepreneurial lounges. The night of the party, the elevator was crammed full of workers in neon safety vests. It stopped every few floors, opening onto half-finished construction sites and, on one floor, a cleaning person pushing a plastic bussing cart while wearing a WeWork-branded polo shirt.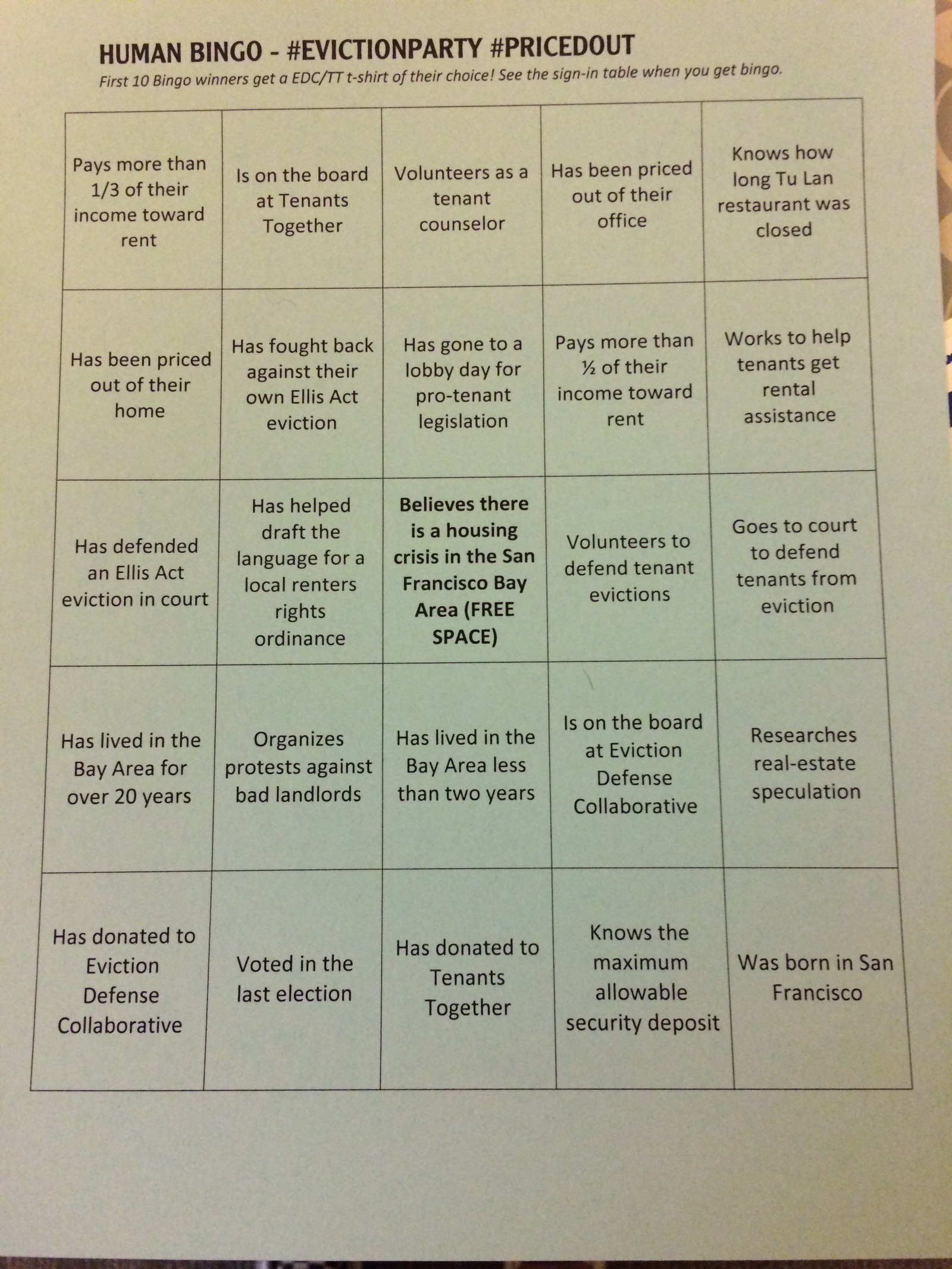 For the end of an era, the mood was impressively upbeat — it was a party, after all. Despite the long wait for the elevator, the 12th floor quickly filled up with other low-income housing activists and residents who had been assisted by the nonprofits. Paul Cohen and Dean Preston, the executive directors of the EDC and Tenants Together, respectively, took turns standing on a chair and giving brief speeches, punctuated by poetry recitations. The band that played live music afterward included a member from Legal Assistance for the Elderly, another nonprofit pushed out of the building in the past year or so. Throughout the evening, a scruffy, yellow-haired dog wagged his tail while bounding between the rooms.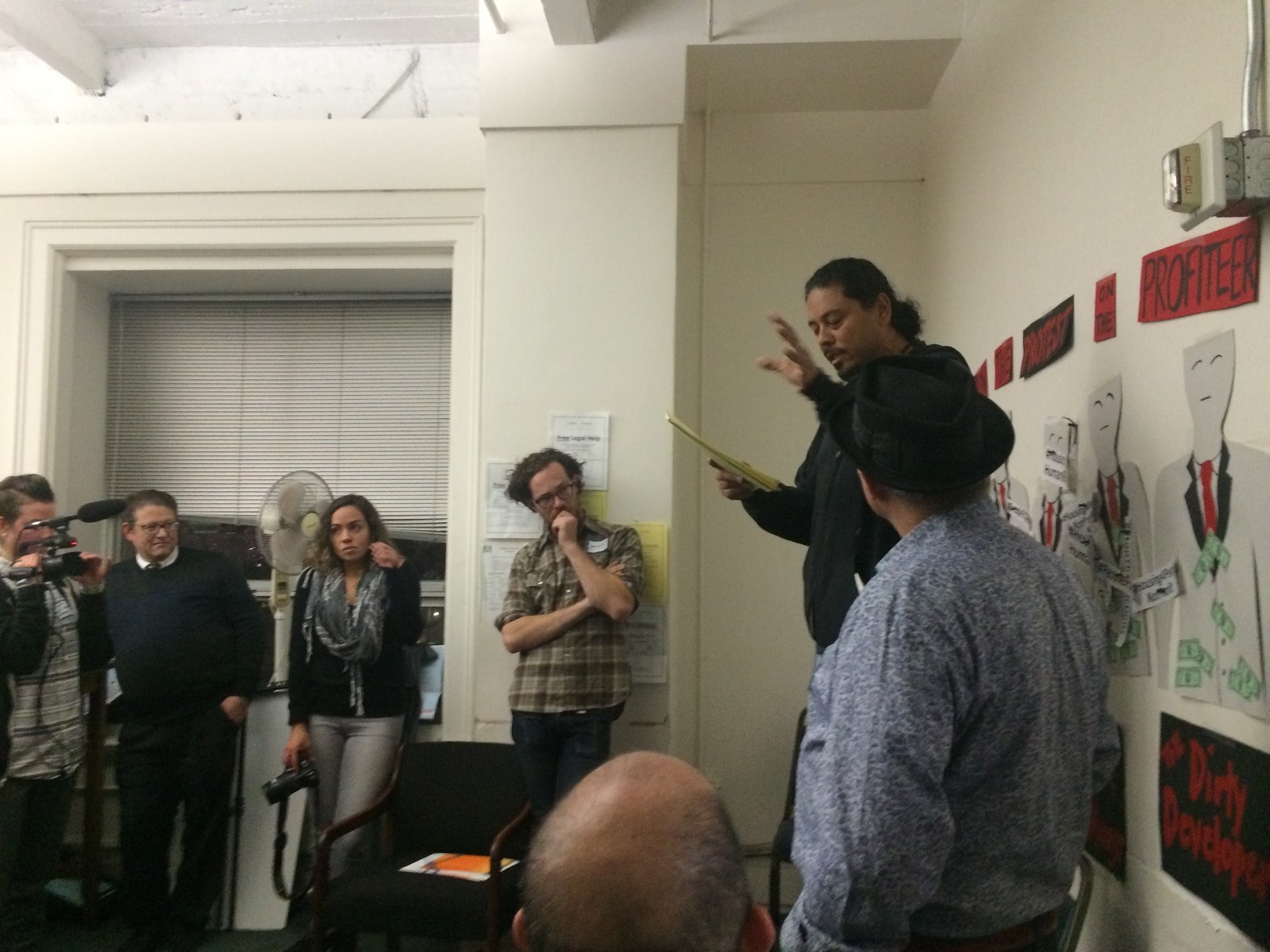 Preston called the EDC's work a frontline defense. "Pretty much every person in this town who is being evicted, this is their first stop," he said. While organizations like Tenants Together work on policy initiatives and the bigger picture, "we're not always rolling up our sleeves getting dirty in court."
The image of a tech company shoving anti-eviction advocates out the door sounds as unsubtle as the inflatable skeleton stationed outside the building in protest. (The oversize grim reaper was a part of a semi-regular demonstration against WeWork's use of non-union carpenters.) But that's how stark inequality is in Mid-Market, a rapidly gentrifying neighborhood in downtown San Francisco. In 2012, the city instituted so-called "Twitter tax breaks," offering payroll tax exemption to attract tech companies to the run-down area. (Six months ago, BuzzFeed San Francisco moved into an office two doors down from 995 Market St. Before that the bureau worked out of another WeWork location just around the corner.)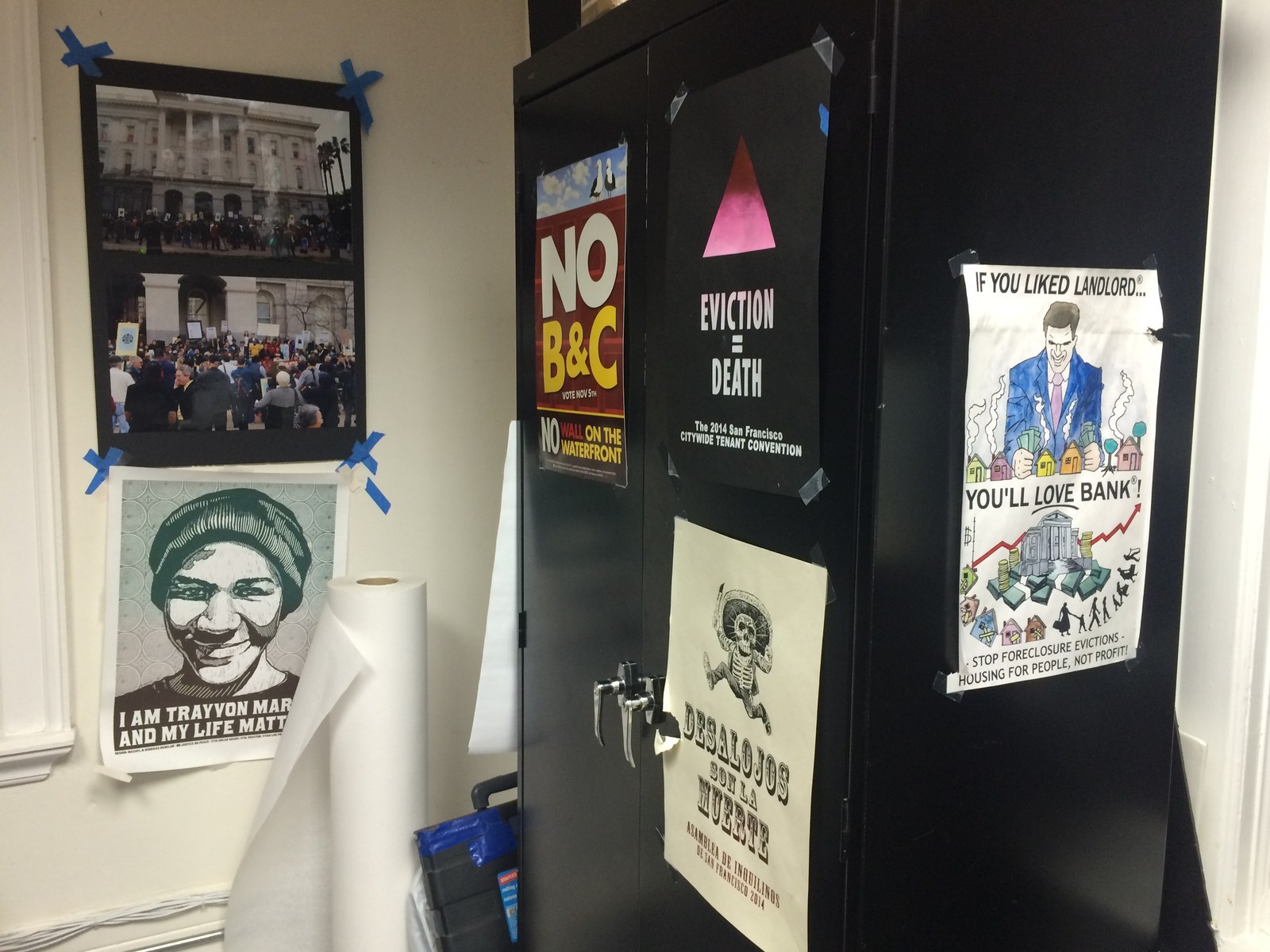 During his chair-top speech, Preston called getting booted out of one's office "a different kind of displacement" from losing one's home, but pointed to one parallel. "The part of eviction that never seems to get recognized is the incredible toll on people when they're being evicted. It's not just where you've got to move to, it's the toll over the process of losing where you are."
Preston then thanked the staff and interns of both organizations "who have really put up with hell in this building thanks to real estate speculators who buy a building, don't give a damn about the community-serving organizations—"
His tirade was interrupted by a guest shouting, "Fuck 'em!"
"Sue 'em!" another guest yelled back, cracking up the scrum of people pressed up against the wall.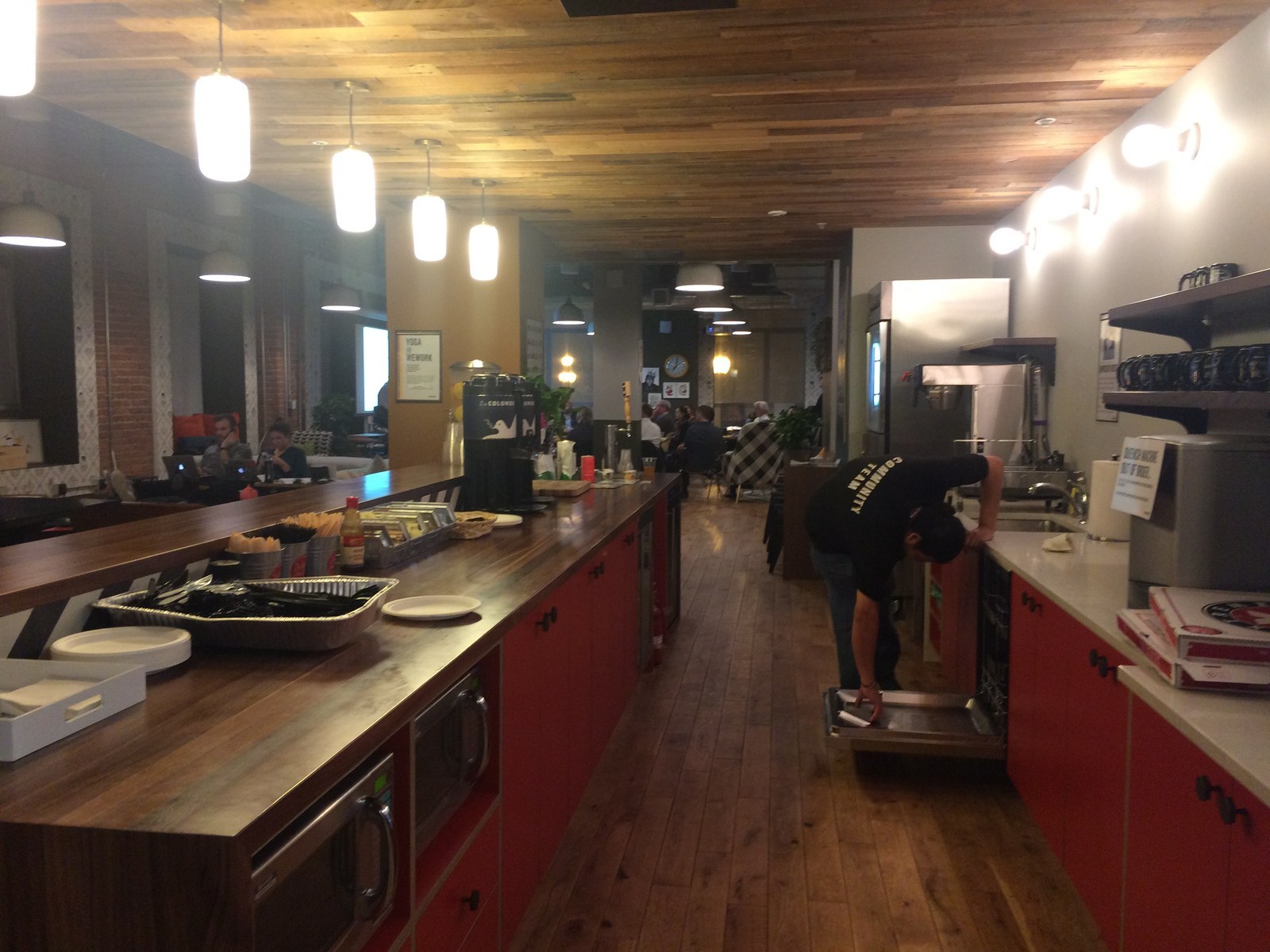 Earlier this month, Paul Cohen, the EDC's new executive director, told San Francisco magazine that the nonprofit had been paying $2 per square foot for the space for the past 10 years, but WeWork was prepared to pay "roughly $4" per square foot. CompStak, a commercial real estate database, told BuzzFeed that WeWork's deal's for 64,000 square feet was priced closer to $4.5 per square foot per month, on average. WeWork's $300,000 rent bill is offset by $4.5 million from its new landlords for refurbishing the place, according to CompStak's data. WeWork declined to confirm those numbers. The company also declined to specify whether its offer to "welcome [the nonprofits] as members" involved charging market rate rents.
At the party, Cohen said it wasn't easy finding a landlord who would rent to the Eviction Defense Collaborative, but starting Jan. 4, the EDC, which served 5,000 San Franciscans last year, will have a new home at 1338 Mission St. Preston said Tenants Together is also very close to signing a lease in San Francisco.
After the speeches were over, Preston told BuzzFeed News that Twitter tax breaks were only one part of the problem. The city has made some effort to protect community service groups through its nonprofit displacement mitigation program, "it's just that those kind of programs always seem to come later, right?"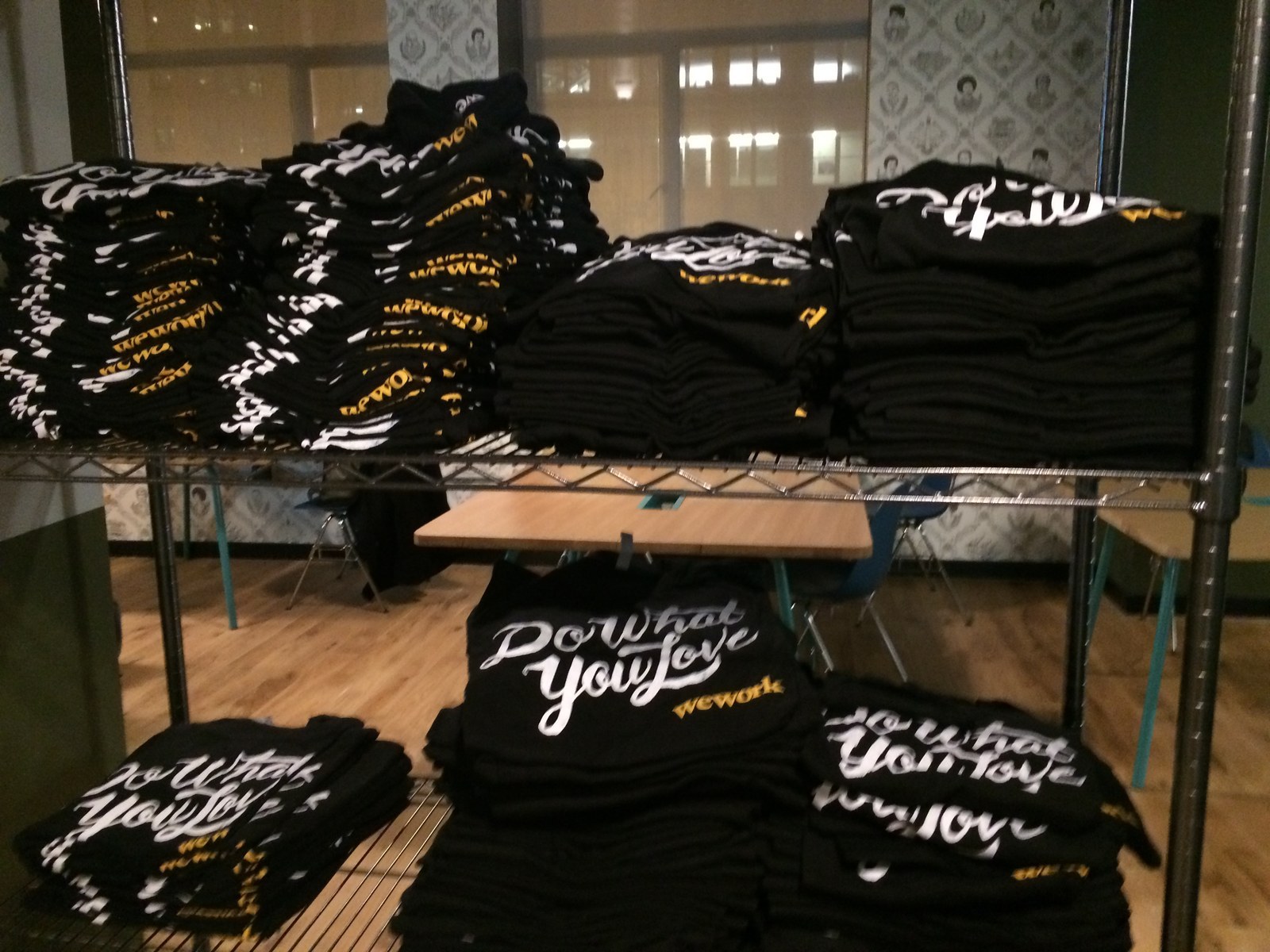 Down on the second floor, WeWork's first co-working location in the building was still in use around 7 p.m. A couple members were playing ping-pong, a few clustered around a chess board, while another pair sipped wine in front of their MacBooks on the couch. In the kitchen area, a cleaning person loaded the dishwasher with WeWork mugs while wearing a WeWork-issued T-shirt with the words "Community team" on the back. The counter had containers of La Colombe coffee that said "Roasted for WeWork" and there were samples of energy fizz sticks and daily fiber boosts from the vegan wellness company Arbonne up for grabs on the counter.
In the front lobby of WeWork's co-working floor, Appster, a web development company, was hosting a networking event where founders could learn "how to build a successful startup into a multi-billion company" and chat with entrepreneurs "trying to change the world." In a corner near the projector screen was a WeWork poster that said "DON'T GIVE UP ON YOUR DREAMS!"