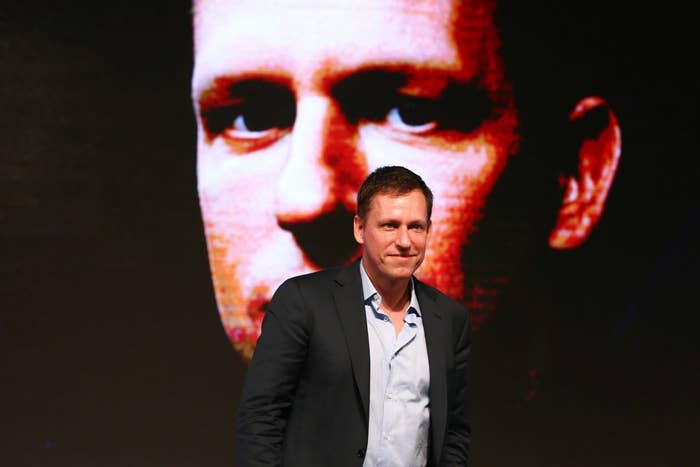 Peter Thiel has been in the news quite a bit recently: In October for a $1.25 million donation to Donald Trump (which he defended in a speech on Monday), and last week for statements he made in The Diversity Myth, a book he co-wrote in 1996, which argued that "politically correct 'multiculturalism'" had a "debilitating effect" on higher education and that rape was a "belated regret."
Thiel's views have made him an outlier in Silicon Valley, but the sector is still dominated by white male gatekeepers. For example, one recent study found that 15% of angel funding and 10% of venture capital funding globally goes to companies with at least one female co-founder.
According to a BuzzFeed News analysis, Founders Fund, the venture capital firm that Thiel co-founded in 2005, invests in women at a rate within that industry average.
In response to questions about the gender diversity of its portfolio, Founders Fund, which has $3 billion under management, told BuzzFeed News: "We do not track founder demographics." However, in our own rough estimates, BuzzFeed News found that less than 12% of Founders Fund's investments are helmed by at least one woman. Put another way, over 11 years, the company has only invested in 27 companies with at least one female founder.

BuzzFeed News based this estimate on information from Pitchbook, a venture capital database, which lists 241 startups as Founders Fund investments. BuzzFeed News verified that 227 of those startups were Founders Fund investments (using either public reports or the companies themselves). Of those 227 verified companies, 27 startups had at least one female co-founder. Only 7 — Sofa Labs, Contagion Health, Style Seat, Brit + Co, uBeam, PandoDaily, and TaskRabbit — were founded exclusively by women.
Even this amount of investment is relatively new. Using the same methodology, Founders Fund appears to have backed only five companies with a female co-founder between 2005 and 2011.
Here are all 27 startups with one female co-founder that BuzzFeed News was able to identify.
Homee, an iOS app for furniture and home design
Hooked, fiction for the Snapchat generation
Ayar Labs, building optical chips for data centers
Medal, electronic medical records platform
Accion Systems, propulsion systems for satellites
Eating with the Chefs, high end dinners at home
Modumetal, nanolaminated metals for the oil and gas industry
PlanGrid, a mobile app for construction management
Declara, a personalized learning platform
SOLS Systems, 3D-printed shoe insoles
Transatomic Power, advanced reactors for low-cost nuclear power
Canva, online graphic design platform
If You Can, educational gaming company
LawPal, software for tracking legal work
Invino, private sales for wine enthusiasts
Neurotrack, technology to predict the onset of Alzheimer's disease
PandoDaily, tech blog
Upstart, online lending marketplace
LightSail Energy, compressed energy storage
TaskRabbit, mobile marketplace for freelance labor
uBeam, wireless charging
Brit + Co, DIY media and e-commerce company
Style Seat, online booking for beauty appointments
Contagion Health, social action platform for health
Sofa Labs, develops social apps
Zivity, adult content social network
Big Think, YouTube for ideas
No entity collects standardized data on female entrepreneurship within the tech industry. Crunchbase, a startup database, reported last year that the number of female founders receiving venture capital has grown from 9.5% in 2009 to 17.9% in 2014. But those figures only reflect VC-approved startups. Women own 30% of all businesses in the United States, according to a 2015 study on women-owned businesses commissioned by American Express Open.
Thiel's donation to Trump's political campaign came shortly after a leaked tape of Trump bragging about sexual assault came to light. During the speech on Monday, Thiel called criticism of his support for Trump a form of intolerance that exposes "the lie behind the buzzword of 'diversity.'"
The Diversity Myth was not the last time Thiel made controversial statements about women. In 2009, four years after he launched Founders Fund, he wrote an essay which argued that extending voting rights to women "rendered the notion of 'capitalist democracy' into an oxymoron."
Founders Fund added its first female investing partner, Cyan Banister, in March 2016.
Please contact nitasha.tiku@buzzfeed.com if you know of any companies that should be included or omitted from our list.
CORRECTION:
A recent study found that 15% of angel funding and 10% of venture capital globally went to startups with at least one female co-founder. An earlier version of this post misstated the percentage.