Waging a public battle against your rich neighbor with obscene tech money is practically a Bay Area tradition. In David Cowfer's case, his angry website about an invasive species of Silicon Valley billionaire practically wrote itself. Cowfer is fighting plans to turn a six-bedroom family home in a sleepy cul-de-sac on a picturesque Glen Park hilltop into the ultimate bachelor gymnasium, including a basketball court, lockers, sauna, wet bar, lounge, and a cantilevered swimming pool. Plans also include a two-story garage door with glass panels that roll open to show a spectacular view of San Francisco — and could cause a spectacular nuisance for Cowfer, who lives next door.
The house, which sold for $2.35 million in 2015, was purchased under an anonymous LLC. So it took Cowfer nine months to figure out that the baller behind the renovation was prominent venture capitalist Keith Rabois, a Silicon Valley veteran with a contrarian Twitter account and a Stanford pedigree, who, like his buddy Peter Thiel, is also part of the so-called PayPal mafia.
This is when an ordinary NIMBY narrative — of the haves vs. the have-mores — veered into caricature. San Francisco's Planning Department found nothing objectionable about Rabois' construction plans, but Cowfer filed for a discretionary review to bring the issue before the city's seven-member Planning Commission. At a hearing on Thursday, neighbors told the commission that Rabois is building a personal recreation center, not a home, because Rabois already lives in another home in the same small cul-de-sac, purchased for $3.5 million in 2011. What's more, his co-worker at Khosla Ventures, venture capitalist Benjamin Ling, owns a $1.8 million house, purchased in 2013, next door to Rabois' primary residence.
"It's like a Zuckerberg-style neighborhood takeover!" Ryan Patterson, Cowfer's lawyer, told BuzzFeed News after the hearing, in reference to the CEO of Facebook secretly buying up the four houses surrounding his Palo Alto mansion in 2013. "It's a cul-de-sac with a lot of homes built in the '60s. Now we have two billionaires who own three homes within 150 feet of each other," said resident Mark Brennan, who grew up across the street in the same house where his parents still live.
Rabois, however, didn't see the big deal. "What does that have to do with anything?" he asked BuzzFeed News in response to questions about how two investors from the same firm happened to live on the quiet same block. "He bought a house, people are allowed to buy houses. People think it's some kind of conspiracy, but I found a cool neighborhood," said Rabois, and his friend followed.

Cowfer's website, No Court @ Everson, refers to both investors as billionaires, a claim that was picked up in coverage of the dispute in Curbed, SFist, and a local CBS station. There is one small glitch in the all-powerful techie narrative: Ling is not a billionaire. When BuzzFeed News asked Rabois to verify the billionaire claim for himself, Rabois wrote back, "Lol."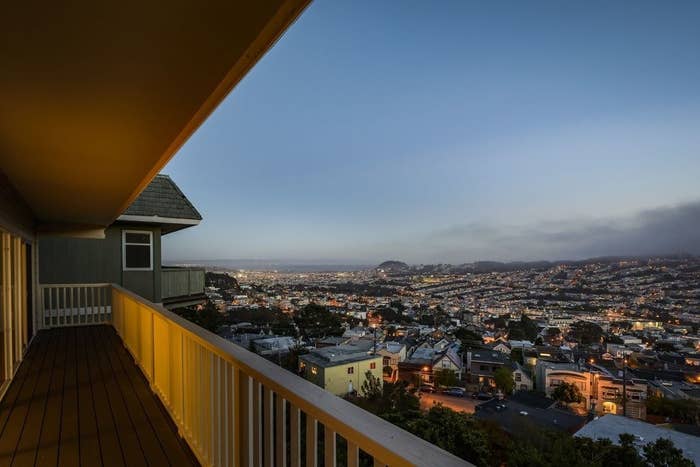 For Cowfer, however, signs of a hostile takeover kept adding up. A few months ago, a real estate agent cold-called him on behalf of Ling about buying his home, which Cowfer interpreted as an attempt "to remove me from the equation," he said. Ling characterized it differently in an email to BuzzFeed. "I had heard that the property might be coming on the market shortly, and had made a single inquiry in hopes of getting an early look, but nothing ever came of it."

Rabois insists that he's made every effort to follow the rules. "[San Francisco is] one of the most heavily regulated real estate markets in history. This is so in the middle of what's acceptable to complain about," he said.

But at the hearing on Thursday in City Hall, neighbors argued that the renovation is out of character for Glen Park. Cowfer told the commission that lights and noise could drive down the value of homes by as much as 25%. "In a neighborhood where the homes are priced anywhere between $2 million and $4 million, this is not insignificant," he said.
"I have no problem with him spending his money; he should be spending that in Pacific Heights," said Joe O'Donoghue, the former head of the Residential Builders Association and final resident to argue against Rabois at the hearing. O'Donoghue, who speaks with a heavy Irish brogue, was the most animated speaker that afternoon, throwing his hand out with disgust when he mentioned Rabois' plan to build "a garage door going nowhere."
The Bay Area has a rich and varied history of absurd real estate spats between tech moguls and their neighbors. In 2011, Oracle CEO Larry Ellison got ticked off because his neighbor's redwood trees blocked the view from his house on Billionaire's Row in Pacific Heights. (The Wall Street Journal tried to inquire about the debacle, but "Mr. Ellison would only speak through his tree attorney," the paper reported.) Typically these kind of clashes happen in tonier neighborhoods. Perhaps the basketball tussle in Glen Park, once a streetcar suburb for working- and middle-class residents, is just a sign that these disputes are moving down market.
Like real estate fights everywhere, each side is painting the other as unreasonable. Rabois had a company board meeting and couldn't attend the hearing, but he told BuzzFeed News, "[Cowfer is] wasting taxpayer money, driving the staff actually crazy."
Residents, however, insist that Rabois is downplaying the scope of initial plans of the basketball court. "The way Rabois' team is talking now, it almost sounds like they've got a nerf hoop down there [and are] just goofing around," said Brennan, who also pointed out that Rabois pushed through related permits before this dispute was settled.
The planning commissioners concluded that there was enough common ground around Cowfer's request — to shift the basketball court into the hill, so that it doesn't jut out as far — that they told the two parties to take a few weeks and see if they could sort it out.
"This is a fairly quiet neighborhood. I don't think people want a bunch of valet partners coming up here all the time and having all these wild parties," said Brennan "It's not the Red Army coming out of the mountains to try to take this guy's property away from him."