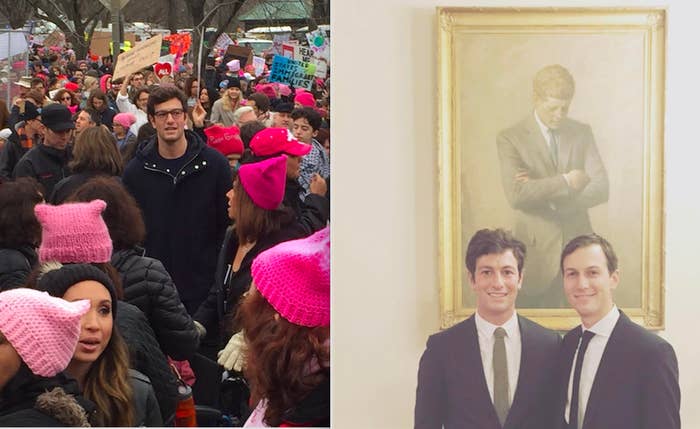 Joshua Kushner — younger brother of senior White House adviser Jared Kushner, brother-in-law of Ivanka Trump, and founder of a $2.7 billion health care startup whose business is linked to the Affordable Care Act — vigilantly avoided the spotlight during the presidential election. But this weekend he unexpectedly popped into public view.
On Saturday, Kushner was photographed amid Women's March protesters in Washington, DC, and on Sunday he made a rare, if enigmatic, nod to the Trump administration by posting to Instagram a picture of himself and his brother standing below a photograph of John F. Kennedy at the White House.
A source close to Kushner told BuzzFeed News: "Josh was at the White House with his family today to watch his brother being sworn in. Yesterday, he took a quick walk near his hotel, and someone took a picture of him." However, according to The Washingtonian, Kushner, a lifelong Democrat who has donated to Democratic candidates, told fellow attendees at the Women's March that he was there "observing." The photograph shows Kushner in a crowd of demonstrators wearing pink pussy hats in protest of President Donald Trump.
Josh Kushner's political position is particularly relevant because his health care startup, Oscar Health, was built around the Affordable Care Act that Trump has vowed to repeal. On the eve of the inauguration, Oscar tried to reassure members with a blog post promising to "be in touch" if any legislative changes impact their coverage. Both Jared and Josh were listed as "ultimate controlling persons" in Oscar's holding company in filings from 2013, but later filings show that Jared Kushner was removed as a controlling person in 2014. Oscar has another tie to the Trump administration: Billionaire Peter Thiel, now a highly influential member of Trump's transition team, is an investor in Oscar.

As a startup investor and founder, Kushner's ties to Trump put him in an difficult position within the tech industry, which was often vocal in its opposition of Trump's presidential campaign. In the comments of Kushner's Instagram post, Refinery29 founder Philippe von Borries wrote: "Looking to you to advocate and influence the progressive values you stand for. It's great to see that you were at the March and I hope you will be a force for equality."