Kushner's Brother Goes From The Women's March To The White House
Josh Kushner, brother of senior White House adviser Jared Kushner, has tried to avoid the spotlight throughout the presidential election, despite the fact that his health care company, Oscar Health, depends on Obamacare.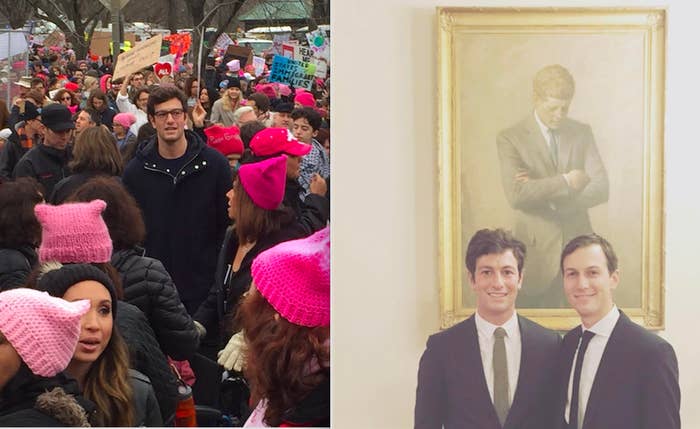 Joshua Kushner — younger brother of senior White House adviser Jared Kushner, brother-in-law of Ivanka Trump, and founder of a $2.7 billion health care startup whose business is linked to the Affordable Care Act — vigilantly avoided the spotlight during the presidential election. But this weekend he unexpectedly popped into public view.
On Saturday, Kushner was photographed amid Women's March protesters in Washington, DC, and on Sunday he made a rare, if enigmatic, nod to the Trump administration by posting to Instagram a picture of himself and his brother standing below a photograph of John F. Kennedy at the White House.
A source close to Kushner told BuzzFeed News: "Josh was at the White House with his family today to watch his brother being sworn in. Yesterday, he took a quick walk near his hotel, and someone took a picture of him." However, according to The Washingtonian, Kushner, a lifelong Democrat who has donated to Democratic candidates, told fellow attendees at the Women's March that he was there "observing." The photograph shows Kushner in a crowd of demonstrators wearing pink pussy hats in protest of President Donald Trump.