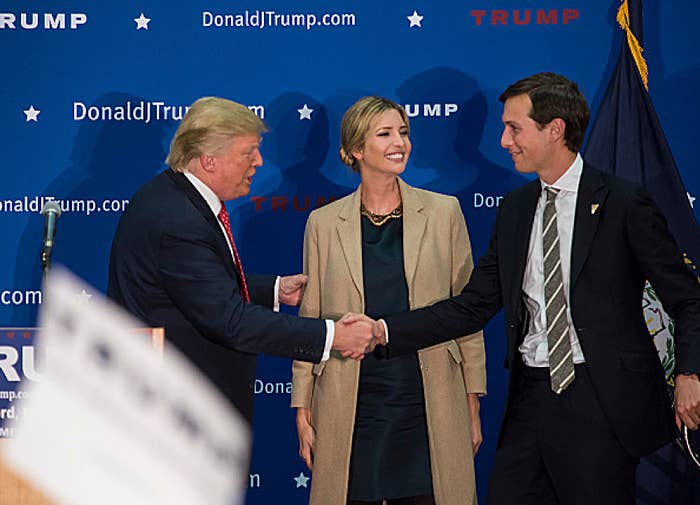 For months Josh Kushner's relationship to Donald Trump's presidential campaign was an open question in startup circles. But this week the notoriously press-averse venture capitalist finally gave them an answer: Kushner — whose firm, Thrive Capital, has backed companies like Instagram, Slack, ClassPass, and Warby Parker — won't be voting for Donald Trump, according to a recent Esquire profile of his brother Jared, husband to Ivanka Trump and "de facto campaign manager" to her father.

A spokesperson for the tech investor told BuzzFeed News: "Josh is a lifelong Democrat, but has remained silent during the election out of respect for his brother. His family means everything to him."
And a source with knowledge of the fund said, "Neither Mr. Trump nor anyone in the Trump family is an investor in Thrive."
These are not outright disavowals of Trump's policies, but for an industry increasingly vocal in its antipathy for the Republican presidential nominee, they may have to suffice. And this leaves Kushner in an awkward position in Silicon Valley, where coming out against Trump has practically become a litmus test, and where just last month, 145 tech industry leaders signed an open letter condemning Trump.
Under ordinary circumstances, tech industry titans can stay on the sidelines, but Trump poses an extraordinary political threat, Sam Altman, president of Y Combinator, a prestigious Silicon Valley incubator, told BuzzFeed News.
"Everyone has to make a personal decision. I personally think, in this case, there is a moral imperative to take a side," he said. "There's such a clear cut decision between right versus wrong."
Altman, who has supported some Republicans in the past, is also linked to high-profile tech startups, including Reddit, Instacart, Airbnb, and Dropbox, either through personal investment or through Y Combinator. In June he wrote a blog post calling Trump a demagogue and comparing the Republican presidential nominee to Hitler.

"I personally think, in this case, there is a moral imperative to take a side"
Altman said he liked Josh Kushner during the few times that the two investors have met.
"It's always hard to have strong opinion [without] knowing someone's full context and life," Altman said in response to a question about whether Kushner should be more vocal about not supporting Trump, "but I will say in general I think people should be should be doing more and not less in this election."
"Look I think that in a normal election there's a long precedence for business leaders not taking a side for a lot of good reasons, but in this particular election," Altman emphasized, "it's in conflict with a very real chance of something happening that many people feel goes against everything they believe."
Andy Weissman, a managing partner at Union Square Ventures who routinely communicates with Kushner about tech deals, not politics, said the current election has put startup financiers in an unprecedented situation.
"VCs are so weird — you're just an investor, you're not a political activist, you don't have a political take one way or another," Weissman said, "but some VCs are definitely becoming more active and vocal, and more are thinking [about whether they should take a stand]."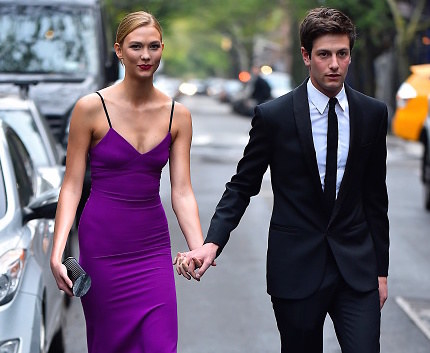 Sources who requested anonymity speculated to BuzzFeed News that the Trump connection was affecting Thrive's deal flow among startup founders who overwhelmingly oppose Trump. One investor mentioned a young company seeking funding who crossed Thrive off its list. But Kushner's relationship with Trump doesn't seem to have impacted Thrive Capital's ability to close deals, based on the public track record. A month ago, Thrive announced that it had raised $700 million for its fifth fund, almost double the $400 million fund the firm raised in 2014. (Thrive launched in 2010 with a smaller $10 million.) In February, Oscar Health, the health insurance startup cofounded by Kushner, announced a $400 million investment from Fidelity
Stewart Butterfield, the CEO of Slack, arguably the hottest company in Thrive's investment portfolio right now, said that Kushner's connection to the presidential campaign was not a concern.
"Josh has always struck me as a genuine, thoughtful, and intellectually curious person," he said in an email to BuzzFeed News. "It never even occurred to me that he would support Trump. I have a lot of sympathy for his position though. Family is complicated." (Butterfield's father was a military deserter who fled to Canada during the Vietnam War.)

Prior to the Esquire article, the only way for outsiders to parse Josh's position on Trump was to look at his Twitter history, including favoriting Butterfield's anti-Trump and pro-Obama tweets and recently retweeting President Obama and Vice President Joe Biden.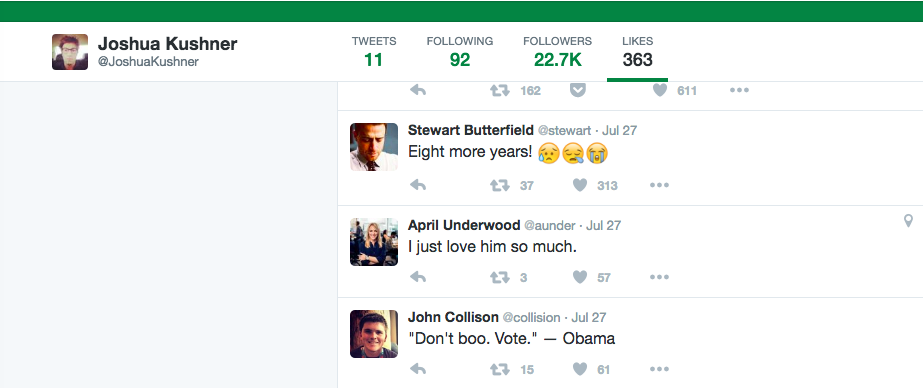 Chris Sacca, a well-known investor in Uber and Twitter who bundled money for Obama, has been unrelenting in his censure of Trump. In his view, speaking out is easier for this strata of the tech industry.
"Most investors don't have a boss to offend and are already living pretty comfortably," he said in an email to BuzzFeed News." [Therefore] investors have a higher responsibility than most to speak up and take advantage of their relative immunity from the public blowback that otherwise might impact the rank and file or those workers and students living check to check who dare take a public stand."
Sacca said Kushner was "a very thoughtful and progressive guy," and he admired him for "making clear that, despite what must be enormous family pressure to do so, he is not supporting Trump." Without Kushner's clarification about his voting preference, Sacca said the Trump connection might have affected Thrive directly. "For example, Peter Thiel's speech at the RNC certainly didn't help his Silicon Valley dealflow."