This summer, I paid $22 to make my face look like a freshly glazed doughnut.

For weeks, Glossier, an online-only beauty startup with a fanatical following, had been hyping a face highlighter called Haloscope by referencing Krispy Kreme's straight-out-of-the-oven look ("warm on the inside, a little wet and sculpted on the outside") in its ad copy. How had I never noticed that Original Glazed has a come-hither glow?
The desired effect is less glistening carb than Karlie Kloss on her way to barre class — i.e., someone more likely to Snapchat fried food than to eat it — but the analogy was endearing nonetheless. Twenty days after Haloscope was released, Quartz, the pearlescent pink shade, sold out. That's nothing compared to the waitlist for Boy Brow, Glossier's eyebrow pomade, which famously climbed up to 10,000. Before restocking last month, Glossier had 60,000 names on waitlists for its nine skin care and makeup products, which the company releases in limited collections every few months.
In the two years since Glossier launched, it has hired 44 employees (many of whom double as models) and raised $10.4 million in venture capital financing over a seed and series A round. Revenue, meanwhile, is on track to grow 600% in 2016, and the company expects to grow several hundred percent next year as well. Fashion and beauty blogs now cover the company's font choice, packaging, product launches, and inevitable product sellouts like Apple fanboys awaiting WWDC. More than 267,000 people follow the brand on Instagram. Its signature washed-out pink has become so iconic that fans use the hashtag #glossierpink when they see the color in the wild: on a surfboard, a San Francisco Victorian, a mural in India, "aura crystals," a rosy cocktail at a rooftop bar in Chelsea. According to Emily Weiss, Glossier's 31-year-old founder, most customers come from word-of-mouth and fall into the enviable 18-to-35 age bracket. Glossier has fans in Kloss (whose Instagram selfie sporting a branded sweatshirt got 27,000 likes) and in Eva Chen, former editor-in-chief of Lucky and current head of fashion partnerships at Instagram (who calls the brand "phenomenal"), and, probably, in the most effortlessly luminous young woman in your office, group text, or Twitter feed.
The brand quickly ascended to cult status through a curious alchemy of market research, calculated intimacy, and the ineffable coolness of its founder, figurehead, and often model, Weiss. A magnetic former fashion assistant at W and Vogue, she had a brief but memorable stint on The Hills as an uptight "super intern," flown in from New York as a foil to Lauren Conrad's West Coast casual work ethic. While she was still at Vogue masthead, Weiss started the beauty and fashion blog Into the Gloss, known for a column called "The Top Shelf," which features interviews with up-and-coming It girls, revered magazine editors, future street-style muses, models, entrepreneurs, and the occasional heiress, some of whom spilled the secrets of their beauty routines while Weiss sat on their bathroom floor. Glossier used the community that formed around the blog to create a dossier (hence the name) of skin care and makeup for consumers to build out their own top shelves.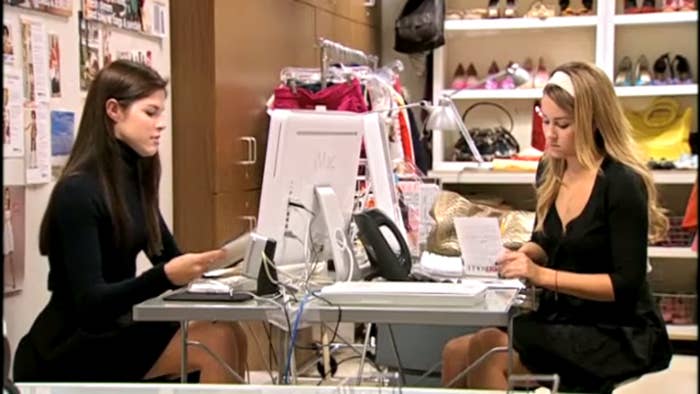 "It was never a pivot," Weiss told me during a recent visit to her office in lower Manhattan. The move from Into the Gloss to Glossier, she explained, was "a total evolution of the same mission, but with tactile content."
Sure, but not every blogger's move toward "tactile content" could be so seamless. In order to make her pitch to the masses, Weiss has had to reposition herself not as the super intern who knows the makeup secrets of the stars, but as your best friend or benevolent big sister. In her letter introducing the company, Weiss said she wanted to welcome everyone. "Snobby isn't cool, happy is cool," she wrote. Part of the thrill of being a Glossier girl is the proximity to Weiss, her model-employee workforce, and her company's hella 'grammable Soho headquarters. She is one of a cohort of aspirational founders of women-centric startups in New York City — including her good friends Leandra Medine of Man Repeller and Sophia Amoruso of Nasty Gal. Sitting in a glass-walled conference room wearing a pair of vintage white Levi's that she picked up on her honeymoon to Tokyo, she resembles a Nancy Meyers version of a millennial girlboss: beautiful but not too intimidating, appreciably ambitious but almost always smiling, neurotic — but in a charming way. After sitting down to our interview, Weiss got up immediately to straighten a rack of postcards behind me. "Sorry," she said, "it's going to drive me crazy if it's crooked."
Part of the thrill of being a Glossier girl is the proximity to Weiss, her model/ employee workforce, and her company's hella 'grammable Soho headquarters.
Glossier's office looks like its Instagram account come to life. The white walls are covered in ethereal mood boards in dreamy pastels. Wooden chairs are outfitted in chic fur shrugs. Floor-to-ceiling arched windows look out safely at the cityscape below. The lacquered conference table is long, lean, and high-gloss. And on every floor, employees radiate good health and subtle highlighter. This is the kind of office where an administrative coordinator or front-end engineer can, and does, double as a model for the company's Instagram account, FaceTime tutorials, and Facebook Live videos. On YouTube, Glossier hosts a feature called "Get Ready With Me," where the person (often a Glossier employee) walks the viewer through their morning routine.
On a recent summer day, the office was buoyant over big news: The company had just restocked its lipsticks and concealers, which combined had a waitlist 30,000 would-be customers long. They celebrated for a few minutes with cupcakes covered in stiff pink frosting with miniature replicas of the sleek Generation G tubes on top, as well as breakfast parfait cups and foil-wrapped breakfast sandwiches. The cupcakes got Instagrammed, but not the sandwiches. Perfect for a Snapchat story, one employee told another as they walked away from the table, fancy cupcakes untouched.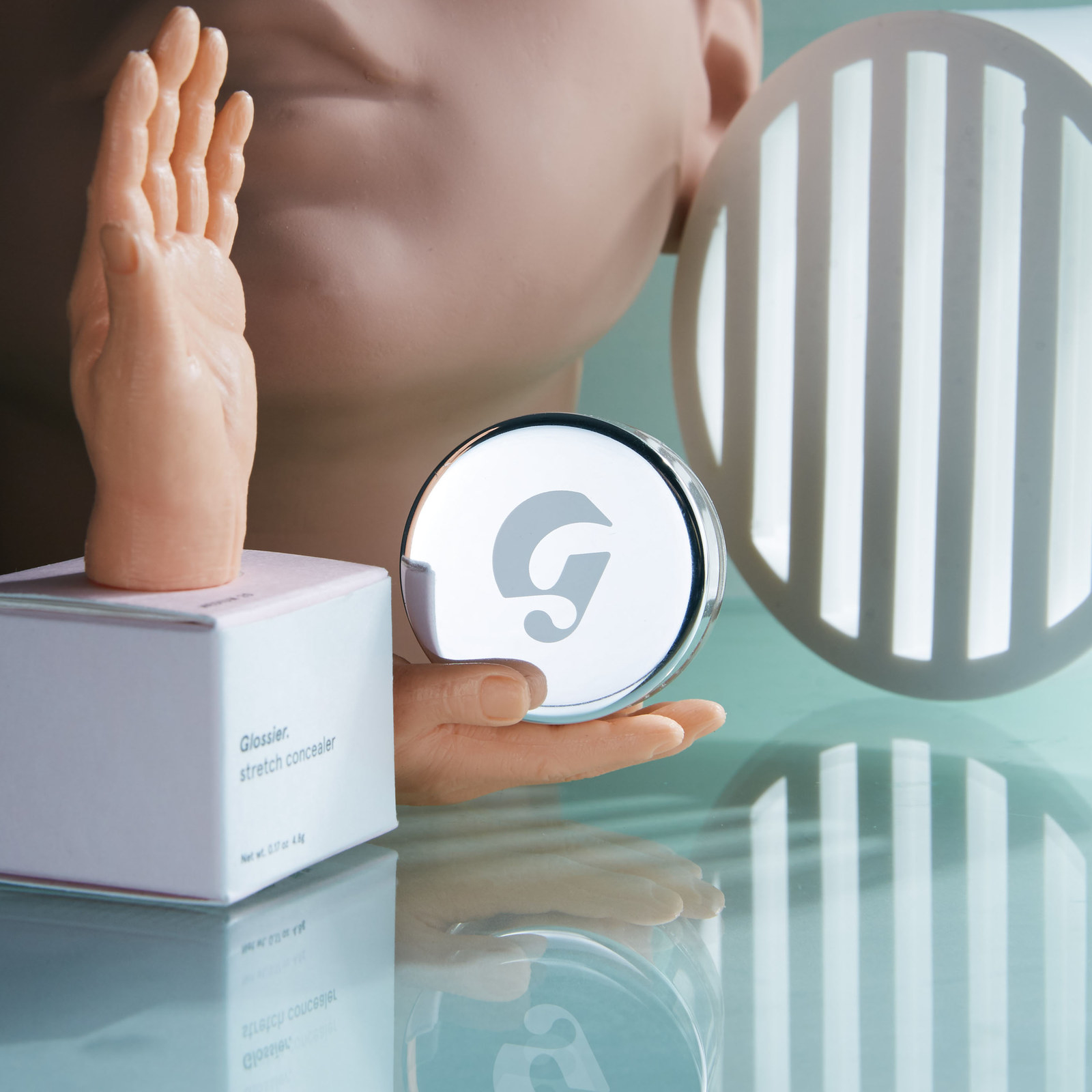 To understand what makes Glossier popular, start with its sales pitch. The line promises a barely there, lit-from-within effect that plays up features instead of masking flaws, though of course this works better when your "flaw" is a cute scar, winsome snaggletooth, or freckles — not cystic acne, purple under-eye bags, or a hirsute chin. Words like "imperceptible" and "sheer" pepper the site's ad copy, and aside from its lipsticks, a newer addition, Glossier's products aren't really meant to be noticed at all.
"We always err on a light touch versus a heavy touch," Weiss explained, meaning "there's never going to be some kind of explosion: 'Oh my god, I've overdone it! There's too much product — I have to wipe some off.'"
Haloscope definitely can't be overdone, I told Weiss — believe me, I'd tried. "It's hard!" she replied, smiling. "It's so subtle. If anything, the criticism would be that our products are too subtle than too intense. But I think that's so important to be able to build. So few of us are makeup artists. We want the products to be universally flattering, to be very intuitive, very easy." None of the products require brushes; it's all designed to be slapped on in the back of the cab. "Glossier is makeup for the truly lazy" was The Frisky's assessment, but make no mistake — laziness in this case means studied effortlessness, not puffy and greasy-haired, six hours deep into a Netflix binge still caked with the remnants of last night's mascara.
The look is "trying hard but not trying to look like you're trying hard," said Munachi Ikedionwu, a blogger and Vanderbilt University premed student. Palm trees and hollowed-out coconuts are a recurring motif on Glossier's posters and stickers, which come free with every order. Packages arrive in a brown box with that baby-pink interior, plastered with slogans like "SKIN FIRST. MAKEUP SECOND. SMILE ALWAYS" and "SKINCARE IS ESSENTIAL. MAKEUP IS A CHOICE. (MAKE GOOD CHOICES)." Inside it, the makeup itself comes in a bag made of pink bubble wrap that doubles as a clutch so cute the company sells them à la carte, three for $12.
If the references are familiar to you, it feels whimsical as fuck.
Website copy is just arch enough not to sound too 13 Going on 30: "The lip-smacking, 11-year-old in you is freaking out right now," declares the description for Generation G; Boy Brow's implores you to "Brush your teeth, brush your brows, and then maybe brush your hair." Packaging channels the hopeful futurism of the '80s ("as opposed to the the whole '90s heroin-chic thing," executive editor Annie Kreighbaum said, "which is not so cool for us"). To hype Haloscope, Glossier flooded its Instagram with pics of a shimmering tulle skirt cascading down a runway, a flaxen-coated horse on a beach, and of course, doughnuts. If the references are familiar to you, it feels whimsical as fuck. A teenage daydream, elevated and commoditized. A series of coded signals for a certain kind of girl.
"The people seeing Sofia Coppola movies, they're also buying Glossier," said Natalie Guevara, a 29-year-old who works in communications for the Brooklyn-based startup Genius. "It's very much taking the Coppola aesthetic — the dusky pink and supple skin — and making it something tangible that you can buy."
It's a far cry from the heavy colors and oozing lipstick logo for Kylie Cosmetics(™) or even Milk Makeup, which goes by the slogan "cool girls get ready quick," and traffics in high-pigment, high-shine products that offer effects like "an iridescent, hyper-lavender sheen" or "super-intense color in one swipe." Glossier never explicitly says whether these are the bad makeup choices it warned you against, but its aesthetic is subdued and refined, more Connecticut (where Weiss grew up) than Calabasas. Glossier girls probably keep up with the Kardashians, but they don't want to look like them.
The products themselves tend to be hit-or-miss. Glossier's concealer feels impossibly light and looks incredibly natural, even if it settles into fine lines. Milky Jelly is a space-age treat, but doesn't remove my mascara. I'm not entirely sure Haloscope is visible on me, but when I put the products on in the morning I feel destined for a compliment. Surely all this radiance will turn some heads.

At any rate, the Coppola comparison is real: Weiss gave the director one of her lipsticks and then Instagrammed a handwritten thank-you note. Coppola loved the shade Crush.
Glossier typically gets lumped in as a startup because it "launched" on Instagram, but that was just a savvy promotion strategy. People had to leave the app to buy the goods, and the company still had to set up a website, buy dynamic online ads, and advertise in the subway just like every other e-commerce hopeful. Glossier's real innovation was optimizing for the internet at every step: using the tools of the social web to turn readers into followers and followers into brand evangelists, unpaid product advisers, and, maybe, something like a community, albeit one that buys things from you.
"We really want to listen very closely to our audience across all our channels," Weiss told me. That means talking to customers through FaceTime videos and Instagram comments, and using Into the Gloss's robust commentariat as an updated take on a focus group: The formula for Milky Jelly Cleanser, a nonfoaming, ultralight face wash, came largely out of a post titled "What's Your Dream Cleanser?" in which Weiss encouraged readers to answer that question, "anecdotes/paragraphs/love stories encouraged." "We will do our best to compile what you tell us into one helluva Glossier cleanser," Weiss wrote; 382 comments and almost a year later, Milky Jelly was released.
Glossier girls probably keep up with the Kardashians, but they don't want to look like them.
Power users are invited to sign up for a special, confidential Slack group. New York–area ones are invited to the Glossier penthouse for "a night of mystery product testing, pizza, rosé, and g.IRL talk with other members of the Glossier community and CEO and Founder Emily Weiss!" If in 2016 brands are your friend, Glossier wants to be your BFF. (Or at least talk like her.) The nondisclosure agreement doesn't come until later.
"Copy plays a huge part," explained Kreighbaum. It's important to be "personable and down-to-earth. You can have 'real girls,' but if you're not being casual with your language, it gets lost."
Kreighbaum became a social media star in her own right after her lush, unrepentant eyebrows were featured prominently in campaigns for Glossier's Boy Brow product. "Maybe my eyebrows are more famous than I am? I hear they do well on our paid ads," she told me. She was a beauty blogger before Weiss recruited her through a Twitter DM. "I think they thought I was funny. A lot of beauty writing didn't have as much personality," said Kreighbaum. "It kind of comes naturally to me to overshare."
Indeed, there's something intimate and cliquish, almost conspiratorial, about the brand. "You're part of this crowd and you don't want to stray from it too much," said Claire Carusillo, a 24-year-old beauty blogger who puts out a charmingly unhinged newsletter called My Second or Third Skin. In other words, even if Balm Dotcom, Glossier's petroleum-based salve, is essentially nice-smelling Vaseline, pulling a tube out on the subway still feels good. "When you get really hyped about something, you kind of lie to yourself," Carusillo told me. "Like, 'This is the stuff!'" Perhaps tellingly, Glossier sells nine beauty products and four items of merch, including an enamel pin in the shape of the company's signature gothic "G" ($14) and the very sweatshirt Kloss took viral ($60).
"Ordinarily, I just buy stuff off of Amazon and the drugstore," said Guevara, the Coppola fan. "In many ways, Glossier is one of the first brands that I've subscribed to. When Boy Brow runs out, I order more."
It's all part of the contemporary dance between consumers and for-profit companies, in which the brand is never supposed to look like it's selling something, and people buying it roll their eyes if the artifice grows too lame. "Trying hard to not look like you're trying hard" doesn't just describe the Glossier look, it describes the company's whole corporate ethos, from its chatty, familiar ad copy to the gap teeth on its "real girl" models. No-makeup makeup is a perfect complement to no-commerce commerce. "It doesn't feel like we're being sold products — it's much more like a lifestyle play," said Chen, comparing Glossier to Supreme, the widely worshipped streetwear apparel company.
But where lifestyle purveyors like Supreme try to stay a well-kept secret as long as possible, Weiss has pulled off a feat of branding gymnastics: She's taken class-conscious signifiers and made them seem accessible to the masses, and she's created a Glossier girl whose definition is broad enough to include anyone with $12 to spend on a lip balm, but particular enough that it still feels exclusive.
Take Glossier's recent Instagram post advertising a pop-up shop in Amagansett. (Spelling out "the Hamptons" might look basic.) Or the company's "soothing face mist," a rose- and aloe-infused water that promises to "hydrate, soothe, and leave you feeling fresh and awake." No one needs to spray flower water on their face, but at $18 for a bottle, it's an attainable kind of indulgence. All in all, the Glossier's cheapest item is $12, and the most expensive is $26 — more than drugstore brands, but less pricey than much of the stuff you'd find at Sephora.
If in 2016 brands are your friend, Glossier wants to be your BFF.
Folu Akinkuotu, a 26-year-old Boston resident who works in business development for an e-commerce company, said she became a Glossier customer precisely because because of that calibrated accessibility. It's big departure from Into the Gloss, which featured the kind of people who "buy containers of La Mer cream once a week … Cool. That's my rent." Glossier, she said, is different. "It's not snapshots from this movie star's bathroom. It's like, 'Here, this is for you.'"
Guevara also found the blog inaccessible, but stressed that the vibe at Glossier's pop-up stores in downtown Manhattan have been very different. At an event in January where Glossier sales clerks were dressed in lab overcoats so chic that attendees asked where they could buy them, Guevara said "there was something about it that was very sort of homey."
"I would kind of eyeroll at that kind of scene if it was held at Barneys," she continued. But "there was no shame if you want to come in just to Snapchat or take selfies."
Kirsten Green, the founder of Forerunner Ventures, one of Glossier's first investors, described Glossier as "democratic in its offering, while still being cool and practical, not making a bunch of promises [but] celebrating who you are." And Glossier fans like Chen will tell you about the exquisite specificity of the world that the brand created, but never give details when you ask for follow-ups. Kreighbaum said there's no archetype of the Glossier girl: "I think it's more important to us to be your friend."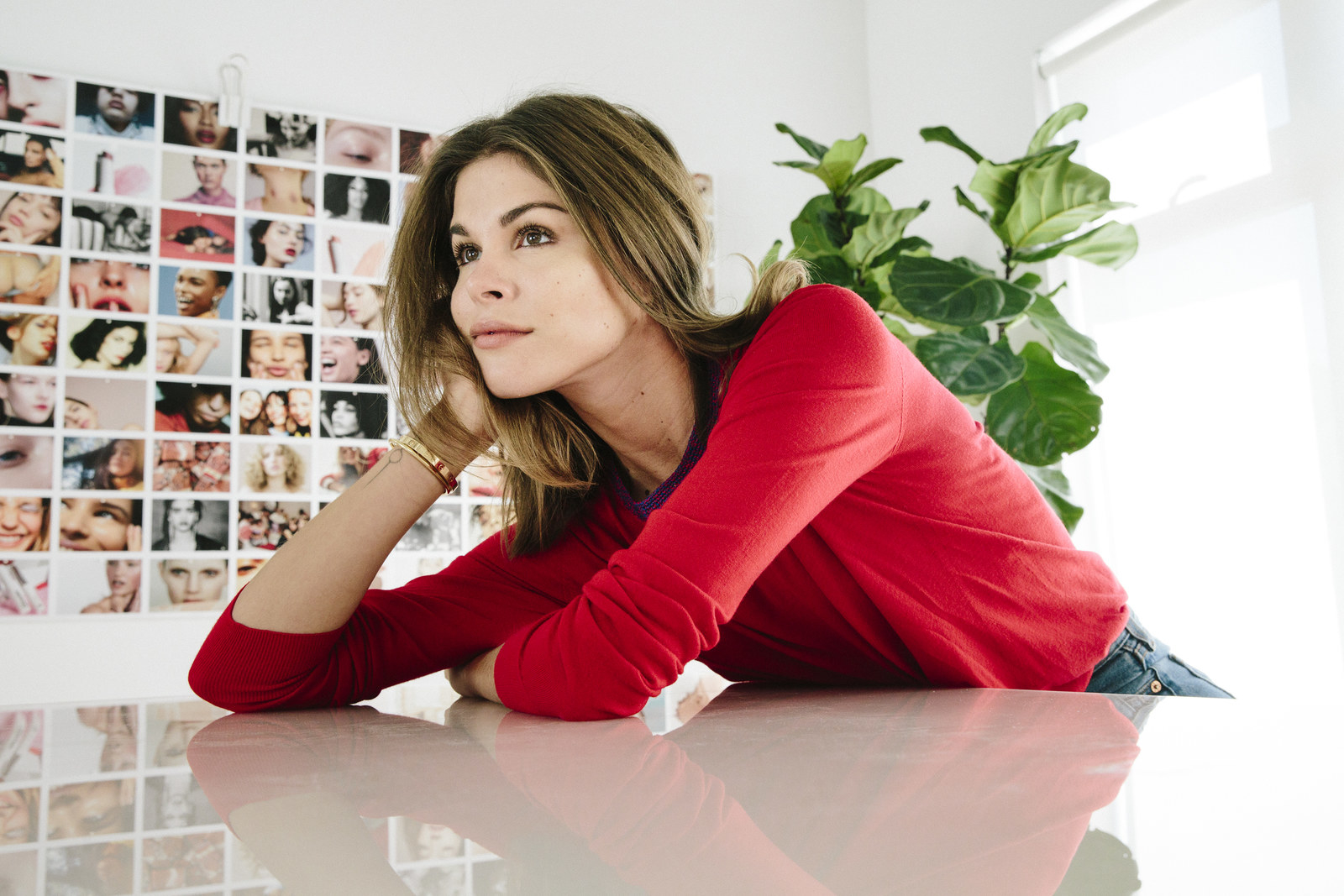 At the company's office, Weiss told me that Glossier's goal is "to make women proud of where they're at every day. That can mean you're on your way to getting promoted but you haven't gotten promoted yet and that's okay. Or you know you just broke up and you're sad and crying and that's okay. We want to kind of feel all the feelings, you know what I mean?"
In person, Weiss's voice has a sturdier timbre than you might expect from her delicate frame. She's luminous and slight, but authoritative in the breadth of her knowledge about the industry and Glossier's game plan. Her lower jaw juts out when she smiles, which she does often, and she has the warmth and pep of a coach on the sidelines. If she'd asked me to take a knee in front of a mood board, I would have.
"Emily Weiss was this sort of figurehead to me," said Carusillo, who started reading Into the Gloss in college. "She's so beautiful. She seems to have a really gorgeous life. I looked to her for so many years as a capital-C capital-G cool girl."
This spring, Medine was photographed at Paris Fashion Week carrying one of the little pink bubble wrap pouches that Glossier uses to cushion packages during shipping. A month later, Jimmy Choo offered its own version of the bubble wrap bag for $950. In the notoriously hierarchical fashion world, Weiss and her cohort get front-row seats at shows and walk the occasional red carpet.
Buying Glossier products is an entrée into this world, into a fantasy plane where Emily Blunt from The Devil Wears Prada wants to give you the keys to the fashion closet — before she started eating carbs again. But there's a reason movies don't center around the cool popular girl who is also nice and helpful: It's hard to make that believable. Weiss' brand of accessible coolness is a fitting mood for our age of nascent awoke-ning when a teen girl's bible is Rookie, not Seventeen; cover girls can also be activists; and, for a while at least, a white-bread gazelle like Taylor Swift could position herself as the awkward outcast.
The fashion industry scouts talent directly from Instagram these days, and so does Glossier. The result is a rotating cast of ethnically diverse and genetically blessed models whose full lips and youthful glow — and, of course, taut frames — would give you low-key whiplash on the street.
But that outward emphasis on diversity didn't save Glossier from an uproar in the fall of 2014 when the company released its Perfecting Skin Tint in only three shades (the "dark" was still pretty light). On the message board Get Off My Internets, one commenter wrote that she loved a recent "Top Shelf" feature on Into the Gloss featuring a dark-skinned woman. "[I]t felt like acknowledgement that black girls get to play in the 'pretty girls club' too. So the three shades was a slap in the fucking face."

Weiss and her team tried to assuage ITG readers who brought up the same complaint, explaining that a broader range of skin tints was already in the works. And the company did better than bounce back. Shoppers whose skin doesn't match the beauty industry's definition of "nude" can use Glossier's shade finder tool or watch quick videos on the product pages of Glossier.com showing women with an array of different skin tones demonstrating more shades of the skin tint in natural light.
Reflecting the widest array of shoppers is good business — after all, exclusivity has a built-in cap on consumers. The more people who feel like part of the pretty girl club, the more makeup Glossier can sell. In a post for xoVain, beauty editor Tynan Sinks tried to untangle why he has such a personal connection with the brand. "[M]aybe it's because Glossier feels inclusive, like any of us could be a cool Glossier girl," adding, parenthetically, "all I've ever wanted to be is a cool girl, but the sad truth is I'm just a try-hard bitch." Wouldn't you know it, Glossier even has a slogan for that exact state of mind: "Everyone says they're 'low maintenance.' (It's okay, neither are we.)"
Even the line's critics admit that the branding is on point. On Makeup Alley, a secretive message board for aficionados, one commenter wrote: "I don't rly get the glossier hype its like, they took all the most raved about products on intothegloss and just duped them."
But, the poster added, "in cute packaging."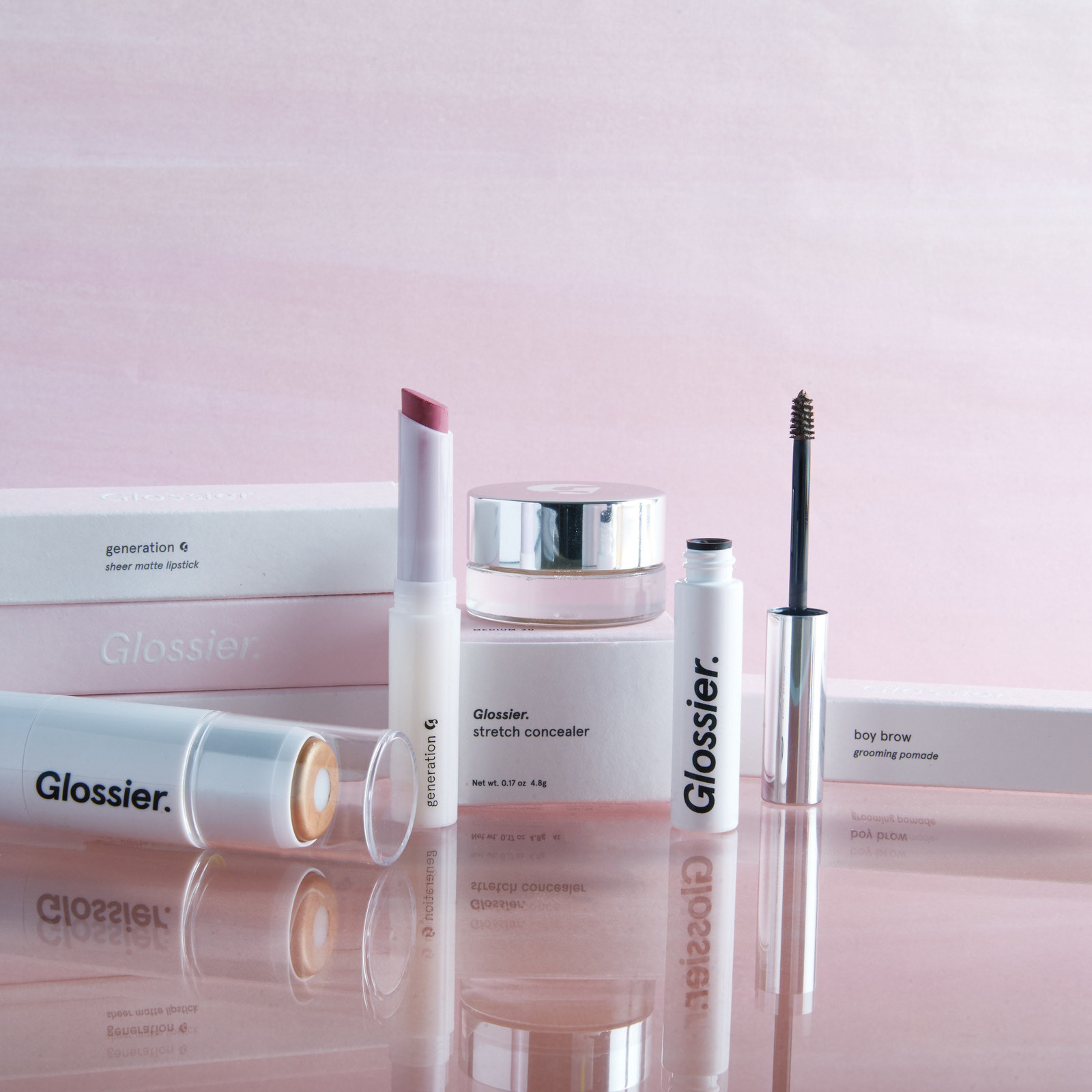 The way Weiss tells it, Glossier sprang organically out of Into the Gloss's community, but the company also smartly positioned itself at the nexus of a few big trends. Search for "no makeup tutorial" on YouTube and you'll find almost 2.6 million videos; "natural makeup tutorial" gets 1.2 million results. Korean beauty, which emphasizes flawless skin above all else, is booming stateside; in 2015, South Korea exported more than $2.6 billion of cosmetics goods, up from $1 billion in 2012, according to the BBC. Glossier was ahead of the curve, but the number of products to help women look like they woke up like this could fill a Sephora.
At the same time, Glossier was one of the first in a new wave of beauty brands built to float in a viral soup of YouTube tutorials, "Instagram makeup," influencers, and beauty bloggers, where skeptical millennials with no brand loyalty can find a how-to guide or product review on just about anything. Specialty chains like Sephora and Ulta are winning out over department stores, which works in the favor of newer, smaller brands. When Kendall Jenner was named the new face of Estée Lauder in late 2014, the company called the social media sphinx "the ultimate instagirl." Macy's, which launched in 1858, is currently worth $4 billion less than Ulta, which isn't even a decade old. "It used to be you needed to have footage inside a big store," said Karen Grant, beauty analyst for NPD Group, a market research firm. "Now you just need a following."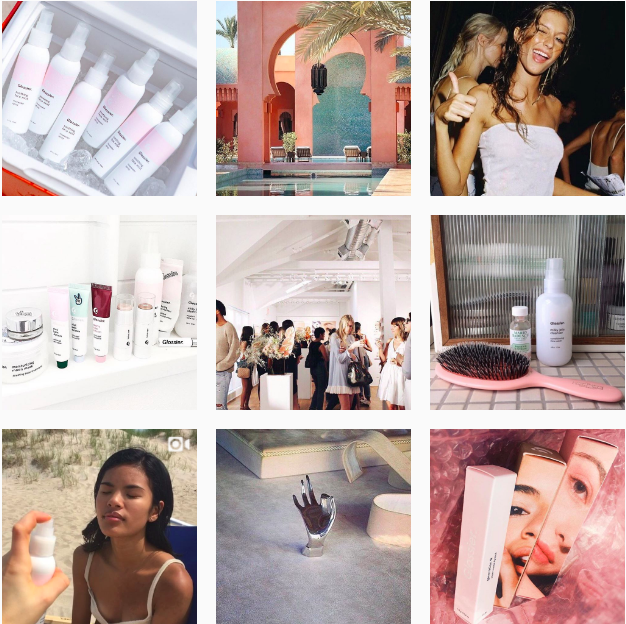 When Weiss was out fundraising, investors wanted to compare Glossier to other e-commerce brands — e.g., "the Warby Parker of x." "We got to a point where we had to say no," Weiss told me. Glossier wasn't selling online in order to offer a price cut or incentives like promotions or subscriptions. "We're using the channel to build a better brand, period. We're using the channel to actually involve the customer in ways she's never been allowed or invited to become involved [in order] to build an incredibly inclusive movement like a better, more modern brand, which is going to become default."

Subtract the buzzwords, dial down the egalitarian rabble-rousing, and Weiss has a fairly novel concept. Armed with all the intimate intel gleaned from so many comment sections and Slack groups, Glossier has carved out a niche for itself in the new lane of semi-affordable consumer goods that feel luxurious because they're customized to your needs. Weiss likes to use the phrase "redefining luxury" to describe an individualized experience that caters to the customer.
"If you go to a Hermès store or something, you hope they remember you from your last..." — Weiss struggled to come up with something — "$10,000 purchase? I dunno." But websites can do that through cookies.
The number of products to help women look like they woke up like this could fill a Sephora.
"Luxury today is getting what you want, how you want it, when you want it, getting a very personalized experience," Weiss continued. Uber started out under the branding of "everyone's private driver" — another version of the "what you want, when you want it" line. Silicon Valley investors pumped hundreds of millions of dollars into meal delivery startups for the same reason.
If you're looking for a lucrative exit, it's a good time to be in e-commerce right now. "The major brands are making an effort to gobble up" smaller companies, said Grant. The market is shifting quickly to adjust to millennial buyers (anti-wrinkle creams are out, highlighters and contours are in), YouTube stars, and Korean beauty. Investors have heeded the call. Last winter, Ipsy, a subscription service like Birchbox co-founded by social media mogul Michelle Phan, raised $100 million. In July, Goldman Sachs and Bain Capital acquired a controlling stake in Carver Korea, which makes specialty K-beauty cosmetics. And earlier this month, Memebox, an e-commerce platform for K-beauty products, raised $66 million from tech investors. Memebox deals with Korean manufacturers, who are known for producing high-quality cosmetics with a fast turnaround.
Glossier, on the other hand, traffics in a small line of products that are released slowly and sell out quickly. The company experimented with 40 different formulas for Milky Jelly, instead of the more typical three or four, before settling on the same gentle cleansing ingredient found in contact lens solution. Almost a year passed between Weiss's original idea-soliciting post and when the product was available online. That's awfully slow compared to ColourPop, the Los Angeles–based company behind Kylie Jenner's lipstick line, which uses the fast fashion model to create "on trend products that are amazingly of the moment at record speed."

The company works with several chemists, but would not disclose their names, saying it was "beauty industry standard to keep that information confidential." Glossier was also tight-lipped about production and would only divulge that it's actively working with six product manufacturers across North America, although needs change depending on new formulas or categories.
And Milky Jelly sold out, as almost all of Glossier's products do at some point or another. ("The waitlist thing has been really... It makes us so sad when we can't give people what they want. Period," said Weiss when I repeated the beauty blog rumor that the sellouts were a sales gimmick. Kurt Jetta, founder of the research firm TABS Analytics, referred to the industry's obsession with selling out as engendering "borderline hysteria.")
But even if Glossier is not the brand to scale affordable luxury in cosmetics, the underlying idea is still an intoxicating proposition for people whose demands outstrip their disposable income. It's an inch closer to the consumer power shift toward buyers that the "thinkfluencers" have been talking about for more than a decade.
Just imagine if you could tell Trader Joe's that you really wanted chocolate chips in your cookie butter, but with less fat and more viscosity. Or ask J.Crew to offer more lightweight cardigans and fewer sequined pineapple ruffles. And then the company (kinda) listened! And sold you something (sorta) like that? Consumers want customization; everybody wants to be heard.
Green, who sits on the board of Bonobos and Dollar Shave Club as well as Glossier, said that her investment thesis relies on this concept. Amazon has already won on price and convenience. And the abundance of choice has pushed e-commerce to adapt from the "two-dimensional format" of the dot-com era. "The way that our lives digitally are evolving, it's almost like we can have a real relationship with people via technology, and the expectation is that you can have that with brands, too." There's the friend request again.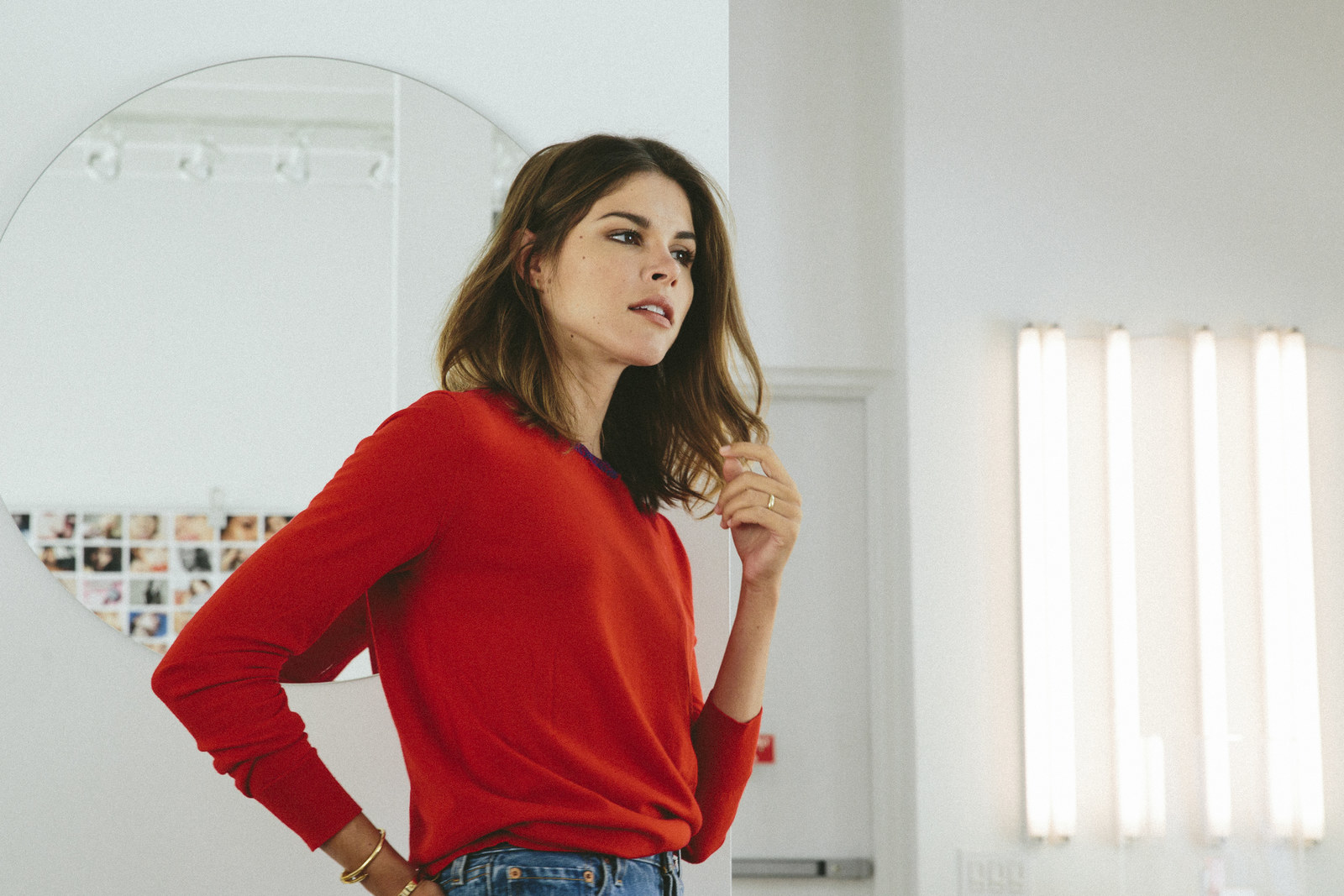 The morning that I visited Glossier's office, Weiss, Kreighbaum, creative director Helen Steed (who's also filled the same role at Bumble and Bumble and Jawbone), and Adriana Deleo, the company's head of design, were gathered to look at the results of a new photo shoot; the pictures were ultimately used to promote the fact that all five shades of its Skin Tint were back in stock.
Kreighbaum was wearing a taupe dress that looked like an oversize T-shirt, hoop earrings, and black sandals with chunky heels and thick crisscrossing straps. On the poster board were photographs of radiant girls, including an Asian woman, an Indian woman, and a black woman posing in plain white tank tops in front of a blue background like angels from American Apparel heaven. The Indian woman, Alisha Bansal, is a student at Barnard who interns at Christie's. Another was a Glossier intern.
"They're all real girls. A lot of them we found on Instagram from tagging us in their selfies because they use our products," said Kreighbaum. (Her trick to scouring Instagram: tagged photos, which give a more realistic idea of what someone looks like.)
Glossier has carved out a niche for itself in the new lane of semi-affordable consumer goods that feel luxurious because they're customized to your needs.
According to the market research firm L2, "Brands are not yet seeing the same post fatigue on Instagram as they did on Facebook — followers are not becoming disengaged with more brand content." But that only works if commerce stays hidden and companies post and share like a person. (This is also why every brand on Twitter wants to be your lit pizza bae AF.) If Glossier is your friend, it follows that the brand's social media and ad campaigns would include photos that look like ones your friends would take. Instead of using DSLRs to shoot campaigns, "we're transitioning to shooting stuff more on the iPhone," because it's more natural, said Kreighbaum. And rather than traditional shots, the company tends to show off new items using Boomerangs and videos, so, in the words of Chen, "it feels like they're communicating with their audience the exact way the audience consumes on Instagram." Glossier retouches its photos, but minimally, according to Kreighbaum and Weiss. "If a retoucher did what they would normally do, it would feel so flat," Kreighbaum said. "I think that's why people take a second look at them, because they're so raw in comparison."
Kreighbaum said that when they build out a world for campaigns, they try to make sure "nothing is too fantastical." Others will "build this set of a bathtub filled with flowers, wind through the hair." With Glossier, it's more like, "Oh, our friend has a cool bathroom, let's shoot there." She didn't elaborate on how many of Glossier's customers have cool bathrooms themselves.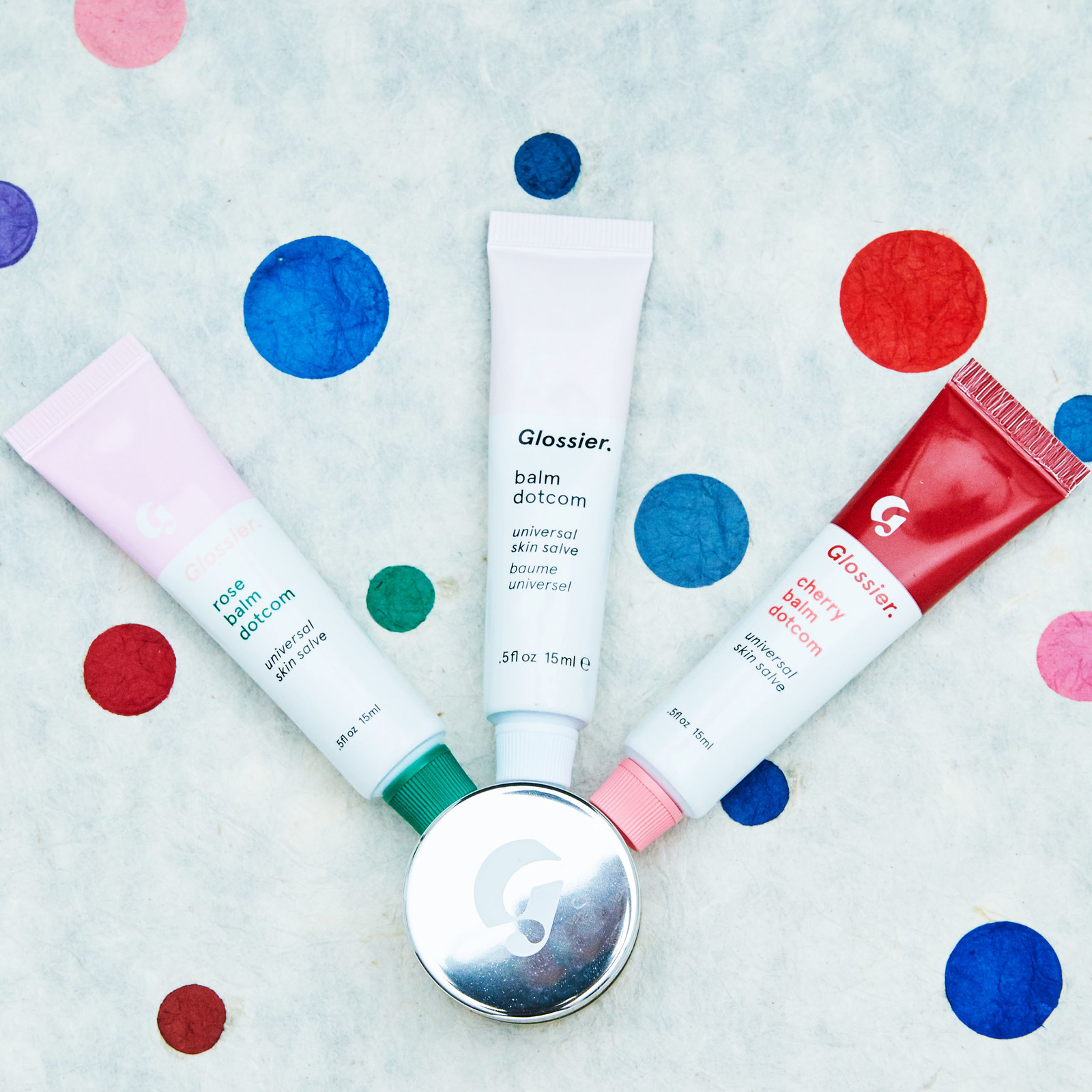 Weiss still gets asked about The Hills, which has now been off the air for a decade. I started following Glossier purely out of fascination with the icy intern who tried to make hero LC look bad. But when I watched it again, I felt worse for Weiss. Her reality TV crime was knowing too much. "It was totally true what they portrayed in terms of me being hardworking," said Weiss. "But in terms of me being an antagonist, they kind of had their production hat on to create this dynamic. I was just trying to impress my boss."

Weiss claims to have mellowed out over the years. "It's funny because I was super serious. As a 21-year-old in work scenarios, I just wanted to do a great job," she said. "Now I'm just older and I like to operate [differently]. For example, our company couldn't be further from the fashion magazine environment." Behind Weiss, the mood boards and trendy young women were visible through the glass conference room wall. She continued: "I think I'm just more chilled, and it probably doesn't hurt that I am the boss. Now I just want to impress my employees."
This winter, Weiss wrote a post about the many, many things she did to get ready for her wedding. (Jezebel seized on the colonic part.) Isn't that antithetical to the whole "be happy where you are" thing?
"I would actually argue that," she replied, warmly. "It's very easy to say that this is the opposite of Glossier," Weiss explained; however, "Glossier is not saying that everyone should be low maintenance. Glossier is about not shaming however you interpret beauty. Glossier is for the girl on YouTube who has a 50-step beauty routine and leaves the house with a full face of makeup every day because that's how she feels best. And it's for someone who puts on moisturizer and leaves because that's how she feels best."
How did I end up with a soliloquy on beauty-shaming? I have no idea, but I found myself nodding along. "Does that make sense?" she asked. "You should do whatever it is that makes you the most happy, and so before a wedding, I mean, yeah," she said, as though it were only natural. She took it even further. "I love the conversation that that created!" Weiss said. "There are people who said, 'Wow that is so crazy high maintenance,' and there are people who said, 'Wow, I did 10 times that!'"
"Emily is one of those people whose brain works on a different kind of plane," said Chen. "You know how hummingbirds fly at a different velocity than other birds? Emily's brain is that way, where she's four to six steps ahead of everything."
However Weiss's brain is vibrating, it appears to be working. The company doesn't yet ship internationally, but Guevara said she's even encountered it in the Dominican Republic, where she grew up. Friends "arrange for family members in Miami to receive shipments, which is crazy." They discovered the brand on Instagram. ●