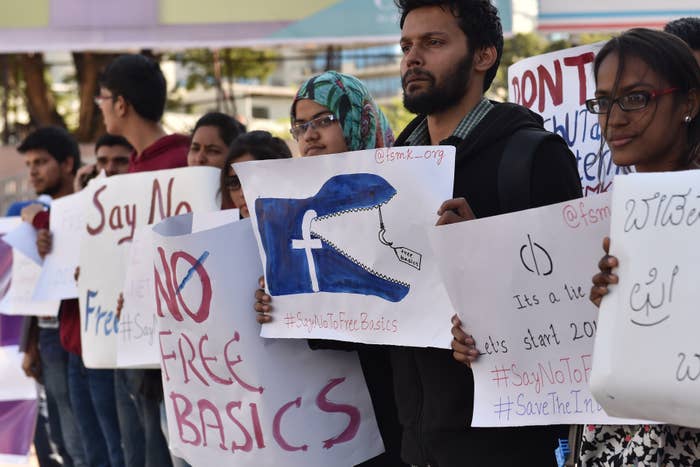 The Telecom Regulatory Authority of India (TRAI) has released their long-anticipated ruling on net neutrality in India. The regulators have ruled against differential and discriminatory pricing of mobile data on the basis of content.

This ruling will affect Free Basics — Facebook's controversial plan to offer free, but limited Internet access — in India. Mark Zuckerberg has been campaigning to bring increased digital connectivity to the developing world. Free Basics, which claims to have 15 million users in more than 35 countries around the globe, is part of Facebook's quasi-philanthropic efforts. India is the second largest market for Facebook users after the United States and considered vital to its continued growth.

Today's much-anticipated ruling by the Telecom Regulatory Authority of India (TRAI) was not about Free Basics per se. Rather, regulators were reviewing pricing schemes like "zero-rating," where mobile operators offer access to some websites and services for free, while charging for others. Advocates for digital equality argue that zero-rating gives an unfair advantage to subsidized content, distorts the market for smaller players, and squashes innovation. Supporters of Free Basics, on the other hand, counter that urban elites who already have Internet access should not deny access to the poor, even if more equitable methods exist.
According to the Press Trust of India, TRAI will charge a penalty fee of ₹50,000 a day, and capped at ₹50 lakhs for any discriminatory tariffs charged by service providers. TRAI's decision will be reviewed after two years from the date of issue of the order, February 8, 2016. Service providers have been granted six months to comply with the new rules.
Free Basics was temporarily banned in December until TRAI made its decision. TRAI was supposed to rule last week and rumors have been swirling about the reason for the delay.

In India cheap cellphones have helped make mobile usage common, but only about 20 percent of the population is online. Low Internet penetration is blamed, in part, on prohibitive data charges, which is why prepaid data plans (where consumers know what they're getting into) are ubiquitous. Meanwhile, the country's telecom market is highly competitive. As a result, telecom providers started offering data packs that promise free or reduced charges to widely popular services like WhatsApp or Facebook long before Free Basics launched in India.

Facebook does not pay for Free Basics, although it does collect data from users. The social network partners with regional telecom operators, who offer the free service as a growth strategy to get customers to start paying for data. In India, Free Basics partnered with Reliance Communications, a telco founded by Mukesh Ambani, the richest man in India.
Hours after the decision, Zuckerberg expressed his disappointment in a Facebook post, vowing not to "give up on" connecting India because "more than a billion people in India don't have access to the internet," he claimed. "While we're disappointed with today's decision," he wrote, "I want to personally communicate that we are committed to keep working to break down barriers to connectivity in India and around the world."
Free Basics was ostensibly targeted at Indians who had never experienced the Internet or could not pay for data plans. However, Facebook recently struggled to provide a reporter with the name of a single Free Basics user in India who had never been online before. Free Basics allows users free access to limited resources including Wikipedia, Bing search, and the weather, as well as a lightweight version of Facebook. Yet normal data charges apply for outside websites, like Google search results, for example.
Facebook's promotion of Free Basics has been orchestrated like a political campaign. In December, Zuckerberg published an op-ed in the Times of India defending Free Basics. In it, he repeated Facebook's claim that half of the people who go online through Free Basics end up paying for access to "the full Internet" within 30 days, but offered no further details about the study. "Who could possibly be against this?" Zuckerberg asked. "Surprisingly, over the last year there's been a big debate about this in India." Other countries have prohibited Free Basics. It is not offered in Chile, for example, because the government banned zero-rating in 2014.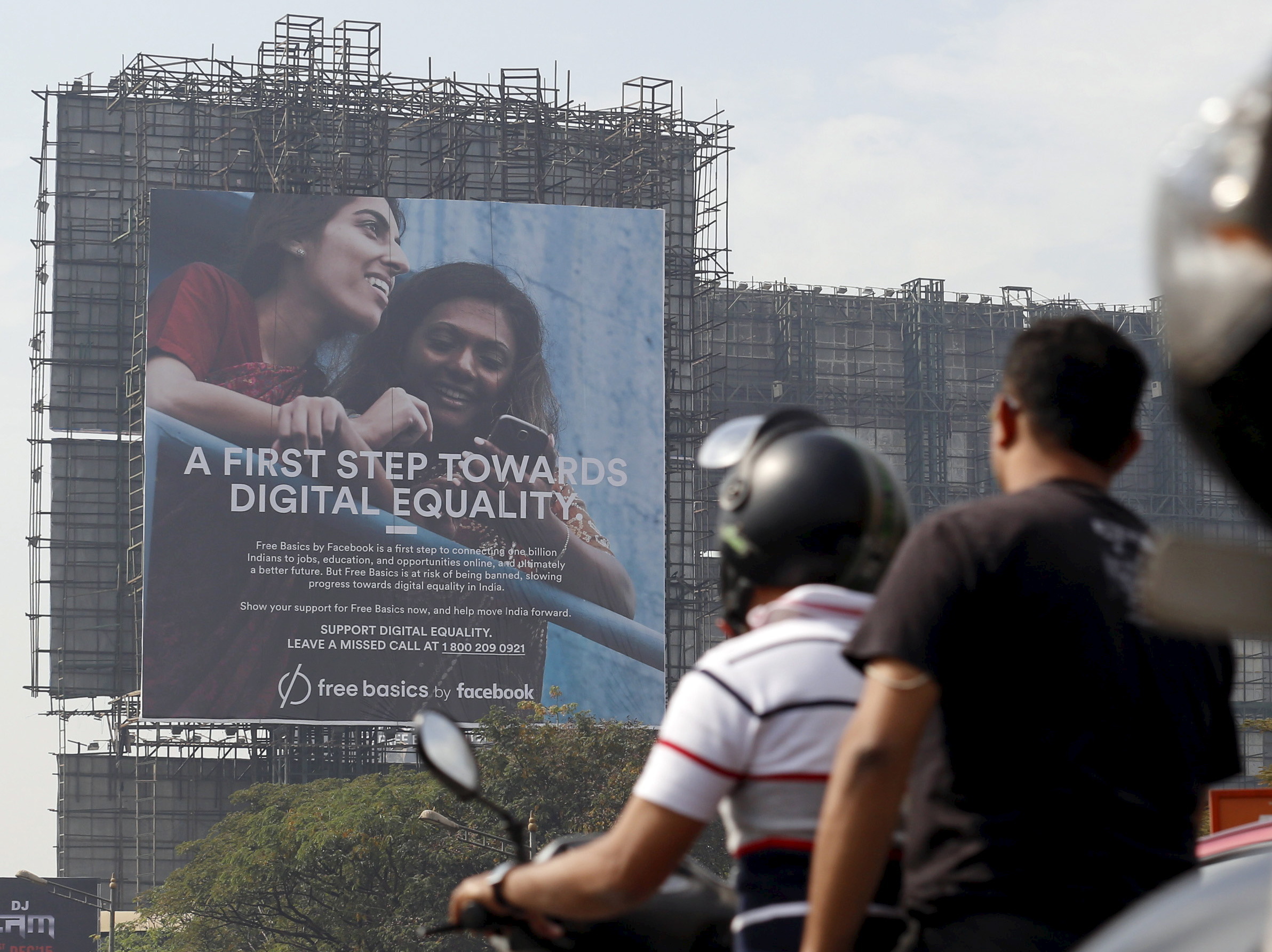 TRAI's ruling (embedded below) says the case-by-case approach used in the United States and European Union "may seem reasonable," however it comes with "substantial costs," such as failure to provide certainty, the high cost of regulation, as well as an unfair advantage to "well-financed actors" that will "tilt the playing field."
Here are some highlights from TRAI's ruling:
"A suitable regulatory framework for India, therefore, must necessarily be based on our country-specific factors, the need to equitably increase internet usage and penetration, foster competition, allow start-ups to flourish and uphold the law of the land [...]

... [The] Authority has concluded that a clear rule should be formulated—the practice of offering or charging discriminatory tariffs for data services based on content, is to be prohibited. Therefore, [telecom service providers] are prohibited from offering different tariffs based on the content, service, application or other data that a user is accessing or transmitting on the internet. Tariff for data services cannot vary on the basis of the website/application/platform/or type of content being accessed. For example, a consumer cannot be charged differently based on whether she is browsing social media site A or B, or on whether she is watching streaming videos or shopping on the internet."
The ruling also explained that in order to "strike a balance and in view of the need to bring more users on the internet," the prohibition will not apply to "providing limited free data that enables a user to access the entire internet."
Public outcry over zero-rating did not begin with Facebook. Last spring, Indian consumers protested Airtel Zero, a data plan that would have given preferential treatment to popular services like Flipkart, one of the country's largest e-commerce providers. Free Basics eventually supplanted Airtel as the focal point for opponents, in part because Facebook framed Free Basics as a purely altruistic gesture for India's poor. Indian startup entrepreneurs and professors alike objected to the business model. Facebook countered with an aggressive advertising onslaught of billboards and full-page newspaper ads, but its tone-deaf crusade was brutally spoofed on Reddit.
No one wants to cut off access to the disenfranchised and the vitriol flowed both ways. Net neutrality advocates were accused of being "internet mullahs" who denied access to the poor over their inflexible beliefs.
As an independent government authority, TRAI opted to exercise its power and stepped in to the debate. Helani Galpaya, the CEO of the think tank LIRNEasia, described TRAI as a "thoughtful regulator" during an interview with BuzzFeed News in January. The agency's initial request for feedback emphasized that the "laudable goal" of connecting the unconnected "must not be forgotten." One of the questions TRAI asked was whether alternative business models, such as offering free data limited by time or volume, rather than content, could offer a less discriminatory alternative.
TRAI has repeatedly called out Facebook for intruding on its regulatory process, which the agency said could have "dangerous ramifications for policy-making in India." The tension centered around Facebook's click-to-protest campaign which deluged TRAI with 11.7 million automated comments, when none of the questions asked about Free Basics.
Facebook has updated Free Basics to better serve its intended users before, when prodded. The zero-rated offering was initially called Internet.org — the umbrella organization for its other efforts to bring connectivity to the developing world. Facebook changed the misleading name, made the platform more easily accessible to outside websites and services, and added more security protections for users in response to criticism from net neutrality activists.
Given that Facebook's future is dependent on growth from emerging markets, India's debate over Free Basics is far from over. Last week while awaiting TRAI's decision, Mishi Choudhary, legal director at Software Freedom Law Center, told BuzzFeed News that other areas of the globe including Kenya, Latin America, and Southeast Asia were eagerly anticipating the regulator's response. "That's where the moolah is and that's where the next billion users are," she said.
BuzzFeed News will update this story with more information as we receive it.