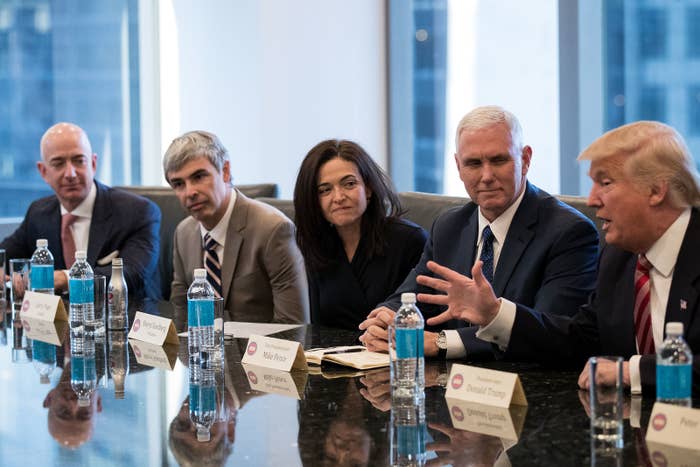 In response to questions from BuzzFeed News, Google, Apple, and Uber clarified their positions on President-elect Donald Trump's comments about a possible Muslim registry. "In relation to the hypothetical of whether we would ever help build a 'muslim registry' - we haven't been asked, of course we wouldn't do this and we are glad - from all that we've read - that the proposal doesn't seem to be on the table," a spokesperson for Google told BuzzFeed News in an email message.

BuzzFeed News asked the companies whether they would help build or provide data for a Muslim registry. An Apple spokesperson said: "We think people should be treated the same no matter how they worship, what they look like, who they love. We haven't been asked and we would oppose such an effort."

A spokesperson for IBM said, "No, IBM would not work on this hypothetical project. Our company has long-standing values and a strong track record of opposing discrimination against anyone on the basis of race, gender, sexual orientation or religion. That perspective has not changed, and never will."
Uber said "No," in response to the same questions, clarifying that it would not help build or provide data for a Muslim registry. Amazon did not respond to repeated requests for comment. Oracle declined to respond to the same questions about a Muslim registry. It also declined to say whether the National Security Agency is still an Oracle customer. Oracle's refusal to comment comes one day after CEO Safra Catz announced that she would join the transition team for President-elect Donald Trump, while remaining at Oracle.
Trump has danced around the possibility of creating a Muslim registry. When asked directly, he has not denied wanting a Muslim registry. The possibility of a registry came up as a result of Trump's comments about Muslims and his intention to build a database of Syrian refugees. After the election, Kansas Secretary of State Kris Kobach, a member of Trump's transition team, proposed reinstating a Muslim database similar to National Security Entry-Exit Registration System (NSEERS), a suspended program that Kobach helped design.
Alphabet CEO Larry Page, Apple CEO Tim Cook, IBM CEO Ginni Rometty, and Catz all attended a high-profile tech summit hosted at Trump Tower on Tuesday. They were joined by Facebook COO Sheryl Sandberg, Microsoft CEO Satya Nadella, Palantir CEO Alex Karp, and Eric Schmidt, the chairman of Google's parent Alphabet, among others. BuzzFeed News has reached out to other attendees to find out whether they would help build or provide data for a Muslim registry. Facebook and Microsoft both said that they would not help build a registry, after initially declining to comment on the record.
In 2013, Edward Snowden leaked documents that described a top secret surveillance and spying program called PRISM that used data from companies like Google, Apple, Microsoft, and Yahoo. Page strongly denied Google's knowledge or cooperation with the government. Apple, which fought federal investigators who wanted them to unlock an iPhone related to the San Bernardino terrorist attack, denied involvement as well. Yahoo, Facebook, and other companies named in the document also issued denials.
Catz went into the summit with an agenda, Reuters reported: She wanted to discuss ways that Trump could help the tech industry, including reducing regulations, reforming the tax code, and negotiating better trade deals. Hours before the summit, Trump announced a forum of business advisers, including Uber CEO Travis Kalanick and SpaceX and Tesla CEO Elon Musk, who would meet regularly to directly advise the president. Catz's name was not on the list.

During the summit, Catz brought up the subject of the cloud. According to a detailed report in Recode, Catz "characterized [the cloud] as a little hyped (not a surprise from a database company)" — while Page wanted to talk about infrastructure spending. Recode said that Rometty talked about job creation.
More than 1,300 employees from major tech companies signed a pledge earlier this week to never help build a Muslim registry. The list of signatories currently includes dozens of employees from Google, 13 employees from IBM, 10 employees from Apple, five employees from Amazon, four from Uber, and one employee from Oracle. The introduction to the pledge notes the role that technology has played in carrying out past atrocities, including IBM supplying technology to the Nazis.
UPDATE
This post was updated to include tech companies' responses to PRISM allegations.